Barely five days after the government of Kenya through the ministry of interior deported four Chinese nationals who were captured on camera caning a Kenyan, another video alleged to be of a Kenyan man being whipped by a foreigner has emerged.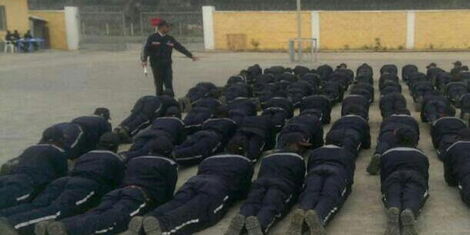 The video which was shared on twitter by one user @MuthuiMkenya shortly went viral with former Gichugu MP Martha Karua taking to the internet to demand the authenticity of the video and the place the inhuman act took place.
In the video, a black man believed to be a Kenyan is seen being mercilessly whipped by a man believed to be of Arab origin with all his hands tied to a seat.
The shirtless man, who also had his mouth gagged by a piece of cloth probably to prevent him from wailing, is seen rotating with the chair as the whippings continue.
How some people are mistreating others. Very unfortunate#AndakoNaMabadiliko#uonnimechoka pic.twitter.com/eVq18WBPw8

— MuthuiMkenya 🇰🇪 (@MuthuiMkenya) February 18, 2020
Unable to take further whippings, the man loses control and rollover with his hands still tied to the seat.
At the far end of the room, is another black man seating down on a floor probably waiting for his turn or simply recuperating from the beating.
The video immediately sparked anger reactions on social media with Orange Democratic Movement (ODM) Communications Director Philip Etale leading the netizens in condemning the act.
This is unacceptable https://t.co/2dTkqouFex

— Philip Etale (@EtalePhilip) February 18, 2020
Although it was not immediately established the exact location where the video was taken, it is suspected that the whole ordeal took place in one of the far East countries, where most Kenyans have been flocking looking for employment opportunities.
These are some of the bitter reactions from twitter as expressed by most Kenyans'
Where on earth is this ? https://t.co/mT4WMCNWys

— Martha Karua (@MarthaKarua) February 18, 2020
@BMueni
Replying to
@MuthuiMkenya
The gvt of Kenya might as well divide Kenya into pieces and give it out to the rest of the world . What the hell do Kenya stand for why do we have to compromise in everything, who does this to any living thing ? Coward bustard .
It's Saudi Arabia. The guy being whipped is from Kenya🇰🇪 according to former lady Senator/MP from Bura Coast. Regardless the Nationality of the victim NO African should step foot on Arab land they are evil dirty humans on earth specially Saudi and UAE.

— Sadik Keinan (@Sadikkeinan) February 18, 2020
@BandareroFred
Replying to
@MuthuiMkenya
Kenyans being whipped Home and Away all in the name of looking for greener pastures.
the sad reality is the problem is us not them, just look at the Kenyan being beaten by the Chinese, he was not defending himself, because the job was mo important dan his dignity, sometimes u need 2 sacrifice one person to save others. u kill it enemy even if u r on foreign land

— binadow (@binadow14) February 18, 2020
Not any much different from Nyati/Nyayo house torture chambers…
At least the Mzee asked for forgiveness…

— karanja charles (@karnjcharles40) February 18, 2020
This is what many Kenyans are going through in the hands of forrners..either in Kenya or out side Kenya.. So sad

— Jack Sayiore (@SayioreJack) February 18, 2020
Whoever goes to Middle East to work is a slave before leaving the country. Arabs are animals when it comes to staying with others. Sadly African leaders still think we are living in 1500BC

— AGGREY MBOYA (@AGGREYMBOYA) February 18, 2020
The language in the background seems to be Urdu, its a Pakistani language. Even the guy is dressed like a Pakistani.

— Abdi said (@Abdibinsaid) February 18, 2020