The second president of the Republic of Kenya, the late Daniel Toroitich Arap Moi was buried on Wednesday in a colourful state send-off ceremony.
Much as he is gone for life and won't be seen anymore, his memories will not fade from the face of Kenyans during his 24 years of service to the nation.
Moi's love for sports was evident by his presence in stadiums in various events. He needed nothing less than a win for his compatriots when in external competitions.
Today's episode will give a recount the day when Moi was frankly unimpressed by Kenyan athletes for meagre performance at the Barcelona Olympics in 1992.
At the 1987 All African Games opening ceremony, the organising committee had settled on John Ngugi to light on the flame of the games.
And before 60,000 spectators, Ngugi, a new recruit in the Kenya Army halted and saluted the Commander-in-Chief of the Armed Forces who retaliated by saluting him back.
And come the game time, Moi challenged Ngugi to go for gold which he did by winning the men's 5,000m.
A year later, Ngugi delivered another gold medal in the 5,000 Olympic Games in Seoul, South Korea. The president wasn't around to receive the team that had just come from the Olympic. Instead, the triumphant team was hosted at Parliament Buildings by the then Vice-President Josephat Karanja.
Moi's total love for Ngugi was sealed at the 1990 Commonwealth Games in Auckland, New Zealand when the new recruit faltered and fell, but went ahead to win the silver medal.
Moi praised him urging others to emulate his steadfastness. "Kua kama Ngugi," said Moi. "Huyu kijana anaanguka, lakini anaamka kama mlinda nchi."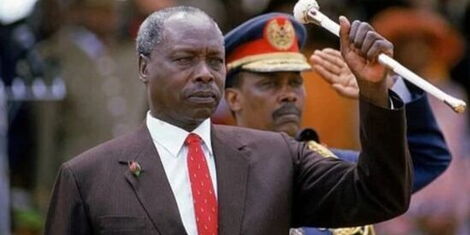 But the athletes somewhat took Moi's respect for granted and performed poorly at the 1992 Barcelona Olympics. The head of state chose to disregard them!
The insensitive athletes only took to donating maize to the less fortunate after the Olympic games, in what was regarded as a show of might.
But in an act of peacemaking with Moi's intimidating regime, the then Athletics Kenya chairman Isaiah Kiplagat played a trick on the athletes, leading them to State House to bring their donations- that's when they faced the music.
Moi reportedly chased them away from State House, Nakuru. The furious president could not stand failures!