The body of the late former President Daniel Moi has landed at his home Kabarak Airstrip in Nakuru county ahead of his final send-off.
The military aircraft carrying Moi's body touched down at the airstrip at around 8:30 am where it was received by the military.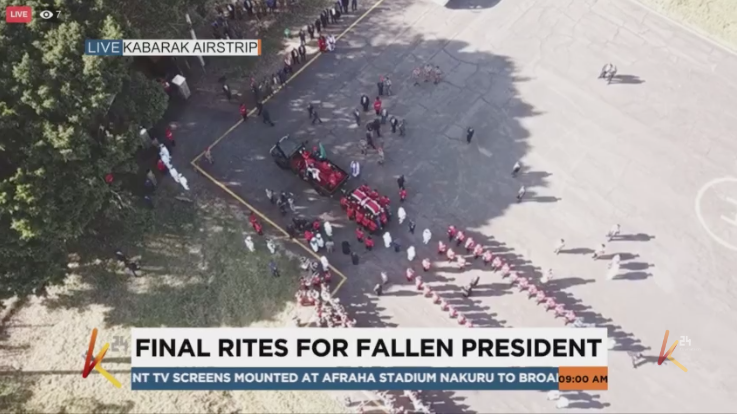 The body left Lee funeral home on Wednesday morning and was received at Wilson airport at exactly 7:20 am before it left for Kabarak.
Body of the late Moi received at Kabark Airstrip ahead of his funeral service #TheLastSalute pic.twitter.com/tEFq3AguW1

— Citizen TV Kenya (@citizentvkenya) February 12, 2020
The Moi family, members of the clergy and the military receive President Moi's body at the Kabarak airstrip. #MoiFinalJourney pic.twitter.com/BkiebFPFSA

— NTV Kenya (@ntvkenya) February 12, 2020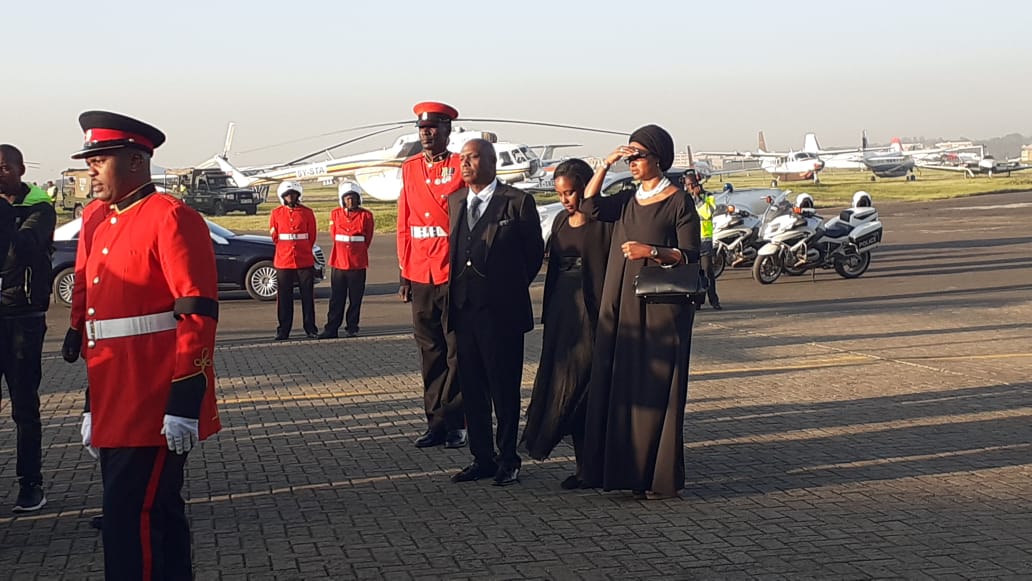 His last born, who is also Baringo Senator Gideon Moi together with his wife were among the few family members who accompanied the body onboard military chopper.
Leaders from across the political divide had already started streaming into Kabarak by 8 am. President Uhuru Kenyatta has already left State House and is expected to land at the airstrip any time from now.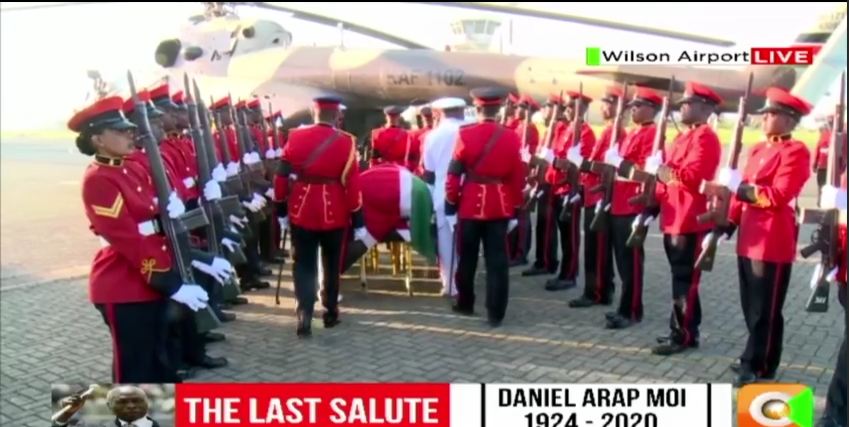 Police officers were lined up along the highway from Nairobi to Kabarak to enable easy movement of vehicles.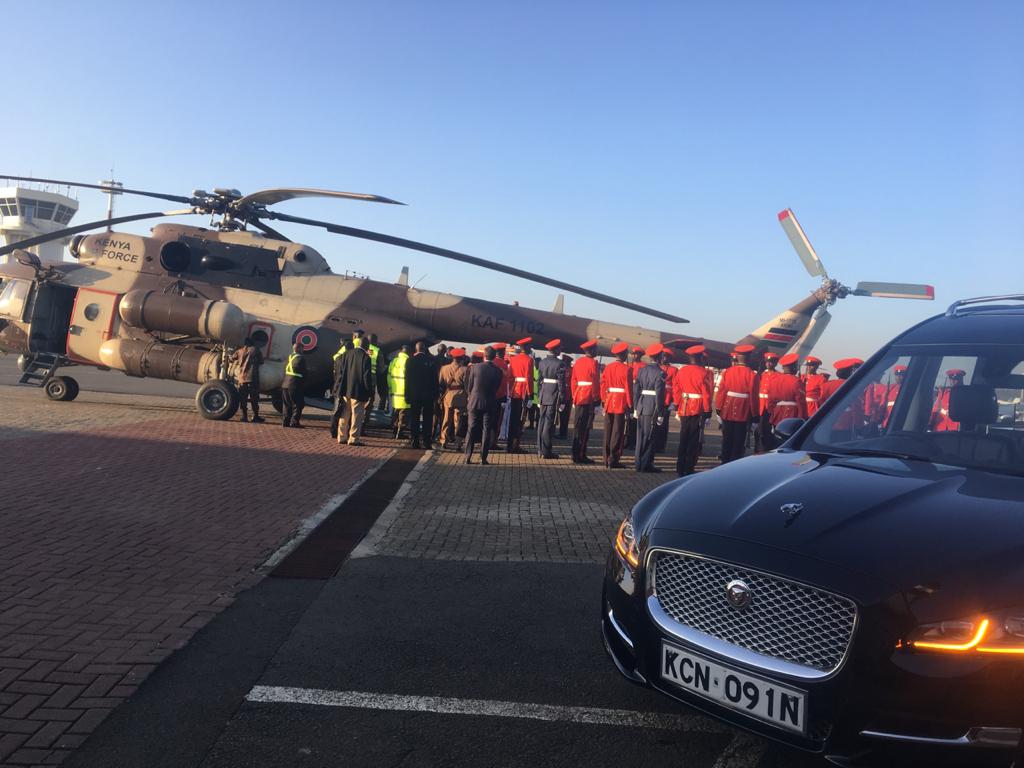 Security has already been beefed up at Moi's home with every mourner thoroughly frisked before being allowed into the venue.
The body of the late President Moi is now on board Kenya Air Force #TheLastSalute pic.twitter.com/T0syOGVOcZ

— Citizen TV Kenya (@citizentvkenya) February 12, 2020
Kenya Defence Forces (KDF) has also been deployed in strategic places to beef up security in a send-off ceremony that will be attended by dignitaries and presidents from all over the world.
The Standard Media Group announced it was going to give out free newspapers to mourners who have turned up at  Moi's  Kabarak home in Nakuru County.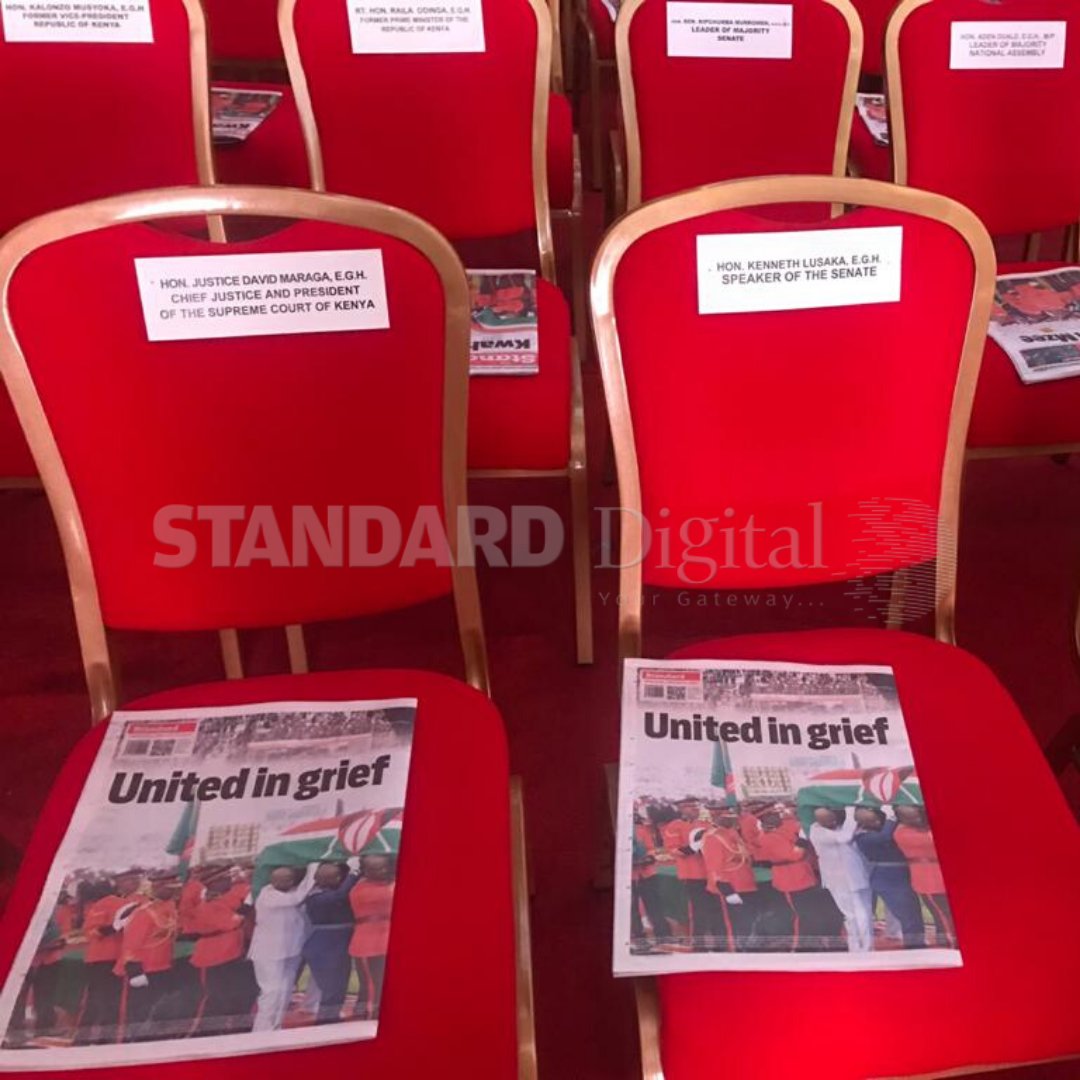 In an update on their social media pages, the newspaper announced that everybody attending the State Funeral service will get a copy of the Standard newspaper in honour of Mzee Moi.
And true to their words, copies of the newspaper were already distributed by Wednesday morning.
Mzee Moi's funeral cortege leaves Lee Funeral Home, Nairobi for Wilson Airport for the body of the late President Moi to be airlifted to Kabarak where thousands have turned up for the funeral service #TheLastSalute pic.twitter.com/RtwVOI0Amv

— Citizen TV Kenya (@citizentvkenya) February 12, 2020
Mzee Moi's body departs Wilson airport, Nairobi in a military helicopter ahead of burial at his Kabarak home in Nakuru. #TheLastSalute #FarewellMoi #MoiFinalJourney pic.twitter.com/7mWtizKm17

— Hot 96 FM Kenya (@Hot_96Kenya) February 12, 2020
Moi's body arrives at Wilson Airport to be transported to Kabarak by a Kenya Airforce helicopter. @tereremmanuel21 @Saphane3 #TV47KE #TheHomeOfUntoldStories #TV47Breakfast #FarewellMoi pic.twitter.com/GL4UHfSMk6

— TV 47 KENYA (@TV47KE) February 12, 2020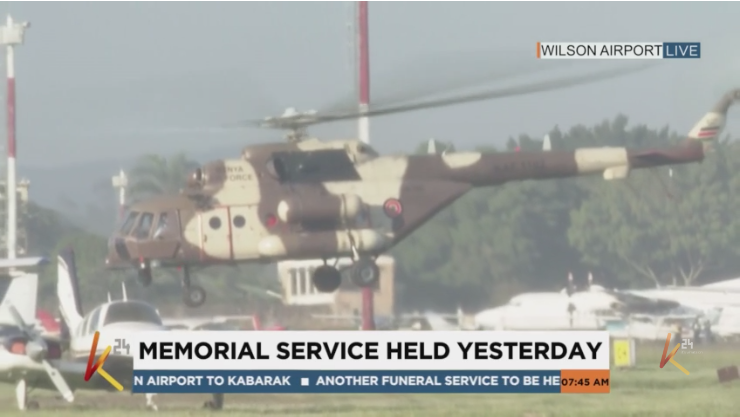 [VIDEO]: Former President Daniel arap Moi's body departs Wilson airport, Nairobi in a military helicopter ahead of burial at his Kabarak home in Nakuru. #MoiFarewell pic.twitter.com/rgzRPgj2FY

— The African Voice (@teddyeugene) February 12, 2020