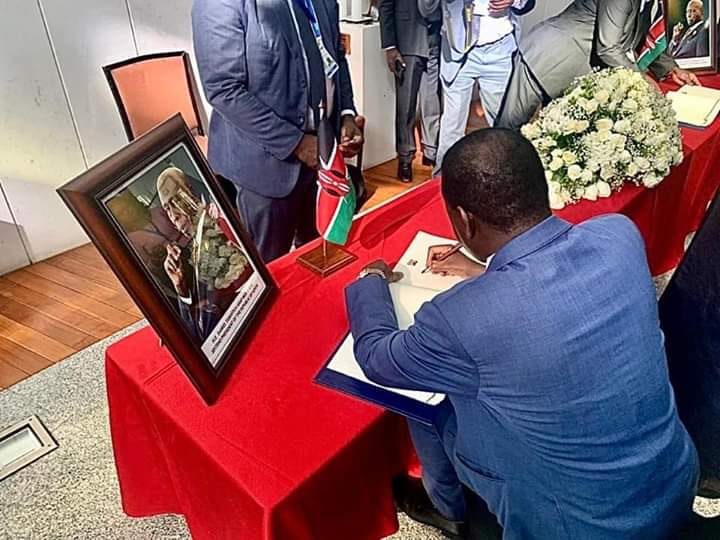 ODM leader Raila Odinga on Monday afternoon joined thousands of mourners to pay his last respects to the late former president Moi.
The former prime minister, who had just arrived from Addis Ababa Ethiopia where he had attended a two-day AU summit, was accompanied by his wife Mama Ida and daughter Rosemary Odinga.
Below is the video of the former Prime Minister arriving in Parliament.
Former Prime Minister Raila Odinga arrives at Parliament buildings to pay his last respects to the late Mzee Daniel Moi. pic.twitter.com/l40HvG5owM

— Citizen TV Kenya (@citizentvkenya) February 10, 2020
Former Prime Minister Raila Odinga together with his wife and son, Raila Odinga Junior, view Mzee Moi's body at Parliament buildings. pic.twitter.com/6K9ktrfNNm

— Citizen TV Kenya (@citizentvkenya) February 10, 2020
Raila, who did not accompany President Uhuru Kenyatta during the first day of viewing to attend the ongoing African Union Summit in Ethiopia on behalf of the latter, had earlier eulogised his former political nemesis as an elder statesman.
Despite the chequered political past between the two, Odinga was grateful for the time he spent with Mzee and sent his condolences to Moi's family and friends.
"Mama Ida and I mourn the passing of President Daniel Arap Moi. We give thanks for his long life of service to this nation. President Moi has had a chequered career and leaves behind a rich history, from representing the Rift Valley in the Legislative Council to MP for Baringo Central, Vice President and President," Raila said on Tuesday.
Other leaders who made their way to the Parliament Buildings on Monday include Chief Justice David Maraga and former Vice President Kalonzo Musyoka, who was accompanied by his son Kennedy.
Wiper party leader Kalonzo Musyoka pays his last respects to Moi #MoiBodyViewing pic.twitter.com/0Nd3R1RZ8Y

— tweetingseat2020 (@ProcessDigtal) February 10, 2020
Many queued for hours to pay their respects to a ruler they revered, while others stood in disbelief that the man they had long feared was gone.
Foreign dignitaries, soldiers and ordinary citizens alike paused, bowed and saluted as they passed by the former president's body.
In neighbouring Ethiopia, at the AU headquarters in Addis Ababa, a brief moment of silence was observed Sunday by visiting leaders and dignitaries before an annual two-day conference got underway. Egyptian President Abdel Fattah al-Sisi said Africa "had lost one of its illustrious sons".
Monday marks the last day for the public display of the body at Parliament after which a memorial service will be held at Nyayo Stadium on Tuesday.
Kenya's longest-serving president will then be laid to rest at his Kabarak home in Nakuru on Wednesday.