Kenyans have taken to social media to mourn the unexpected death of sensational gospel artiste Papa Dennis.
Celebrated Gospel artiste Dennis Mwangi aka Papa Dennis was found dead in Pangani on Friday night near Jubilee Party HQ. Witnesses say that Papa was in a studio session at Nairobi Records, owned by legendary producer Mash Mjukuu, when he stormed out of the room and fell from the 7th floor of the Ngara building and died immediately.
The flamboyant musician was born and raised in Western Kenya and has 4 siblings including a twin. His mother passed away in 2006 and he had tattoos done in her memory.
He was doing well in his music career and won the 2018 AFRIMMA award for Best Gospel Act.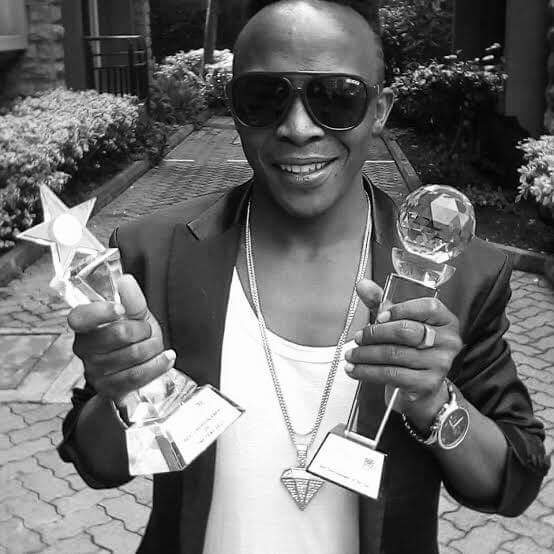 The cause of his death remains unclear as some speculate it could be murder or suicide. Kenyans have flooded social media with condolence messages.
Papa Dennis dies in a mysterious way. In kenya you cross my path the next moment you are found dead along thika road. You jumped from 7th floor or jumped from a moving vehicle. Rip papa dennis. Hope we will find out the truth. pic.twitter.com/58wpDHhZ1I

— K.O.T G.O.A.T™🗯🇰🇪 (@ItsJohnMwendaH) February 8, 2020
No one will ever be ready for such sad news ..I hate these reminders that we are not here forever …use and take advantage of your time here on earth do what you love. till we meet again bro Rest in peace Papa Dennis ..My sincere condolence to the Family 🙏💔 pic.twitter.com/VxPR1Hyz83

— Sleek Whizz🦂 (@SleekWhizzKe) February 7, 2020
This is Sad😩.
Papa Dennis is Dead. After falling from the 7th Floor of a building in Ngara.
The guy had made it. One of the few Gospel musicians doing well in the music industry in Kenya.
Gone too Soon.😩
Rest in Power💪
R.I.P papa Dennis🙏 pic.twitter.com/oPpMpxhz00

— 🤴King Wanga™ (@ItsWanga) February 8, 2020
We might never know the exact details of why the death of Gospel artist, Papa Dennis, occurred. However, what we do know is that he made beautiful music. Music that we can cherish forever. May his soul rest in peace. 📹 Courtesy of Maliza Umaskini. #RIPPapaDennis pic.twitter.com/8LSdNTwejd

— Nahashon Kimemia (@nahashon87) February 8, 2020
Rest In Peace Papa Dennis 😞 😔 😢
Gone too soon. pic.twitter.com/aQsp5ymshW

— Tha Musiq Cook (@saltdedj) February 7, 2020
No one will ever be ready for such sad news ..I hate these reminders that we are not here forever …use and take advantage of your time here on earth do what you love. till we meet again bro Rest in peace Papa Dennis ..My sincere condolence to the Family 🙏💔 pic.twitter.com/VxPR1Hyz83

— Sleek Whizz🦂 (@SleekWhizzKe) February 7, 2020
We have lost a star , a legend , a brother and a King in making. Rest in Peace Papa Dennis.
#RIPPapaDennis pic.twitter.com/dgea1OdiGq

— Lawyering (@TeamWakili) February 8, 2020
A very Sad morning.. We continue mourning. Papa Dennis,Succumbs to head injuries after falling from 7th floor in Ngara,Nairobi. Rip pic.twitter.com/fwsDsS9MSA

— Boniface Mwongera (@Mwongera13) February 8, 2020