Sabina Wanjiru Chege may probably be the only Kenyan female politician who attracts controversy easily like flu.
Formerly an actor in the popular television Kiswahili soap opera, Tausi, before transitioning to radio, she was known for little or no drama.
However, after joining politics in 2013 as Murang'a Woman Representative, Sabina alias 'Maitu wa County' (County mum) as fondly nicknamed by constituents, she has become the queen of publicity; and not the good kind.
Mid 2019, following the death of Benga maestro John De'Matthew, reports emerged claiming that the two were formerly an item and had sired kids together. During the burial of the musician, however, Sabina cleared the air regarding the allegations noting that they were only friends.
Around the same time, The Nairobian Newspaper reported that after breaking up with the late musician, the MP dated the troubled Neno Evangelist Pastor James Ng'ang'a. At the time, the Neno Evangelism Centre preacher had a slot at KBC and Coro FM where Ms Chege was a presenter.
"We were just worried and wanted the best for her. But there's no doubt she was smitten with Ng'ang'a. He was determined to marry her in a church wedding but Sabina eventually dumped him towards 2012," the publication quoted her close associate.
In 2018, she was a subject of yet another scandal involving one Wazir Chacha — the man accused of faking his identity and conning MPs and senior government officials as well as having sexual relations with some.
Amidst the hullabaloo, reports emerged that the man claimed to have had a "close" relationship with Ms Chege, allegations which she vehemently denied.
We have since established that during the Wazir Chacha ordeal, the legislator's woes worsened to an extent of breaking up with her husband.
A close family friend has hinted to Opera News that due to the claims, the vocal MP broke up with her husband, former Kenya Dairy Board acting general manager.
Read more viral articles by downloading the Opera News App.
The two had been married for seven years and sired one child.
This is despite being gifted a mansion worth approximately Ksh150 million at Garden Estate and a high-end car.
Fortunately, the two resolved issues later on and got back together.
"It's true the break up was there but they corrected issues, it was just a normal family break up. Wazir Chacha was the reason, I can now authoritatively say that the MP is happily married to Mr Gathitu who is an older brother to Ahadi Kenya Trust Stanley Kamau.
"The dowry was paid to her family," the source divulged.
Ms  Chege has severally stated that she is only married to one husband terming infidelity allegations against her as pure propaganda.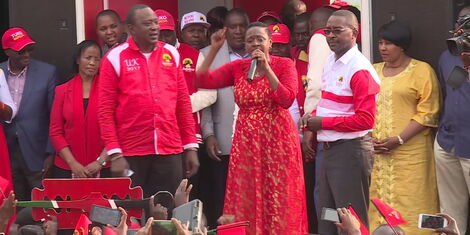 It wasn't all rosy in the beginning but a source hinted that Mr Gathitu's first wife has since accepted the situation and is now best friends with Sabina, to the extent of their children visiting each other.
Maina's first wife, Wanjiku, was reportedly fearing that Sabina might take over all the family property.
"As you know, once a man marries a second wife there must be resistance from the first wife and that is exactly what was happening to Sabina. The media was quick to report even without verification of such information. I think being in the limelight is what attracts bad publicity for her," he said.
Sabina is said to have met Maina in 2012 in the run-up to the 2013 General Election when she was looking to purchase a BMW car.
It's reported that Sabina had gone to buy the vehicle from his car yard in preparation for 2013 election and didn't have enough money.
This prompted Mr Gathitu to allow her pay on hire purchase but later on, he volunteered to clear the bill
The rest, as they say, is history.
Read more viral articles by downloading the Opera News App.