Days after the security detail of Kandara MP Alice Wahome was withdrawn, Kenyans online have come out to condemn the government over the same.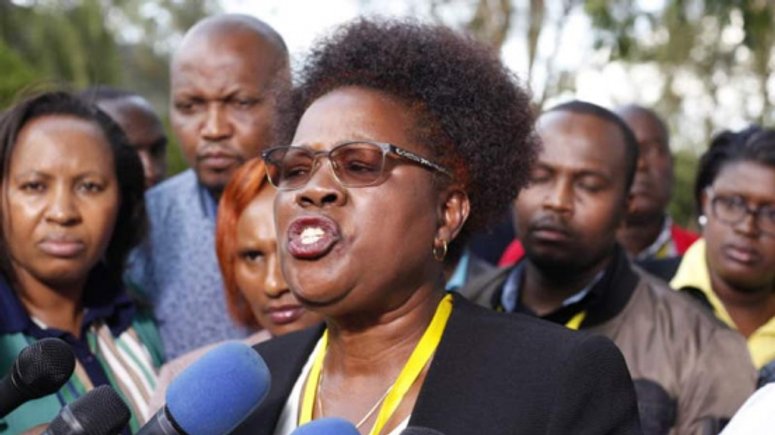 Through an already trending Twitter hashtag #SecurityForKandaraMP most users demanded to know why the government had remained mum despite the legislature claiming her life was in danger.
This comes just a day after the MP revealed that her security had been withdrawn without clear apparent reasons.
The legislator went ahead to claim she had received threatening phone messages as well as being warned of dire consequences in relation to her political stands.
"My personal security detail has been withdrawn today. I have been receiving threatening phone messages and press conferences have been held to warn me of dire consequences. My life is in danger," claimed Wahome.
This was the second time the Tangatanga MP was talking about death threats. She first raised the issue in January after she criticised President Uhuru Kenyatta.
According to many users, Ms Wahome had been receiving the threats because of her continued association with Tangatanga faction of Jubilee Party which supports Deputy President William Ruto's 2022 bid for the presidency.
"A man called me last week and threatened to kill me. Some leaders allied to Kieleweke are after my life and, should my constituents fail to locate me, they should be interrogated over my whereabouts," said the MP on January 15, 2019.
Her claims seemed to have gotten the attention of the social media users who have taken issues with President Uhuru Kenyatta blaming his government for frustrating leaders associated with the DP.
Despite this, the MP maintained the threats will not make her change her unwavering support for the deputy president.
"I can't believe this how to treat an elected member of parliament, Alice Wahome represents the people of Kandara Constituency and when she's being harassed, that's means the Kandara people are also being harassed! #SecurityForKandaraMP," tweeted one user.
Here are some more reactions from twitter;
The biggest question should be, who are these people who are threatening to kill Ms Alice Wahome? And what are we doing as a state on that issue besides, various alarms has been raised. pic.twitter.com/0QHXFduKYB #SecurityForKandaraMP

— KOT CAPTAIN™ (@RealOwinoPaul) February 5, 2020
The #SecurityForKandaraMP should be a great worry to Kenyans. Why does the government want to force BBI to our throat? We should say no to impunity.

Photo Courtesy 📷 pic.twitter.com/SiIxCU8er7

— KEN MAPESA🇰🇪 (@mapessa_) February 5, 2020
Alice Wahome has been supporting the president and his deputy fully since 2013. Let her be given her security back because she needs it more at this time.#SecurityForKandaraMP pic.twitter.com/o67M4fQnjy

— Miss Cate 🇰🇪 (@MissCate_) February 5, 2020
Nobody should be punished due to their political support or affiliation. We are not in Moi Era , let's have some ethics.#SecurityForKandaraMP pic.twitter.com/f0wmlfch2c

— Peter Kariuki KE 🇰🇪 (@PeterKariukiKE) February 5, 2020
Kandara MP claims her life is in danger after her security is withdrawn, Kenya are we really a democratic state if one security is withdrawn if you don't support gov't agendas. Moses Kuria and Kimani Ngunjiri were told to surrender their firearms🤦🏻#SecurityForKandaraMP pic.twitter.com/9DjxScBmw6

— LexxiTheMediaGuru (@ItsLexxiKimani) February 5, 2020
Kindly note that Alice Wahome just like any other MP was voted in by the Citizens, her opinion is a representation of the whole of Kandara, to mistreat her is to mistreat Kandara itself.

#SecurityForKandaraMP pic.twitter.com/ekgARgC34Q

— Voice of Reason (@KoechMmanuel) February 5, 2020
I don't support harassment or mistreatment of a person because of having different views from the ones more powerful, but have we thought of calling on more security for the teachers and residents of garissa and mandela who can't carry on b/s due to attacks#SecurityForKandaraMP

— K.O.T G.O.A.T™🗯🇰🇪 (@ItsJohnMwendaH) February 5, 2020
However, there are some who rubbished her claims saying the country should just concentrate on more security issues like the al-Shabaab instead of focussing on political allegations which makes no sense.
People living in North Eastern region of Kenya have been butchered by Al-Shabaab since time immemorial. Never heard guys calling for their security. Alice Wahome who lives in Runda is who you feel needs more security.
She has one life & so do those Kenyans.#SecurityForKandaraMP

— TH3 ÏNCR3DÏBLY T3RRÏBL3! (@General_Waitina) February 5, 2020
For those yapping here that security to be reinstated to Alice wahome you are getting this wrong, we should support our president, whoever going astray the reggae should and must be thought a lesson. Wahome is learning one we will deal with them to the rope #SecurityForKandaraMP

— Dr James Karanja Nyoro (@FirstbornBBI) February 5, 2020
Alice Wahome Must learn to respect the president and the presidency , you can't abuse the president with impunity and expect to be given security by the state . She must show respect to Commander in chief of all armed forces. I stand to be corrected. #SecurityForKandaraMP pic.twitter.com/6Q5WPWajvu

— Mwalimu Jacob Aketch 🇰🇪🇺🇸 (@AketchJacob) February 5, 2020