Gatundu South MP Moses Kuria is expected to address the media on Monday, 20th January, over his alleged link to the murder of former Independent Electoral and Boundaries Commission ICT boss Chris Msando.
Kuria, who was among the first people to arrive at the scene where Msando's car was dumped, said that he was tired of people connecting him to the gruesome murder and hopes to bring the whole debate to rest on the Monday afternoon address.
The State reportedly withdrew his security just hours after his post leaving him and his team perturbed. According to a report by Daily Nation, all of the security personnel save for one had been recalled to the Security of Government Business Unit for redeployment.
The much-anticipated address has created hullabaloo online with a section of netizens quick to dismiss his concerns with many pointing fingers at the legislator since he was among the first people who traced Msando's car.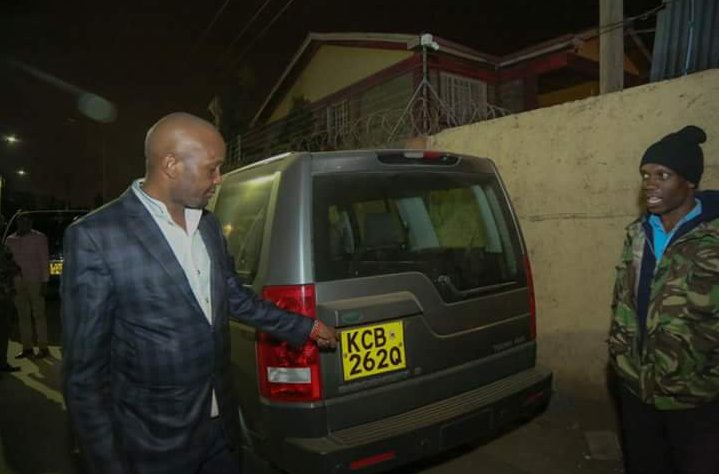 "In civilized criminal jurisdictions, Moses Kuria would be an ARGUIDO (Person of Interest)in the Death of Chris Msando. In Dead of the Night, when only Witches, Wizards & Nightrunners were out, Moses Kuria was standing by the car of Chris Msando, then dead but not yet public [sic]," Lawyer Donald Kipkorir said.
"Moses Kuria playing politics with Chris Msando's murder when his family is healing from that loss, is the lowest of the low. Why didn't he say something earlier? Our leaders need to go on a retreat and discuss how to be better for Kenyans," a Twitter user, Kadeiza said.
Msando Chris's mother and wife went through untold pain. They were crying during interviews. You could see the pain in her eyes.
If at all Moses Kuria knew the killer(s), and kept quiet then, He shouldn't talk now. It will open old wounds to this family that is slowly healing. pic.twitter.com/zkegdqxhpJ

— Hope-Of-Kadiju (@FrankGanda) January 20, 2020
Kenyan's don't expect any announcement from Moses kuria. The guy is used to thriving on threats, intimidation and lies.
His big brother in crime @HonAdenDuale Never gave us the terrorist list he promised.
Such unreliable clowns 🤨💔

— 𝕵𝖔𝖍𝖓𝖘𝖔𝖓 𝕻𝖊𝖗𝖐𝖎𝖓𝖘⚪ (@Perkins_KE) January 20, 2020
If Moses Kuria has anything to help arrest those who killed my Chris Msando, he must publicly share the information or just keep quiet.

Msando is the son, father, brother, uncle and friend to many. They are suffering and Kuria shouldn't play with their grief.

— Robert Alai (@RobertAlai) January 19, 2020
Dear Hon. Moses Kuria;

Please watch this video of Msando's mother before your press conference later today. I am sure she'd love to have some form of closure of how her son & bread winner was murderered.

Thanks for the honorable service you've chosen to do today. pic.twitter.com/c6Q8nybt8l

— A Karani Onsomu (@erwoti) January 20, 2020
But why would Moses Kuria sit on that information all this while? Now his security has been withdrawn. Definitely there is something serious being hidden about the Msando death pic.twitter.com/vvtlrXkk9N

— Ashioya Mogire& Nkatha Advocates (@Ashioyabiko) January 20, 2020
Msando's body was found in a thicket in Kikuyu, alongside that of a woman, 21-year-old Carol Ngumbu, a month before the August 8, 2017, General Election.
He was in charge of the country's electronic digital voting counting system for the presidential election that pitted Jubilee's Uhuru Kenyatta against Nasa's Raila Odinga.