Radio presenter cum comedian Jalang'o, has come to the aid of a boy who arrived for form one admission at Kanga High School with an empty box.
Through his Instagram account, he promised to do a complete form 1 shopping and fully sponsor Levis Otieno Rabar's secondary school education.
"Through @trippygotours we will do a complete form 1 shopping and pay his school from Form 1 to Form 4. If anyone has the Principal Number to please share in the DM," he wrote.
Updating his fans, Jalango revealed that he spoke to the principal of Kanga High School and got the chance to speak with Levi.
Adding that the boy's school fee is around 53K per year and him with the help of other well-wishers wants to pay for the four years.
"UPDATE ON THE BOY AT KANGA HIGH SCHOOL!! Last Night I spoke to the Principal and also got the chance to speak with the boy Levi Otieno Rabah! So the work begins today! School fees is around 53k per year we want to pay for the four years,"he wrote.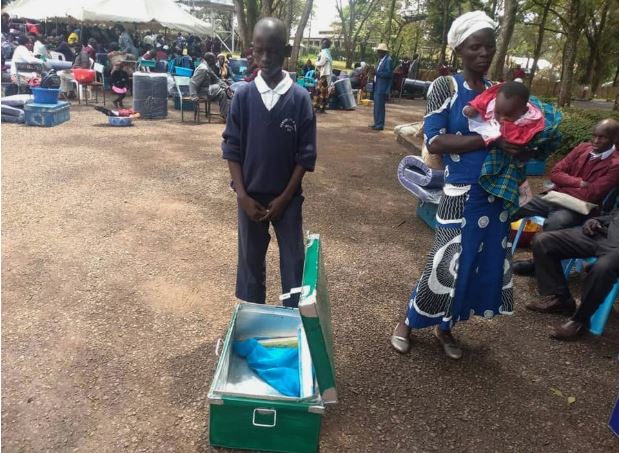 Jalas, who promised to personally visit the school, went on to urge anyone who is willing to support the boy's education to send directly to the school pay bill.
"If there is anyone willing to pay and contribute anything just send directly to the school pay bill which PAYBILL NO 522123 ACC NO 57871KThen indicate his name LEVIS OTIENO RABAH," he said.
"I will personally go to Kanga High school to make sure that your contribution is channeled to his account".
Jalang'o also promised to help his mum.
"On my side today I will be calling my friends and companies I have a good working relationship with and we will do more than the school fees. Looking at the mum things don't seem ok back at home we will go beyond the school fees. Keep it here for all the update!! God above everything,"
Levis's story touched the hearts of many after a picture of him with an empty box during form one admission in the company of his mother went viral.
Otieno scored 390 marks out of 500 in the 2019 Kenya Certificate of Primary Examinations (KCPE).
Apart from Jalas, other well-wishers have come forward to support the boy to achieve his dreams.
"THANK YOU @quickmartkenya FOR THIS AMAZING GESTURE!! I WILL BE COMING TO PICK THE SHOPPING! JUST TELL ME WHICH BRANCH!! 1. SHOPPING DONE!! COURTESY OF @quickmartkenyaHapo kwa comment just say THANK YOU QUICK MART!!, "Jala's disclosed another wellwisher.