With Lawyer Miguna Miguna's much-awaited return into Kenya seems to have hit a snag after he was barred from leaving an airport in Germany, furious Kenyans have taken to their social media sites to express their frustrations.
According to reports Miguna, who was to board a plane to Jomo Kenyatta Internationa Airport from Frankfurt Airport, Germany on Tuesday, January 7, 2020, was barred after an international red alert was issued.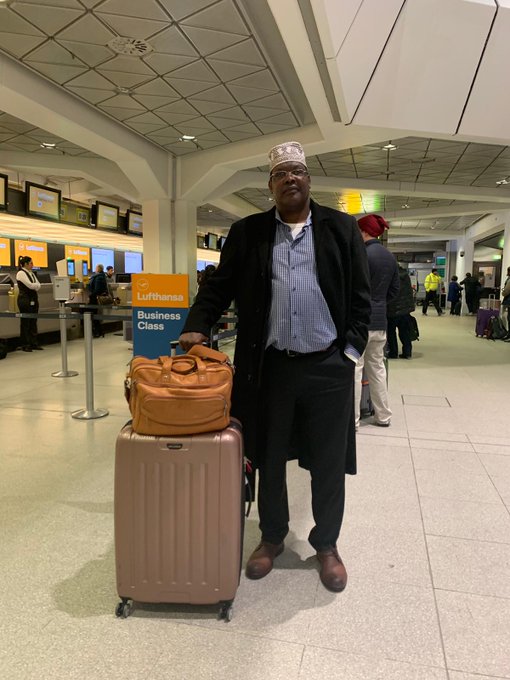 Confirming the reports to Hot 96 FM on Tuesday morning, Miguna stated that the German authorities had stopped him from boarding the plane because the Kenyan government had not communicated to them on the same.
Lufthansa flight manager communicated that the government of Kenya must send official communication to Lufthansa before Miguna Miguna can be allowed to fly to Kenya or any other African country.
It was, however, the decision by the Kenyan government to disrupt Miguna's safe entry into the country, that elicited sharp reactions from some of the users, who accused the state of sabotaging Miguna's freedom.
According to most of them, the government was not genuine in its campaigns to keep Muguna away especially at the time the country was debating on Building Bridges Initiative, BBI report.
#MIGUNAMIGUNA claims that he was barred from leaving Berlin Airport in Germany by Lufthansa Flight Manager, following red alert issues raised by the Kenyan Government.
📷 Courtesy pic.twitter.com/AFqijrYG7w

— Dennis Kiplimo™ 🇰🇪🇰🇪 (@_ItsShark) January 7, 2020
Others argued that with Miguna (vocal revolutionist) being denied entry in his country confirms that the government was ready to force the BBI recommendations down their throats.
Their frustrations, however, seemed to have gotten the attention of the state which later, through the Ministry of Foreign Affairs, moved in to announced that it was set to handle the red alert baring Lawyer Miguna Miguna from travelling into the country.
Government Spokesman Cyrus Oguna insisted that Miguna was welcomed into the country as per President Uhuru Kenyatta's initial directive adding that the state department was going to ensure the success of his trip.
GOVERNMENT Spokesperson Cyrus Oguna says President Kenyatta's remarks allowing Miguna's return still stands despite lawyer's claims that the OP is frustrating his return to Kenya. #MIGUNAMIGUNA pic.twitter.com/PhF8WLTcBW

— The Star Breaking (@TheStarBreaking) January 7, 2020
Here are some of the reactions from Twitter ad Facebook;
Its just the start of REVOLUTION in this country. Allow miguna miguna to come back. #MIGUNAMIGUNA

— 𝗪𝗮𝗰𝗵𝗶𝘆𝗲🇰🇪™ (@ItsWachiye) January 7, 2020
#MIGUNAMIGUNA.Uhuru and Raila are totally afraid of MIGUNAMIGUNA.Uhuru is a weak leader who fears fellow kenyans.He knows the economy is tough and Miguna Miguna will dethrone all despots with him included.Jubilee is afraid of a Miguna revolution now that the economy isn't working

— Erick Atitwa (@AtitwaGmail) January 7, 2020
Tabbie Ellen Jay Kenyan Government we are in the year 2020 we are no longer slaves. If you treat your own like this how do you expect other countries treat us especially those in foreign countries? What did God meant when he said love and forgive one another? 😭 Lawlessness country
Miguna Miguna being denied entry in his country confirms the government is ready to force on us the BBI recommendations.
#MIGUNAMIGUNA

— Patrick Ahinda 🇰🇪 (@ahindapat) January 7, 2020
#MigunaMiguna has been barred from leaving Berlin Airport. He says a red alert has been issued from the President's office barring him from boarding the flight to JKIA or any other African country. President Uhuru Kenyatta and the Jubilee Government are just Trash.🙄

— BRAVIN™ (@BravinYuri) January 7, 2020
Sam Sam And when Alice Wahome said that Uhuru Kenyatta is an existential threat to our democracy..overgrown kids have been insulting her,splashing all manner of words towards her..
People subscribed their brains to Kieleweke and Odm brand of politics that they don't see fact in what Alice said.
Why is Miguna being barred from coming home to his place of birth!
The GOK stopping a Kenyan citizen by birth from entering Kenya but can't stop terrorists from crossing over to Kenya. Pure madness. Uhuru Kenyatta is officially a clown of the decade heri @WilliamsRuto #MIGUNAMIGUNA

— Dorcas Sarkozy (@Alicia_Akeys) January 7, 2020
Ole Njogu Indeed Uhuru Kenyatta is a modern day dictator and the biggest Threat to Democracy in Kenya. Alice Wahome was right after all
What is not happening to the Gen #MIGUNAMIGUNA! Yesterday the ministry of interior released a presser allowing Miguna Miguna to come home then boom the same govt issued a red alert not to allow him board the plane at Frankfurt Berlin. Why are we Masters of Double Speak? pic.twitter.com/V3Pgak0Jyl

— Kawangware Finest™️ (@cbs_ke) January 7, 2020
Oke Kabudha We, Patriots, DEMAND that the USELESS DESPOTIC Jubilee UNCONDITIONALLY facilitate the return of Dr. Miguna Miguna otherwise they can sing their EQUALLY USELESS Bridges to Nowhere songs to the birds of the air.
Is Miguna miguna the greatest threat to be issued with a red alert than the toxic maize and all harmful food products the government is feeding us? Is he a terror suspect? Shameful that it is a democratic country doing this. #MIGUNAMIGUNA

— Ngochorai (@georgie_ndungu) January 7, 2020
Miguna Migunas brilliance is a threat to the stupidity of Raila odinga and Uhuru Kenyatta that is holding Kenya at ransom #RejectBBi#MIGUNAMIGUNA pic.twitter.com/sMBWqHblS0

— clarise lizarazu (@ClariseLizarazu) January 7, 2020
Miguna Miguna will enter this country when the government wants not when he wishes. Till then all his attempts are in vain. #MIGUNAMIGUNA

— LEGIT DAILY (@iamlegitdaily) January 7, 2020