Human Activist Boniface Mwangi has once again taken swipes with the government over the alleged brutal killing of two teenage boys from Good Samaritan Children's home in Mathare slums on the eve of Christmas day.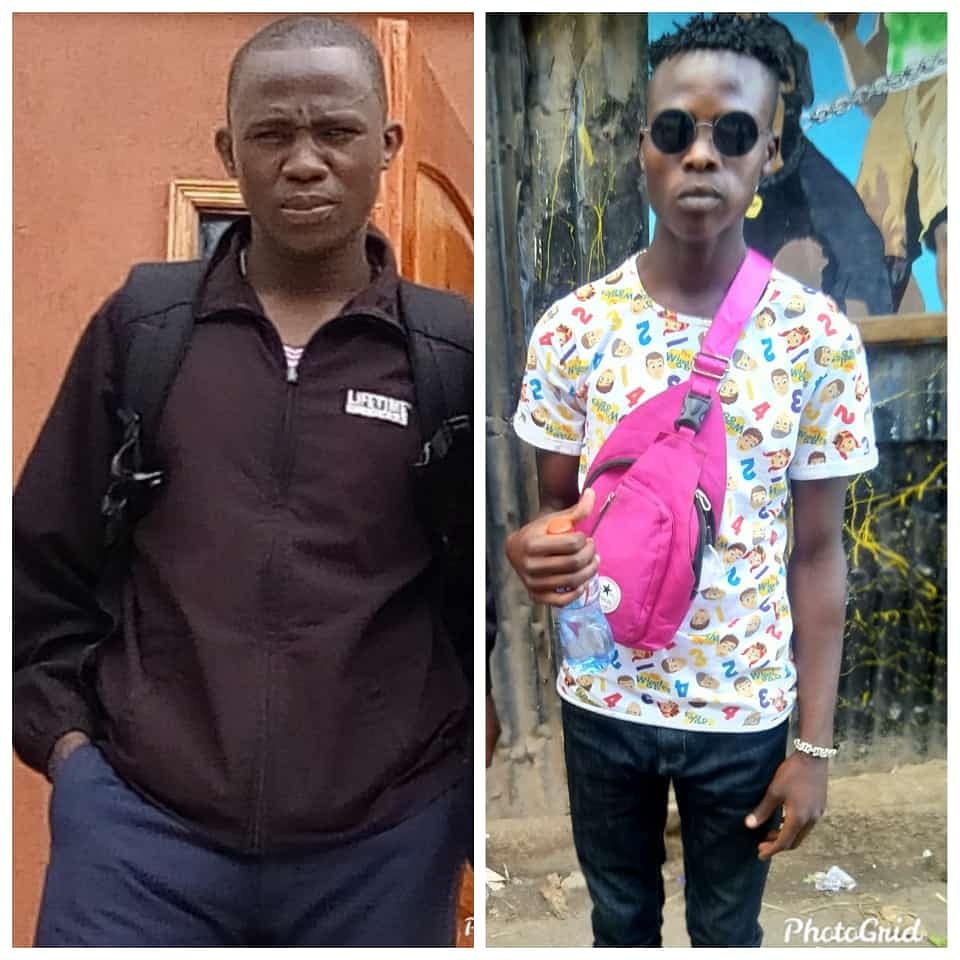 According to Mwangi, a police officer by the name Rashid, together with his alleged killer squad, arrested four teenage boys from the slum area on the pretence of being criminals (stolen a mobile phone) before assaulting and releasing two of them.
The drunk officers, according to him, escorted the two remaining boys, Peter Irungu (18 years) and Brian Mung'aru (19 years) to Amana Petrol Station which is said to be their operations base.
It is while at the petrol station that the said drunk officers ordered the two boys to face the wall before shooting and killing them instantly.
Looking like a criminal doesn't make you one. President Uhuru Kenyatta looks like a chronic drug and alcohol addict. If you met him in the dark, you would run away. IF Uhuru came to ask for your daughter's hand in marriage, you would likely decline but no one has shot him dead. https://t.co/b3v53rrEIH pic.twitter.com/svCYcVGBzL

— Boniface Mwangi (@bonifacemwangi) December 30, 2019
"The two boys knew they were about to be executed. They knelt down pleading for their lives, but their cries for mercy fell on deaf ears. Rashid and his crew killed the two young boys in cold blood," read part of Mwangi's statement on Facebook. Here is part of the statement of Mwangi's claims on Facebook;
…A police vehicle from Pangani Police Station picked the bodies and ferried them to City mortuary.
Mathare community members were outraged by the killing of those two boys and decided to stage a peaceful protest. The government that protects looters and killers and has given power to Rashid and his Pangani Six crew to go around executing young, poor men in the slums sent two lorries of GSU police to beat up the peaceful protestors.
Rashid and his killer squad, popularly known as Pangani Six, are now hunting for the witnesses to the execution, as well as the young people who organized the peaceful protest. A lot of young men have gone into hiding and Rashid and his crew have been destroying whatever they find in the young men's homes in Mathare, Area 3B. Using machetes, they've been breaking TVs, radios, water containers and whatever valuable thing they can easily destroy.
Apart from the Kenya government, the biggest enabler of Rashid is the Eastleigh business community. They pay Rashid protection money, to harass and kill young people. Bribes are sent to National Police Service Headquarters to ensure Rashid is never transferred, held accountable for the killings, or charged.
The two executed, teenage boys were accused of stealing a mobile phone and, if that were so, they should have been arrested and charged. Rashid is a sick man, a bloody thirsty killer who should be dead, or in jail. Crime is a big problem in Eastlands and people who use guns to kill and rob people should be handled according to the law. The law is very clear when a police officer should use deadly force. The problem is that Rashid executes anyone. Sometimes he goes around shooting water tanks in the slums for fun. Even his bosses fear him. Elected leaders fear. Mathare MP, the MCA's and even Nairobi senator will keep quiet as Rashid continues killing.
Mathare Social Justice Centre have documented incidents of Rashid's unhinged behavior. As l post this, the police are still raiding and targeting the youth of Mathare for speaking about the execution. They're going from house to house hunting them, so far they have arrested three young men and booked them at Pangani Police Station on false charges, breaking and stealing. Punishing them for daring to protest against the killer, Rashid.
We are a country governed by laws. Sometimes, bad people must be killed to protect good people. The problem is that most of the people police are executing in the slums are just misguided young people, some of whom are innocent. I can wear fashionable combat clothes everyday. Rich people can wear combat gear everyday. Our politicians wear combat clothes in public rallies, but in the poor areas of Kenya, police will extort, take away your clothes and, if unlucky, execute you for wearing them. Fashionable combat clothes are sold legally in Kenya and sold openly but it's only a crime if a poor person wears them. The police have criminalized poverty.
For those justfying police killings, remember Uhuru Kenyatta and William Ruto were suspects for crimes against humanity. They were accused of rape, organizing and funding the killing of over 1,000 people. They weren't executed. They were charged in court. The people who were supposed to testify against them were murdered by a police hit squad. Kenya police is full of brainless murderers who kill for politicians, instead of killing the people looting Kenya. Statehouse, Parliament, the Senate, are all crime scenes, with murderers, rapists and drug dealers who enjoy State protection. Rashid, Hessy and the police hit squads should consider aiming their guns there for a change. Let the real murderers and thieves be targeted. For once. #TeamCourage