Digital communications strategist in the office of the deputy president Dennis Itumbi, on Sunday, found himself on the receiving end after his tweet on Jubilee party Secretary General Raphael Tuju attracted the fury of twitter users.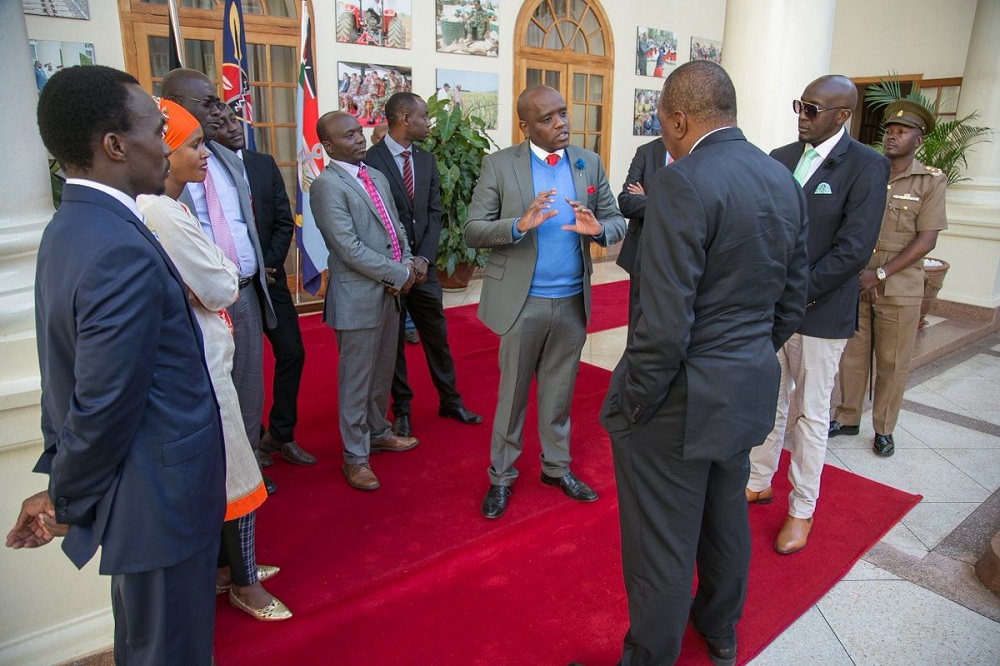 While criticizing the Sunday Nation newspaper over alleged typos in its lead story, Itumbi claimed that the newspaper had made two errors by indicating that Tuju was a Cabinet Secretary as well as stating that there will be an election SHOCKER since the party was planning to lock out all corrupt leaders from vying for any election seat in the future.
According to Itumbi, Tuju had never been a CS and by reporting that he was one, the newspaper had failed on numerous occasions.
He also insisted that Jubilee party had overtime locked out all corrupt leaders from vying for its leadership positions and that the same was not going to be a shocker as insinuated by the paper.
"Dear Sunday Nation, TWO errors in this story. One, @RaphaelTujuis NOT a CS. That is a lie you have told so many Times. It remains a LIE! Two, there is ZERO shock, Jubilee always locks out CORRUPT leaders. Corruption must be proven via a fair Judicial CONVICTION!" posted Itumbi on Twitter.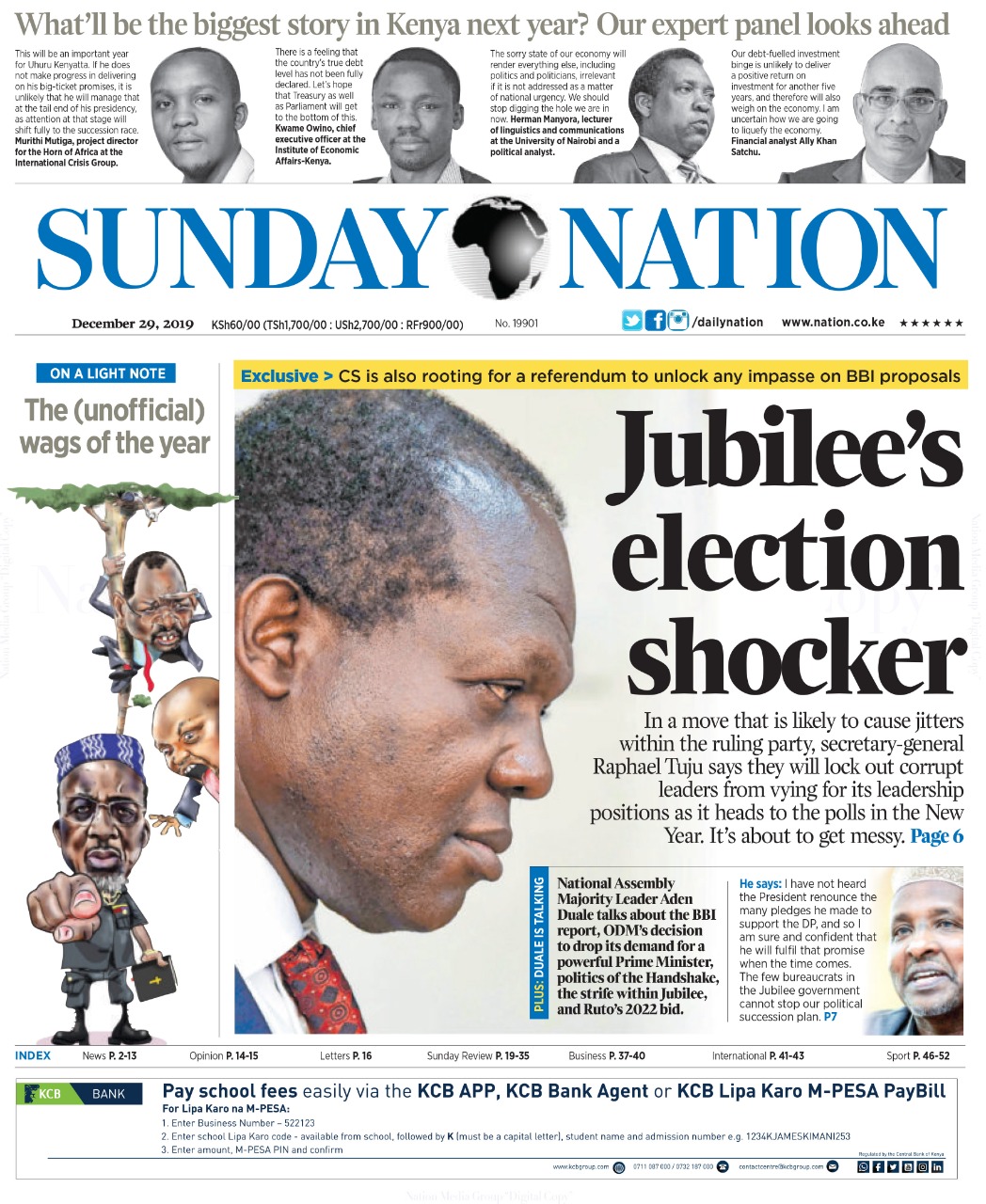 However, his tweet got the attention of online users who thronged twitter to school Itumbi on the responsibilities of Raphael Tuju as a Cabinet Secretary without a portfolio in Uhuru's government. Here are the comments.
Now you're forgetting that Tuju is a CS without portfolio.
That is the sheet Jubilee told us. #WajingaNyinyi

— Sir Edwin (@SirEdwin_) December 29, 2019
Dennis Itumbi,you are just nothing in this government,you are like Mr.Ruto who is roaming Kenya thinking that will make him President. Please stick to your useless duty of blogging ,issues CS and reserve for the President, you do not have to tell who is one and not..

— kenneth oborah (@amukah) December 29, 2019
@o_abuga ongeza volume imfikie @OleItumbi loud & clear in case he had forgotten. Tell him they even created another tier called "CAS" which has kept many busy. My friend @AbabuNamwamba is one of them.

— @AMokaya (@aloyce_mokaya) December 29, 2019
and
@dailynation
ITABIDI UANZISHE GAZETI YAKO JUU WEE HU CORRECT KILA KITU
Your statement has 2 obvious errors;
1. Tuju is a CS- The president said so, You're not the president.
2. There is shock in Jubilee- You can't know corruption when you're corruption

— cyrus Babu (@cyrusBabu2) December 29, 2019
I would rather be a CS without portfolio than being a statehouse head of digital communication without portfolio!!!!

— Larry K (@okuom_okuom) December 29, 2019
Cabinet meeting chaired by President in attendance are all cabinets with or without portfolio, pic.twitter.com/VYnnTkG0yo

— The Mnur Feruz (@Mnurferuz) December 29, 2019
is now playing out crystal clear!..the fight is home and dry.the eaters are now defending corruption!itumbi a state hse official is a defender of every one ever mentioned in the vice!..surely The president has to get the support in this fight

— Yassin yusuf (@Yassinyusufyy) December 29, 2019
However, others came to the rescue of the embattled Itumbi stating that the strategist was justified since they never saw Tuju being sworn in as the CS.
@o_abuga u've just been asked to show us a photo of him being sworn in as CS. Answer the question. Just because he was mentioned in a press conference doesn't mean he is a CS.

— Felix Kemboi (@FelixKKemboi) December 29, 2019
Tuju being a CS or not is a corruption by itself,how comes he draws salary from the exchequer for work we dont understand.

— Hon.Kawalaze (@kawalaze) December 29, 2019
Who is Tuju anyway?Sasa watu wakose usingizi juu ya kitu kidogo Kama Tuju….Hakuna bwana huyo atangolewa by force saa mbili asubuhi…WAIT.

— Haron Ng'etich🇰🇪 (@Kipkiru59877121) December 29, 2019
🤣🤣🤣 I'm dumbfounded!! Why wait till then? Remove them from the party now. The most stupid absurd nonsense I've heard all festive season. Anza na @StateHouseKenya conflict of interest and running down the economy. Toka sana Tuju @RaphaelTuju_EGH https://t.co/0MDgBsNJyl

— brian_k (@b_kigo) December 29, 2019