Yes, it's the Christmas season!
Some of you have gone to shaggz to visit your grandparents, show your children where you grew up and attend a family get-together. The main reason why most of you decide to go to the countryside is to bond and catch up with the rest of the family members after a busy schedule during the year.
As you enjoy your stay in shaggz, there is one thing couples forget to take care of, to make time for intimacy. In as much as you need to attend to your children or cook and choke in the smoky kitchen, you and your partner need some good 'twa twa' in the village.
If you have been thinking it's impossible because the room is too small or you are sleeping in the sitting room, don't worry we will give you ideas. Here are steamy sex positions you need to try in the village;
1. Reverse Cowgirl.
This position will give your man two breathtaking views which is your banging body and the green scenery especially if you are from the Mount Kenya area. How romantic to make love while seeing such views?
This is another interesting position where the girl goes on top. Have your man lie on his back and straddles them with their knees, either side of the lower partner's hips. Mix the position by varying the speed, and depth of the penetration.
Try moving back and forth, or in circles, instead of just up and down.
2. Standing position. 
Standing sex positions has never gone out of style! This can work perfectly in the coffee plantation, maize shamba or around a big mango tree which is far away from the house. This will make your intimacy more adventurous.
The standing position comes in different styles which include; lean on something, three-legged dog (Facing each other, but with one of your legs hiked up and resting on your partner's for support), forward and backward ( standing behind your partner).
This position would be perfect when you are dressed in a cute short dress for your man.
3. Missionary baby! 
It's time for your man to be in control! This is where he will go on top of you and penetrates deeper. With this position, it is very easy for the G-spot to join the party!
But remember not to moan loudly you don't want to wake your relatives up. But if you feel you are limited, you can use the car. Go for a romantic ride and get steamy with no interruptions.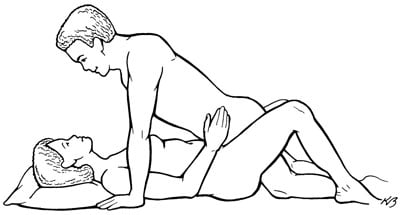 4. Spooning. 
This is a chilled and cuddling position that requires you and your partner to lay on the bed with your hips above your partners.
When he is holding you from behind he can penetrate. For maximum pleasure, you may need lubrication but if this position is done well. You will hit the big O. This position is perfect when y'all are on that small bed.
5. Doggy style.
This is a sex position whereby your man bends over, crouches on all fours (usually on hands and knees), or lies on their abdomen.
It's also a mind-blowing position that will give you and your partner mindblowing orgasms.