Moments after Machakos Governor Alfred Mutua appeared at Kilimani police station to record a statement on alleged death threats from Deputy President William Ruto and his friends, Kenyans on Twitter (KOT) have taken to their accounts to roast the governor with funny reactions.
On Monday morning, Mutua filed a complaint at the station decrying threats he claims to have received at an event at State House, Nairobi a week ago.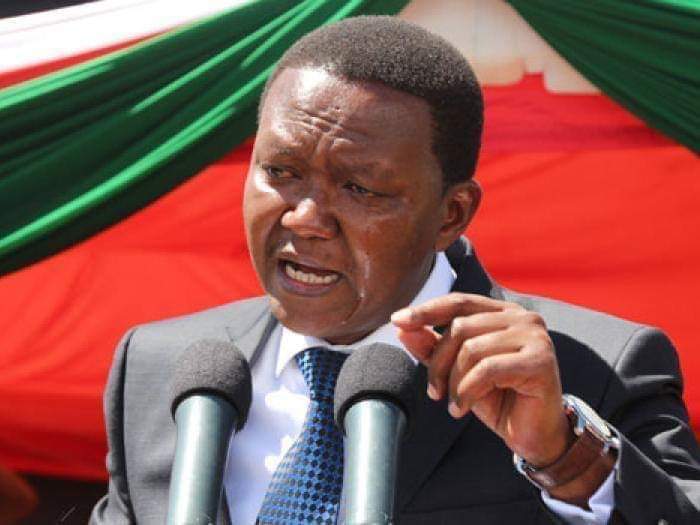 Addressing members of the press shortly after recording the statement, the county boss disclosed that he was threatened by senior government officials led by Deputy President William Ruto, National Assembly majority leader Aden Duale and his Senate counterpart Kipchumba Murkomen of dire consequences if he continues fighting the DP.
According to the Maendeleo Chap Chap party governor, the three leaders promised on two different occasions to teach him a lesson, something he alleged was giving him sleepless nights.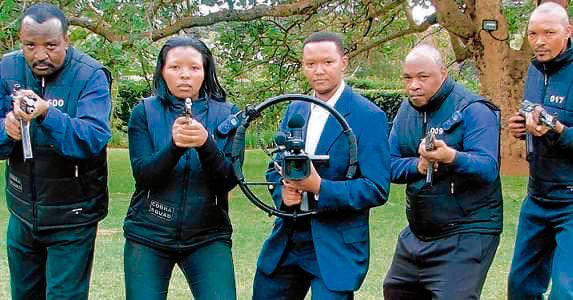 Despite this, the seemingly unforgiving Kenyans, instead of sympathising with the governor, grabbed the opportunity to mock him with humorous comments and memes.
According to many of the users, the governor was only trying to attract cheap attention from the public something they opined was purely meant for political mileage.
This Alfred Mutua is just an attention seeking Drama King. All that convo. looks scripted. He's just bitter and afraid of the future;He's scared since Ruto was seen with Kalonzo. He's afraid of being politically irrelevant come 2022 coz def.hakuna mahali RaiHuru will take him. pic.twitter.com/5VPfOek4PU

— Awuor🇰🇪 (@AwuorKiprotich) December 16, 2019
@j_madanga Replying to@DrAlfredMutua kenyans problems will not be solved by PR stunts currently becoming a fashion on media pretending to fight for us. If mutua thinks any leader wants to kill him, let him know we common mwananchi had been poisoned with mercury and aflatoxins long ago. We are just waiting to die!" tweeted one user.
Hatuoni vipindiree of machakos Governor Alfred Mutua since his time at Cobra Squad
He now claims Deputy President William Ruto, Kipchumba Murkomen and Aden Duale have sent him threatening messages.
That is not the reason but I think when he sees such photos …………… pic.twitter.com/7NGKtyPoBf

— JUNIOR KERING (@Juniorkering132) December 16, 2019
@hustler001KeWho's Alfred Mutua in Kenya to be assassinated. My friend Babu Owino has done many things and he was never touched why are you a coward who's trying to get political relevance and sympathy. I pitty you. Or you had a nightmare of William Ruto, Duale and Murkomen last night Useless," added another user.
Others grabbed the opportunity to throw funny memes at the second time governor.
EXCLUSIVE!!!
Alfred Mutua being threatened by William Ruto and tanga tanga at statehouse!
😂😂😂 pic.twitter.com/SgFgOafWeM

— PiNgPoNg🇰🇪 (@pinngponng) December 16, 2019
Alfred mutua lawyers after william ruto threatening their client pic.twitter.com/rntwNcjgbd

— sospeter mtemi (@CrazyKenyan5) December 16, 2019
@DrAlfredMutua so was this the look? pic.twitter.com/gQ2SgzRuUD

— Razik (@joserazik8) December 16, 2019
Dp William Ruto squeezed the hand of Alfred Mutua wife and he got afraid he may snatched from him pic.twitter.com/1LAMDrY1Zn

— Victor omar Vinyari (@Victortirop) December 16, 2019
William Ruto and Alfred Mutua pic.twitter.com/uLgQEevBJ8

— martomaich (@mertomaich) December 16, 2019
Ignore the Machakos Cry baby ! He is looking for cheap publicity.

Alfred Mutua is under @EACCKenya radar for corruption !

No need to divert attention.

How Can a Corrupt Fight Corruption ? #wajinganisisi #WajingaNyinyi pic.twitter.com/Dxf319nlY1

— Amedo Shair (@AmedoShair) December 16, 2019
@WilliamsRuto , @kipmurkomen and @HonAdenDuale wouldn't waste their time and energy planning to harm such a crying baby.

Alfred Mutua the cry baby ! #Wajinganyiyi pic.twitter.com/nWvCLpQpne

— Amedo Shair (@AmedoShair) December 16, 2019
Pole baby Alfred Mutua, they will be punished. 😂😂😂 pic.twitter.com/3siaC4RBLV

— Kiptangus Ruto. (@Ptangus_Ruto) December 16, 2019
Alfred Mutua fears for his life because William Ruto told him, "I will deal with you. Nitakugonga sasa." Ati Ruto did it while looking at him with strong eyes and a tough face. If that was a death threat watu wa Arsenal wangekuwa police station kila siku 😂😂😂

— Nahashon Kimemia (@nahashon87) December 16, 2019
Despite this, there were those users who insisted that Mutua's claims could be valid hence should be treated with the seriousness it deserves.
Alfred Mutua was threatened at state House "Kugongwa" my friend!

BRIEFLY:
1. Alfred Mutua is scared of a William Ruto presidency.
2. Kalonzo Musyoka is scared of working with Ruto
3. Peter Munya proudly hates working with William Ruto
4. Jacob Juma is now slain…
We now know!

— Gideon Sifuna (@GiddySifuna) December 16, 2019
A man who talks & keeps pointing at u can burn you my fren! William Ruto is always bitter, those who find energy to follow & support him makes me ponder & wonder!He never forgives thus Alfred Mutua shouldn't take these threats lightly! Jacob Juma was a lesson😞 #WajingaNyinyi pic.twitter.com/Jiw9tKFbJY

— Amakanji Thomas (@AmakanjiThomas) December 16, 2019
Despicable! These fights of William Ruto and Alfred Mutua started way back as attested by Jacob Juma(RIP) Why do you want to kill your fellow human being🤷🏽‍♂️How much blood do you need honestly for you to feel satisfied😞😞 #wajinganisisi kweli we don't learn from the past🚮 30/6/16 pic.twitter.com/8lRGjKC6GO

— Amakanji Thomas (@AmakanjiThomas) December 16, 2019