Dancehall King Konshens has publicly come out to officially say goodbye to his wife Latoya Wright in an emotional message.
The long message posted on his Instagram page highlights a lot of all the wrong things he did that made the two lovebirds not work out and he asks for forgiveness for messing up.
"Thank you very much @__latts__ best years of my life. Sorry me fuck it up," wrote Konshens.
In the long message, he revealed that Latoya helped him from commiting suicide countless times.
"Stop me from kill miself COUNTLESS times after mi bredda drop out an mi get fucking unstable. And counsel me when the world a come down pan mi," he said.
Rumors of their break up started flying all over back in August when Latoya posted that she was single on her social media.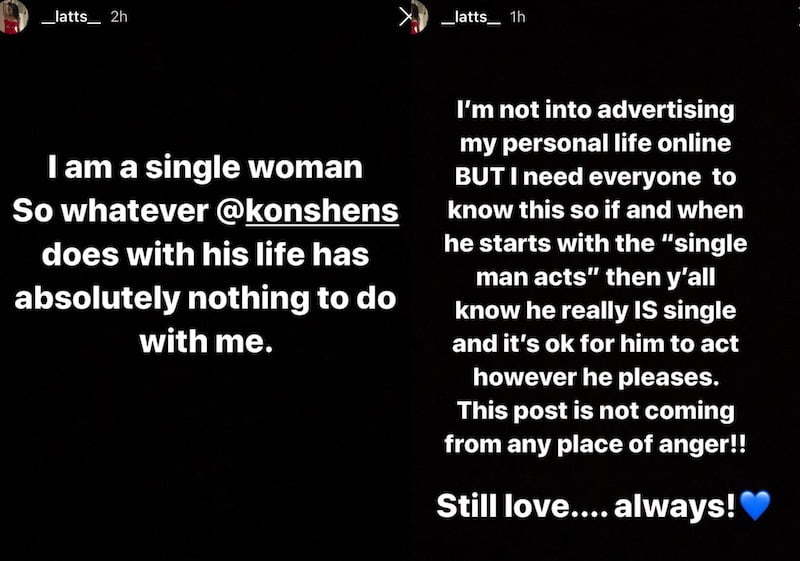 From Konshens' post, it is clear that he might have cheated on his wife leading to the breakup. He, however, took time to warn the single ladies from taking advantage of this opportunity as he apparently is not interested in anyone.
"To all ladies, I am NOT available and I don't want Nobody at all," he wrote.
Sorry ladies!
He advised men not to be like him.
"This is a message to all men, step outa uself an look pan u life, look wat really important and dont mek Jah tek back him blessing," he wrote.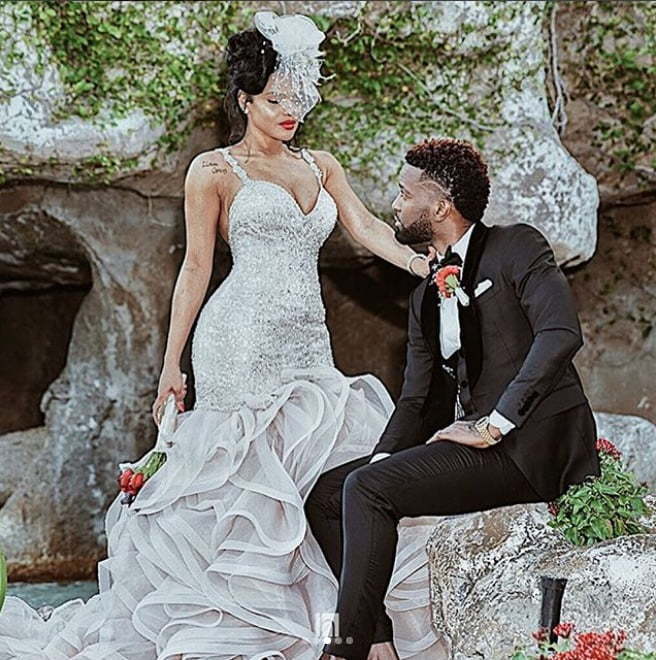 He promised Latoya that he would fix himself and wished her well in her future endeavours.
"Mi aggo fix miself as a person and fix mi head to. And no matter where you go in life I'm going to be a call away watching and hoping you find real happiness wid sum1 deserving but I will be ready and waiting if u ever call," wrote Konshens.
Latoya acknowledged receiving the message by posting this on her Instagram,
The post has garnered mixed reactions from fans all over the world with most people bashing him for being manipulative.
"What Konshens did was manipulative because he used a few crocodile tears & a lot of pretty words in a public attempt to put social pressure on the woman," said Big Nas X.
Brandie Stewart angrily asked, "What kill me bout Konshens post is he got THE NERVE and AUDACITY, to tell women he not available and he don't want nobody. It take losing your wife for you to be unavailable?"
Cadeem R Mullings, however, agreed with him saying, "Konshens caption in his last post drape me still. I felt that shit and as a man.. Have to take his advise and wake up."
Check out the full post below:
Here are some more reactions:
It's hilarious how MEN think what konshens wrote and post is ok.

The man is full of shit and that post was FULL of red flag emotional manipulation tactics.

Don't @ me.

— Ackee and Saltbitch (@chungswag) December 4, 2019
That Konshens post make me CRINGE. I hate to see it. Proves men fully know what they're doing, they only sorry when you pick up your pride & dignity and leave their dumb ass. Foh, next.

— hoe hoe hoe 🎄 (@_simonelvx) December 4, 2019
I blame women for throwing themselves at Konshens, he's already weak and they took advantage of a wounded man, women I tell you smh

— frais (@JaiiFrais) December 4, 2019
Konshens embarrass sis for how long and come to highlight the embarrassment again with an "apology". See why iz cah take men? Lmaoooo mad people out here 😂😂😂

— Neisha Ramdass (@iAm_Neish) December 4, 2019