Just hours after National Assembly Speaker Justin Muturi came under sharp criticism from a section of DP Ruto allied leaders, the deputy president's Communication Strategist Dennis Itumbi has come out to defend the speaker over remarks he made on Sunday while in Migori.
According to Itumbi, as opposed to what some of his colleagues believe, Muturi's remarks did not in any way mean that he was opposed to the parliamentary way of approving the BBI.
The strategist termed the speaker's comments as just a clever way to pull himself out of the situation Muturi was facing in Migori.
Itumbi interpreted Muturi's remarks 'Ikae huko' (let it just stay there) as just a statement meaning that the report cannot just come into the parliament as it is, unless through a legal process which Itumbi observed was justified.
Here is Itumbi's statement as seen from his Facebook page;
"I have listened to the clip by Speaker Muturi.
My Take,
The Good Speaker just employed a clever play with words.
1. He is right as it is the BBI document is strange to Parliament.
2. For it to come to parliament, there must be a process – The Legal committee can be a good entry point.
3. Ikae huko does not mean It goes for a referendum. It simply means it cannot come to bunge as it is.
4. Infact article 256, says Parliamentary Constitutional ammendment can only come via a bill, that seeks to ammend specific articles of the Katiba
5. BBI, has to be reduced to a bill, for it to get to bunge.
NB: This is just my interpretation….."
Speaking on Sunday at a church fundraising function in Uriri constituency, Migori county, Muturi insisted there was a need for all Kenyans to read the BBI report and decide on how to go about it themselves.
"There is no way of coming to parliament, wacha ikae pahali iko, Mbadi will tell you I must approve, sasa kama mimi nimewaambia haina njia….kwa hivyo ikae huko hiyo (let the report remain in the hands of the people…as I have told you, there is no way it will come to pass in parliament without my approval)," remarked Muturi.
His sentiments were, however, interpreted by a section of Ruto's allies, led by Gatundu South MP Moses Kuria, as being similar to that of ODM that wants a referendum based on recommendations of the BBI report.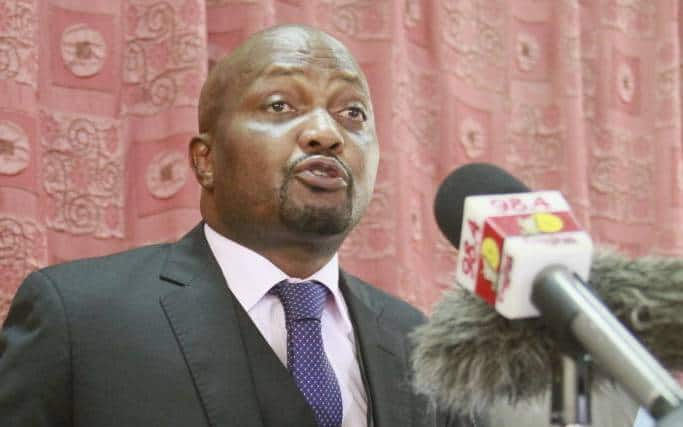 Kuria lashed out at Muturi over his remarks, promising to start collecting signatures to impeach the speaker.
"Why Justin Muturi would allow himself to be bribed with a tilapia meal by John Mbadi in Migori to rule out a parliamentary route for BBI is a mystery for me. Today I will start collecting signatures to impeach him," read part of Kuria's statement on Facebook.
Ruto's team has been so vocal against a referendum to pass the BBI report, which they observe will prove costly for the country's ailing economy, and instead rooted for parliament as a better option.
On the other hand, leaders allied to President Uhuru Kenyatta and ODM party leader Raila Odinga have insisted that the citizens should be engaged and given a chance to vote for the report through a referendum.