Activist Boniface Mwangi on Monday blasted Mombasa Governor Ali Hassan Joho for neglecting the county, and instead politicising anti-SGR demos.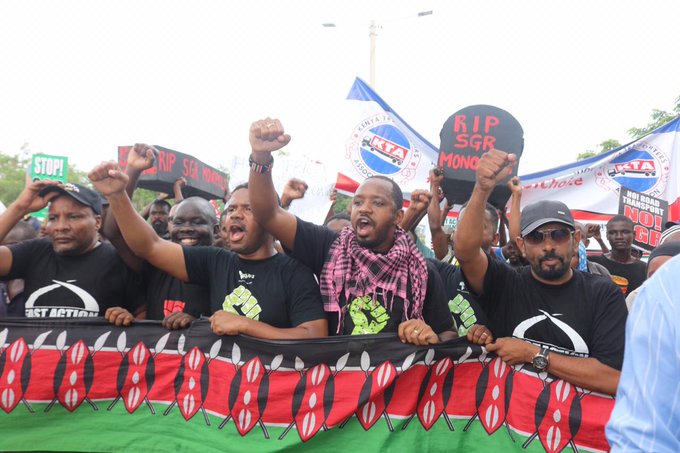 While leading the demonstrations in the coastal town against the monopoly of the Standard Gauge Railway, Mwangi said that Joho had betrayed his people by allowing the government to issue a directive that required all cargo from the port to be transported via SGR, leaving lorry drivers without jobs.
"It was great marching with comrades from HakiAfrica and the citizens of the great city of Mombasa. SGR monopoly was approved by Hassan Ali Joho with the blessing of Raila Odinga. BBI is billionaire brothers initiative to benefit Raila, Uhuru and their minions. Shame, " he said.
Naona @HassanAliJoho ametuma slaves wake waonge mbaya. Mombasa inakufa ki-uchumi. Watu wa Mombasa, pigeni picha moja ya dustbin hapo Digo Road which is Mombasa main street na nitanyamaza! Hakuna! Hakuna tofauti ya Joho, Raila, Uhuru na Ruto, same Wozzap Group! #OkoaMombasa pic.twitter.com/27v9wz15Nn

— Boniface Mwangi (@bonifacemwangi) November 18, 2019
The protests have persisted because a section of Coast politicians, scholars and activists, led by rights groups Haki Africa, Muslims For Human Rights and Mvita MP Abdul Swamad Nassir, want the flow of cargo controlled by market forces.
They argue that this decree on SGR haulage has shrunk Mombasa's economy by 12% and wrecked the transport and logistics sectors leading to job losses especially in private Container Freight Stations (CFSs) and clearing and forwarding firms that have shut down for lack of cargo.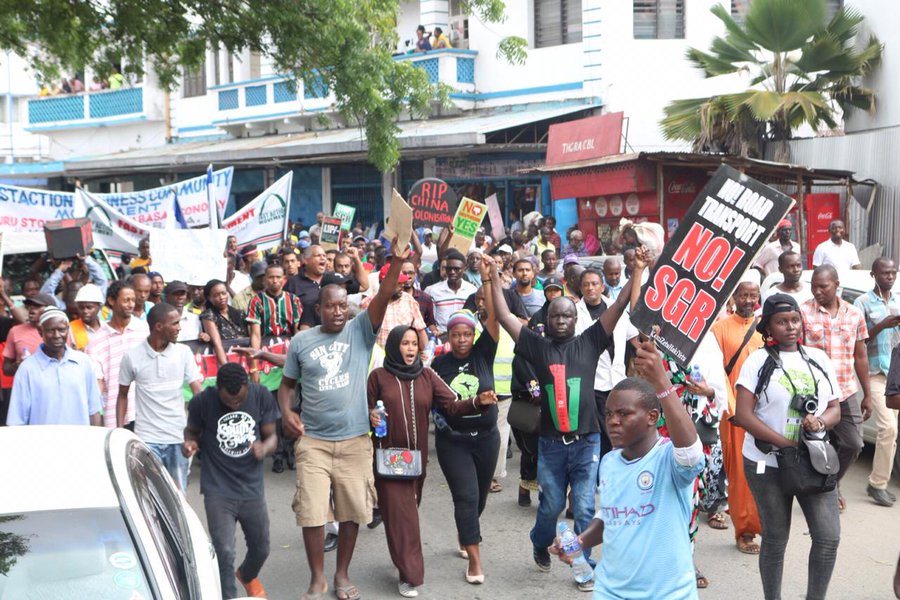 A study by University of Nairobi's School of Economics indicates that Mombasa's economy will shrink by 16.1% with 8,111 jobs lost if the Standard Gauge Railway (SGR) evacuates all cargo from the port.
Watu wa Mombasa walipigia kura @RailaOdinga @HassanAliJoho. Wasaliti wa watu wa Mombasa ni hao wawili, wabunge na ma MCA. Hao ndio walimpa Uhuru @StateHouseKenya ruhusa aharibu Uchumi wa Mombasa.Watu wa pwani kataeni utumwa wa Joho na Ndungu yake Abu. #okoamombasa #BlackMonday pic.twitter.com/E293XAqkrn

— Boniface Mwangi (@bonifacemwangi) November 18, 2019
According to the study, the county has already lost Sh17.4 billion and 2,987 jobs equivalent to 8.4% of its annual earnings since the implementation of government policies requiring the mandatory transfer of most import cargo through the Madaraka SGR freight service to Nairobi in 2017.
However, a section of transporters had, in October, disowned the protests.
The truckers, led by Mr Paul Mwangi of Agen Palm Logistics, said that they had started receiving business from the Port of Mombasa and were hauling containers to upcountry destinations after the government rescinded its earlier decision to compel importers to use SGR.
"We are getting business. We should never be lumped up together with civil society activists in the name of agitating for our rights. Cabinet Secretary James Macharia's instructions have started being implemented and we do not see the need to engage the government in street protests," Mwangi said.
Transport CS James Macharia announced the order had been suspended but local leaders doubt the state's sincerity and real intentions arguing that the suspension can be reversed and previous order imposed.
"The monopoly order had no legal basis. The government must admit it was an illegality and it was now being rectified instead of just saying the order has been suspended," said the MP who demanded guarantees that the alleged illegality will not be reimposed (sic)," Mvita MP said.