Two days after a humiliating defeat in Kibra constituency by-election, Deputy President William Ruto's camp seems to have shifted their attention to Daily Nation Newspaper.
Senate Majority Leader Kipchumba Murkomen and his National Assembly counterpart Aden Duale, on Saturday, initiated war with the media over what they describe as biased and inaccurate reporting.
The immediate trigger of Murkomen and Duale's anger against Nation was the newspaper's headline news story on Saturday.
The story alleged that Deputy President William Ruto had turned away the team that campaigned for MacDonald Mariga from his Karen residence.
The lieutenants, according to the paper, had promised a win or at worst a loss by a very small margin in a by-election that goes down as one of the most expensive mini polls in recent history.
But with a humiliating defeat where the party lost to the ODM candidate, the paper revealed that Ruto was so disappointed with his foot soldiers,  hence cancelling a meeting scheduled for Thursday evening at his Karen residence.
It was alleged the Deputy President was infuriated after spending so much time, energy and resources on the campaigns only for the Jubilee Party candidate McDonald Mariga to garner only 11,280 votes against ODM's Bernard Okoth's 24,636 vote.
The report, however, wrapped Tanga-tanga members the wrong way. Led by Murkomen and Duale, the team accused Daily Nation of biasedness saying the paper had turned into a gutter press despite being a national newspaper.
"For many years the Nation was considered a leader in pursuit of truth &for balanced&objective reporting. This was partly because of its foreign ownership. Of late it has degenerated so fast towards the gutter press. What happened? Did the Aga Khan sell their shares to partisan players?" posed Murkomen.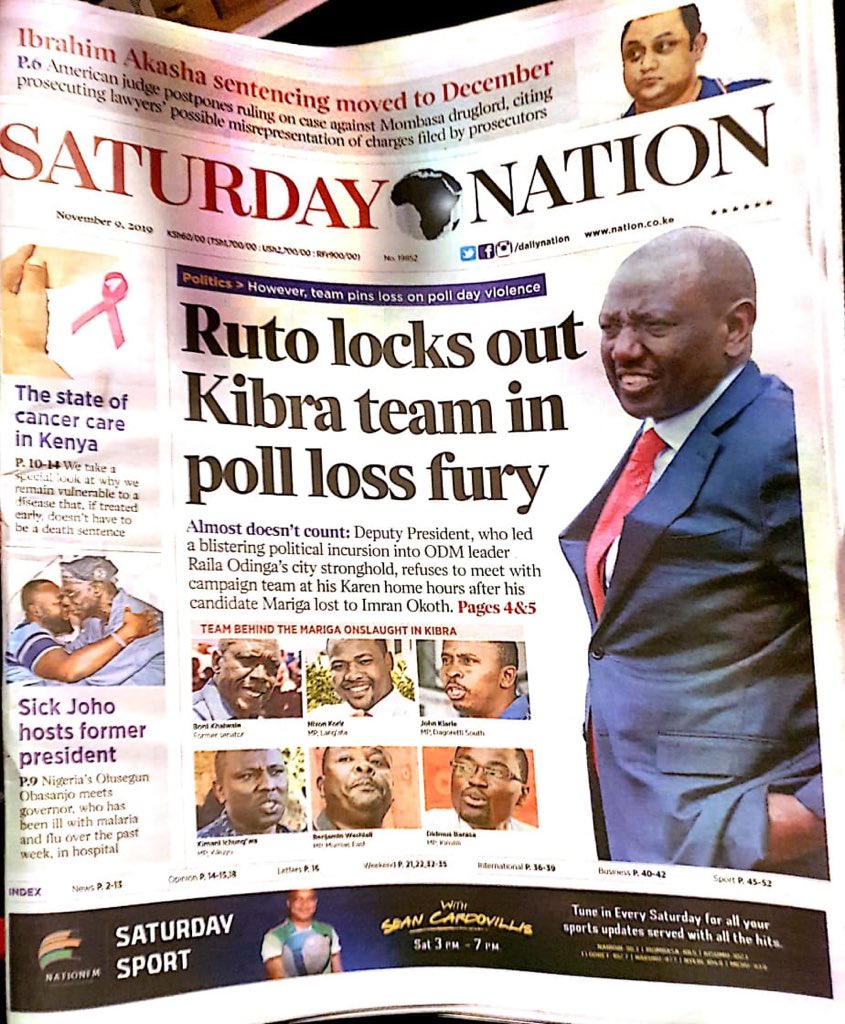 Duale had an equally unflattering description of the newspaper.
"Gutter and desperate journalism. Fiction and cooked nonsense passed as a news story using imaginary sources. Too much obsession with DP @WilliamsRuto. Ruto and his team are one and solid," tweeted Aden Duale.
Earlier, Dr. Ruto himself had disagreed with a story on Star newspaper, which said that ODM had won the Kibra seat through strategy.
"The only strategy and structure Tinga's party had which largely succeeded was violence, mayhem & terror meted out by organised baba's militia," the DP tweeted.