Gatundu South MP Moses Kuria has lashed out at National Assembly Majority Leader Aden Duale over his recent remarks concerning the Building Bridges Initiative
In his response to Duale's sentiments, Kuria observed that the MP's 'violent' remarks against Mt. Kenya leaders were not genuine in any way rather deceptive.
According to Kuria, Duale was pretending to be in support of a Parliamentary System of government when in real sense was just trying to pick a war with Mt. Kenya leaders by annoying them.
"Aden Duale's tirade against Mt Kenya is a facade. Don't be fooled that Duale supports a parliamentary system. He knows that by purporting to support a parliamentary system he infuriates Mt Kenya to the core. And that is how Duale and his master will defeat any change by deploying scarecrows," claimed Kuria.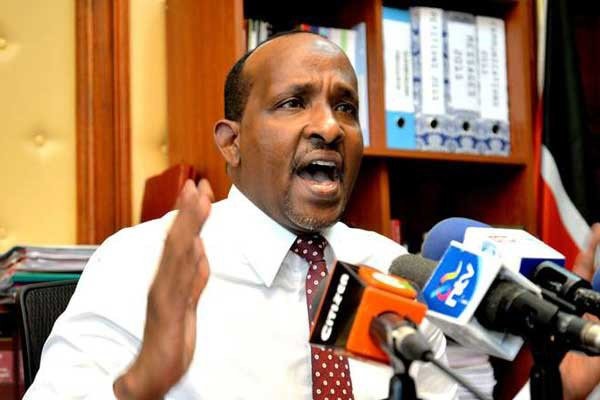 Kuria alleged that since Duale was strategizing himself to be the State Hose Controller in 2022, there was no way he could be advocating for any change in the architecture of the Presidency.
At the same time, Kuria challenged Duale to an open contest through a fresh election of the Leader of Majority promising that he will beat him hands down.
He claimed that Duale was the Leader of Majority courtesy of Mt Kenya votes which he said made up of 84% of President Kenyatta's votes.
"Bring it on, Man. I will beat you hands down. You are Leader of Majority courtesy of Mt Kenya vote. 84% of President Kenyatta's votes came from Mt Kenya. And now you call us selfish. And you want to use our votes again to propel you to be comptroller of State House. We are stupid, yes, but not that much. Faga!" concluded Kuria.
On Sunday, the majority leader rebuked some of the Mt. Kenya leaders who have come out to express their displeasure over the BBI.
While acknowledging the fact that the central Kenya region has dominated Kenyan leadership since independence, Duale urged the leaders to embrace the Parliamentary System of Governance which he said will ensure equal political and economic dominance among all communities in the country.
To my colleagues from Mt. Kenya, Kenya belongs to all of us; since independence, Central Kenya has dominated the leadership, and we should spread both political and economic dominance to all the communities to create an all-inclusive and stable nation for future generations.

— Hon. Aden Duale (@HonAdenDuale) October 27, 2019
Duale's remarks came after a larger section of leaders from the Mt. Kenya region indicated that they will oppose the parliamentary system of governance should the BBI report propose so.
The more than 30 legislators who addressed a press conference in Parliament buildings on Thursday 24, maintained they will reject a proposal to either elect a Prime Minister or President in Parliament.