With only two weeks remaining before Kibra residents head to the mini poll to elect their MP, fear seems to have gripped the second-largest party in the country, ODM, thanks to Jubilee's aggressive campaigns in the constituency.
For the last one month, the two political outfits, Jubilee and ODM have embroiled in a bitter exchange and confrontation that has captured the attention of most Kenyans and in specific, social media users.
What started as a sure win for the ODM candidate in the constituency that is largely considered Raila Odinga's 'bedroom' has now degenerated into panic, confusion and blame games inside the orange party as the race nears home stretch.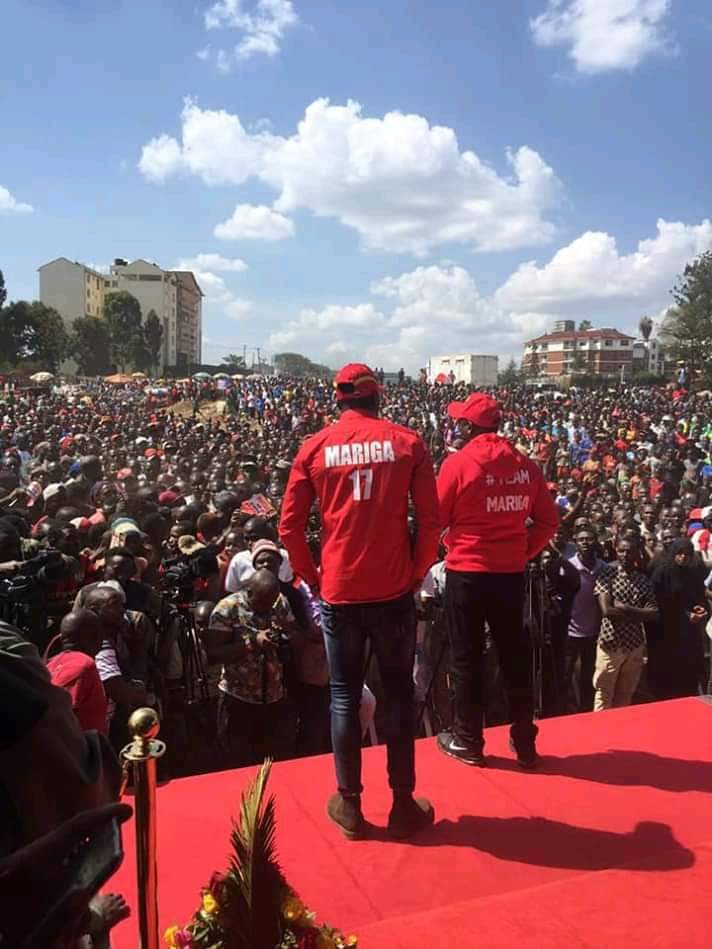 According to a section of online users, ODM's current blame games directed at Jubilee candidate, Macdonald Mariga, was a clear sign that the party had panicked and was in the process of losing the seat to the ruling party.
A few days ago, Mariga's convoy was stoned in Kibra during his campaigns.  It was later alleged that the violent scenes witnessed was engineered by ODM supporters acting on express instruction from the party's leadership.
A sincere conversation about the transformation of Kibra is unhealthy for ODM politics, they simply cannot compete on the basis of development and are now resorting to their usual dirty politics characterized by unrealistic protests after sensing defeat.
#ODMPanicsinKibera

— Brian Khaniri (@BKhaniri) October 23, 2019
The incident attracted angry reactions from most Kenyans, who accused ODM of sensing defeat and opting for violence as one way of scaring its main competitor.
In its defense, ODM instead blamed Mariga for 'stoning' his own convoy as one way of seeking sympathy votes.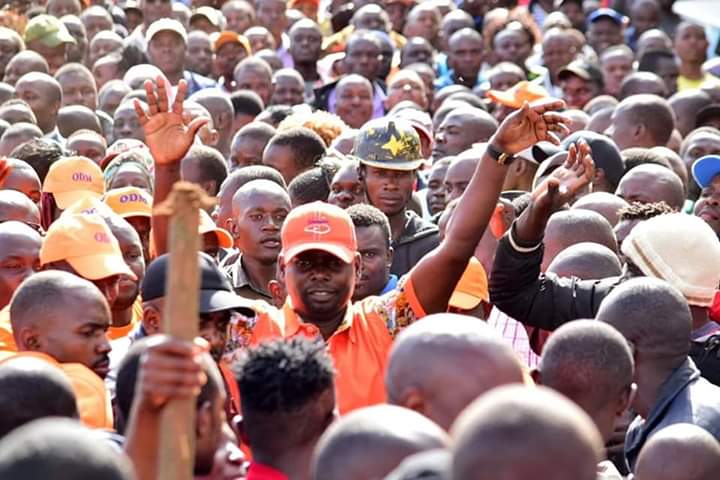 Days later, ODM, while meeting with IEBC Commissioners over Kibra register claimed that KIEMs kits were being stored at Ruto's residence, raising fears of possible importation of strange voters in the register to help its candidate in the mini-polls.
The party also accused Mariga of using deputy president's official residence in Karen to host Kibra residents where they alleged that the team was taking voters' IDs in exchange for money.
ODM's wild allegations caught the attention of social media users who took to their Twitter sites under the already trending hashtag #ODMPanicsinKibera to spell doom for the orange party in the upcoming mini poll.
Here are some of the trending posts from Twitter:
despite billions of our taxes poured in2 BBI its fate is hanging dangerously on a cliff after ODM leaders advice People's Conman 2w/draw becos he has bn disrespected. can they at least refund our billions? our ship is swaying dangerously as usual #StopBuyingIDs #ODMPanicsinKibera pic.twitter.com/fQ2ecMYilN

— #AintNobodyGotTime4ThisSh*t (@yourspenfully) October 23, 2019
How @TheODMparty affiliates started the campaign and the current situation #ODMPanicsinKibera 🤣🤣🤣🤣🤣🤣🤣 pic.twitter.com/5AgetaRD3P

— NICHOLAS TRUMP OSEKO (@Nichonasri1) October 23, 2019
Odm is really afraid of this man called Ruto.

Odm leaders fear Ruto more than they fear Ebola.

Odm will be surprised with final kibra voting results.#ODMPanicsinKibera

— Kakamega_pundit🇰🇪 (@Kakamega_pundit) October 23, 2019
They ferry people from Mathare, Kawangware, Makongeni, Kaloleni into Kibra .

The likes of Simba Arati, George Aladwa, Maina Kamanda, Anthony Oluoch, etc are deceiving Raila like some MPs did in Ugenya.

Ground Vitu Ni Different!#ODMPanicsinKibera pic.twitter.com/Fng3odbZlH

— Amedo Shair (@AmedoShair) October 23, 2019
Mariga manifesto for better housing for kibra has brought panic and discomfort for ODM allies from stealing votes and now buying Ids #ODMPanicsinKibera pic.twitter.com/N2wIVKRVks

— ibrahim swaleh🇰🇪 (@SwaIbra) October 23, 2019
Truly speaking, who still buys voter's cards or IDs in Kenya these days, it is not shameful and cowardly of ODM to exploit an outdated narrative. #ODMPanicsinKibera pic.twitter.com/zprdSr5fDK

— Kakamega_pundit🇰🇪 (@Kakamega_pundit) October 23, 2019
ODM get it vividly you're're going to lose the seat in kibra constituency because of stupid hooliganism

You say you have the ground but you losing it vitu ni different kule ground #ODMPanicsinKibera pic.twitter.com/prAFlaONjX

— Enoch Cheruiyot (@EnochCheruiyot5) October 23, 2019
Benard Okoth alias Imran trying to fight McDonald Mariga. #ODMPanicsInKibera pic.twitter.com/S0vNwguS9Z

— Team William RUTO 🇰🇪 (@TeamWiliamRuto) October 23, 2019
Now that @TheODMparty affiliates have sensed defeat they have started what they know best #ODMPanicsinKibera pic.twitter.com/z8sD3wsGEg

— NICHOLAS TRUMP OSEKO (@Nichonasri1) October 23, 2019
How can you buy ID's and yet we have a database centre some people have already smell defeat #ODMPanicsinKibera pic.twitter.com/UIAKeYtg7y

— Borrow Yeng (@Itsmadokaa) October 23, 2019
#ODMPanicsinKibera with this Kind of impunity and madness God will make them to lose terribly pic.twitter.com/fdrVvh0uE5

— TeamRutoNairobi (@NairobiRuto) October 23, 2019