Olympic and world marathon champion Eliud Kipchoge has departed for Vienna, in Austria, in his attempt to become the first man to run under two hours over 42km (26 miles).
He flew out last night from his training base in Kenya's Eldoret town, in the Rift Valley region, in a private jet provided by British billionaire Sir Jim Ratcliffe, who is bankrolling the attempt. The marathoner seeks to break his own world record set last year at the Berlin Marathon with a time of two hours one minute and thirty-nine seconds 2:01:39.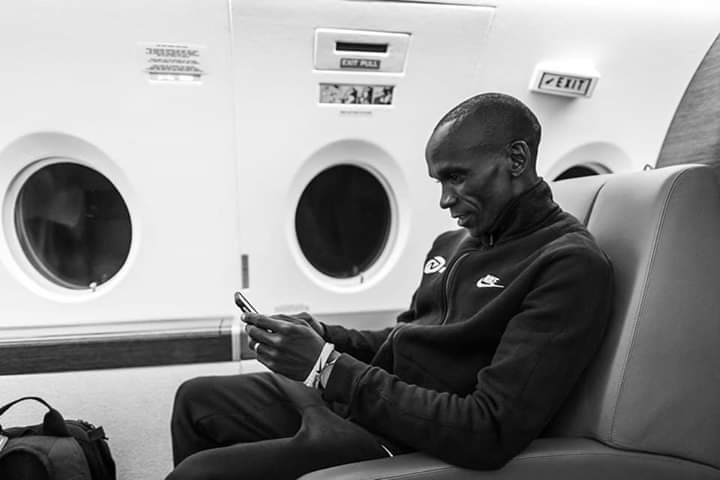 The iconic race dubbed as the "INEOS 1:59 Challenge", will take place in the streets of Vienna, though organizers are yet to announce the actual date and time as they consider the weather conditions.
Ahead of the historic event, Kenyans sent their heartfelt messages and best wishes to Eliud Kipchoge. Below we sample a few of them..
It is amazing how the World has accepted that it is next to impossible to beat Eliud Kipchoge. So the guy is out here chasing his records. pic.twitter.com/jEzlVrtjPg

— Kenyan Facts 🇰🇪 (@KResearcher) October 8, 2019
Eliud Kipchoge a man of his own league. It is no longer about others but about time.

A man aspiring to break his own record🔥

All the best @EliudKipchoge the world is watching. Kenya🇰🇪 is waiting #INEOS159 #eliudkipchoge pic.twitter.com/fJz8W5ZaDW

— Egline Samoei (@EguarEglin) October 8, 2019
Wishing our super fan & a World Marathon record holder, Eliud Kipchoge all the best as he goes for the Ineos 1:59 Challenge in Vienna, Austria.

Smash it Champ! 💪🐐#INEOS159 pic.twitter.com/i4C7cBAs0K

— AFC Leopards SC (@AFCLeopards) October 8, 2019
INEOS 1:59 Challenge Countdown:

Olympic Marathon Champion and world record holder Eliud Kipchoge was flown by Sir Tom Ratcliffe's Kshs 1.4B Gulfstream G280 private jet from Eldoret International Airport to Vienna Austria.

Go Kip Go💪

— JOE MUHAHAMI (@Muhahami) October 8, 2019
All the Best Eliud Kipchoge
As he heads to Vienna.
Keep winning.#JeffAndHamoOnHot @Ma3Route pic.twitter.com/s4HVVVP5kG

— Kawangware Finest™️ (@cbs_ke) October 8, 2019
We wish Eliud Kipchoge all the best as he attempts to break the 2hr barrier in the history of Marathon! He's a beast, he will be running against his BIGGEST competitor, time! With 41 pace makers , Indeed Eliud Kipchoge the GOAT will prove no human is LIMITED. #INEOS159 pic.twitter.com/6SWEUe4SPZ

— E D G A R ™ (@The_Mutai) October 7, 2019
No longer running against other men, he's running against time.
INEOS1:59

KENYA is proud of you Eliud kipchoge

See you on 12th Oct 2019 pic.twitter.com/t0VkFlwKP1

— Mwangi Muiruri 💦 (@nelsonmwangi00) October 7, 2019