Comedian Jalang'o has attacked Kenyan ladies yet again accusing them of going 'Commando.'
This was after a rare windstorm was witnessed on Tuesday afternoon, catching many unawares.
Speaking during Milele FM breakfast show, Jalas explained to his co-host Alex Mwakideu how Nairobi ladies are not wearing undies.
"Hiyo upepo ilinipata kwa CBD yenyewe, ilikuwa ile upepo ya kutoka chini, iakuja na skirt waah, nikajua vitu kwa ground ni different. Naona Kampuni za underwear watufunga hii Nairobi wakauze tu Kakamega." said Jalas.
Alex Mwakideu could not help but laugh as Jalas went on explaining how the wind caused mayhem among ladies.
"Maanake ile upepo haikuwa hivi hivi, hawa wasichana, hakuna…hawavai, hawana, ilikuwa kali, hawakujua kama washike wig isiende ama chini washikilie skirt." he added.
The hosts requested that the meteorological department prepared Kenyans in advance to help them prepare in a similar situation.
They asked Kenyans to keep off loosely built buildings and billboards as they are likely to cause harm on such windy seasons.
Jalas comment comes months after he constantly accused ladies of not wearing undies, and this time he confirmed that he was right all along.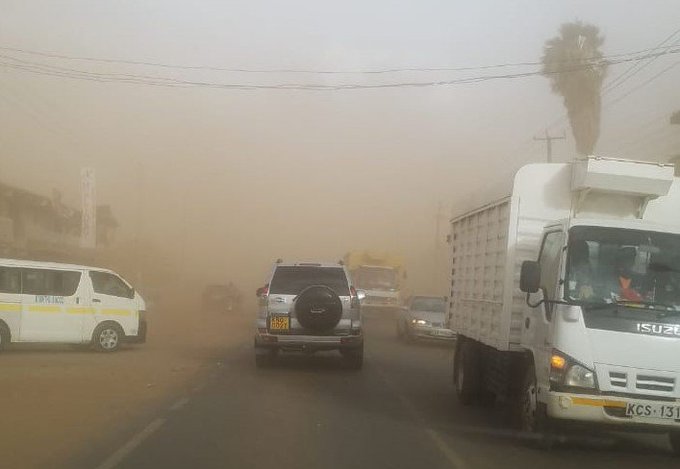 Many Nairobians were caught unaware as the storm came just right about the time when most Kenyans were leaving their offices. A prediction from the meteorological department would have prepared most ladies from walking with their wigs and fake eyelashes, you know, just to be on the safe side.
The heavy windstorm caused power outages in the capital Nairobi, Murang'a in central, Thika and Machakos towns on the outskirts of Nairobi.