Deputy President William Ruto has responded to claims that he has been going around the country commissioning fake projects.
Through his Twitter account, Ruto said that his projects have been going on as planned and that the reports by some media houses were false and misleading.
Citing the current case of the newly launched Lower Nzoia Flood Mitigation and Irrigation project, Ruto maintained that the project was 15% in progress and moving on as planned.
While scolding at his critics, Ruto stated that he had been following the project since 2008 when he was the Minister of Agriculture and it was bound to complete.
He was responding to reports that he had prematurely launched the Ksh5.3 billion Lower Nzoia irrigation project without the knowledge of line ministries in June 2019.
The launched lower nzoia flood mitigation & irrigation project is now 15% in progress & is meant to eliminate destructive perennial flooding and increase acreage under irrigation. I have followed this project since 2008 as minister for agriculture. Wacheni njama na siasa mbichi

— William Samoei Ruto, PhD (@WilliamsRuto) October 2, 2019
While appearing before the National Assembly's Public Accounts Committee on Tuesday, Water and Sanitation Principal Secretary, Joseph Irungu, revealed there was no formal communication that Ruto was to launch the project.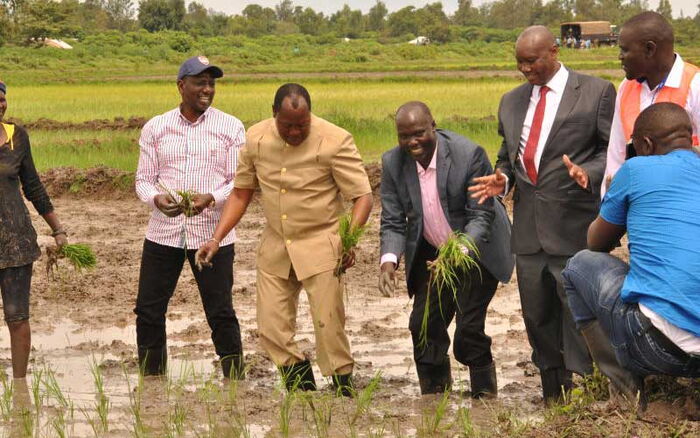 "The project was not ready for commissioning due to pending compensation for land-owners. We are still addressing compensation delays for the affected families in Busia and Siaya Counties," stated Irungu.
It was also reported that the National Land Commission (NLC) and National Irrigation Board (NIB) were neither involved in the launch.
"There was no contact between Ruto's office and my office. Even my project engineer was not there. Compensation is a very sensitive matter, which we must handle well," added Irungu.
In June, Ruto commissioned the construction of the Ksh7 billion Lower Nzoia Irrigation phase one project that is aimed at ending the 50-year-old floods menace in the region.
Ruto has over time been accused of launching projects with allegations that some never get completed. Earlier this year, President Uhuru Kenyatta halted the commissioning of new projects until the old ones are completed.
Despite this, Ruto has been crisscrossing the country launching new projects every week.