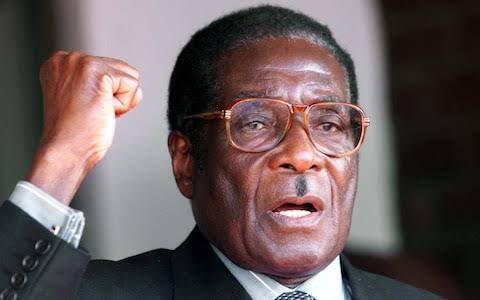 The lion of Zimbabwe finally takes a bow. News of the passing of former Zimbabwe president Robert Mugabe has spread around the world like wildfire. President Robert Mugabe died in a Singapore hospital on Friday Morning 6th Of September 2019 while undergoing treatment.
People have flooded social media with condolences messages to the leader. His leadership has left many with conflicting feelings about him. Where some consider him as a liberator from the whites, others simply can't look past his dictatorship and flaws.
Here are some reactions from those who felt wronged by his decades of leadership.
I'm conflicted #RIPMugabe you leave a very compicated legacy. Some will forever admire you as a liberation hero, but many who suffered under your harsh rule will only remember a dictator who ruined a country with great potential. You have run your race now time to face your Maker pic.twitter.com/yvQhXA1Hg7

— Magumbo👸Prideland's Queen Lioness (@docfarai) September 6, 2019
Ai. Twitter aint for me today #hypocrisy . Rest in peace to the dictator, the killer, the man who undid his progress and the work of his people, the scourge, the plague. May Singapore deal with your ghost now. #RIPMugabe pic.twitter.com/3BWxm46ex0

— Uncommon[MIND] (@fatmanspassport) September 6, 2019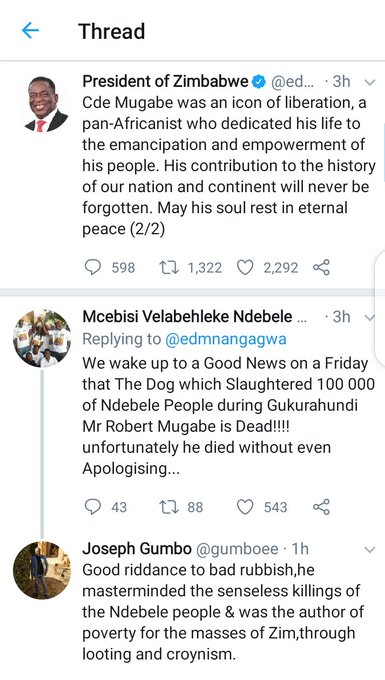 I'm shocked how many people are lauding Robert Mugabe as a hero.

He was a brutal dictator who suppressed and persecuted anyone who disagreed with him.

If you're mourning his death then you're either ignorant and/or complicit in the fact that he was a cunt.#RIPMugabe

— AndyK Esq. 🇮🇲🇪🇺 (@TheFilmOracle) September 6, 2019
Death Knocks and all of a Sudden, Robert Mugabe is now the most beloved African President/ Liberator and a true African Soldier.

We know what we know, we also knew what we watched. May his Soul rest in Peace..#RIPMugabe pic.twitter.com/xh4a5keA1j

— 🇳🇬 D.U.C.E🗣 (@mazi_duce) September 6, 2019
This nonsense hashtag #RIPMugabe as a Zimbabwean i feel aggrieved the man killed my country made us beggars & laughing stock all over the world. Him and his Daughter cum wife Grace plundered the resources of our country. Why did he not die in Zim, where there no hospitals in Zim pic.twitter.com/XL7AlekNu8

— Chibabest Mavisto (@mshiringo) September 6, 2019
#RIPMugabe to much fake woke and fake love going on already on the TL let's me mute this whole shit pic.twitter.com/8BVi7Ei5zs

— mgabadiya (@mgabadiya1) September 6, 2019
So from reading the #RIPMugabe it turns out people have just miraculously forgotten about the time he had 20,000 civilians killed. pic.twitter.com/7dkbE3ySXn

— SHANnibal Lecter🌙🔮🦇 (@NerdyGirlShay) September 6, 2019
#RIPMugabe
As I watch you guys tweet saying great things about him like you didn't dislike/hate him while he was still alive pic.twitter.com/cAixWB6wFD

— chubby Davido 🇳🇬🇨🇦 (@Kvng_lorosida) September 6, 2019
https://twitter.com/fanny_miz/status/1169890083937214466?s=20
Y'all hypocrites praising Robert Mugabe now but criticized him when he was alive. Hediot Black People. I hope you see what happen to Gadafi country now 😏 keep it up hypocrites #RipMugabe

— King Yeahmi (@kingyeahmi3) September 6, 2019
But Zimbabwe sometimes I tend to question our sanity , how can someone put the picture of Mugabe in his WA status and write "gone too soon" , so if dying at 95 is considered as dying too soon , what about dying at 10 🤔#RIPMugabe pic.twitter.com/87v0QSIJ0w

— Shamhuinemunyu (@MayibongweBongo) September 6, 2019
Me after waking up this morning saw people praising mugabe 😲#RIPMugabe pic.twitter.com/ZCwONMoJfn

— Pablo Escobar 🇳🇬 (@ShoaibIshaq8) September 6, 2019
#RIPMugabe which is more like Rest in Piss from me pic.twitter.com/exq9INxwue

— TinaTK (@TinasheTK18) September 6, 2019
As a country we have a very hard time placing our emotions about you. You liberated us, unshackled us from colonialism, empowered black people like no other African leader did. But it's awkward when your liberator sets you free only to reincarnate as your oppressor. #RIPMugabe https://t.co/YVXDlEjdOa

— Ruvimbo (@RuvimboChiswo) September 6, 2019
Robert Mugabe was in power for 37 years both as Prime Minister and Executive President, yet, he died in a Singaporean hospital. A lot of leaders in African countries are jokers and wicked. #RIPMugabe

— Kayode William (@kayfem10) September 6, 2019
The hypocrisy on Social Media is sickening. All of a sudden everyone is praising Robert Mugabe forgetting how Zimbabwe suffered under him, I mean, this is the first country to have a TRILLION DOLLAR NOTE!! He was filthy rich as people sufferedhttps://t.co/UkjrHOB7r9#RIPMugabe

— Xtian Dela™ (@xtiandela) September 6, 2019
#RIPMugabe may he truly RIP.

But wassup with y'all suddenly saying He was a Great President. A Great Leader. Only African President who stood against the west? pic.twitter.com/qnhpwmGsP4

— Phidelius Castro (@Phidelius_C) September 6, 2019
So from reading the #RIPMugabe it turns out people have just miraculously forgotten about the time he had 20,000 civilians killed. pic.twitter.com/7dkbE3ySXn

— SHANnibal Lecter🌙🔮🦇 (@NerdyGirlShay) September 6, 2019
Robert Mugabe could have been Africa's greatest leader but like most, got bewitched by insatiable greed for riches .. Like many failed leaders who had so much promise, his Advisers were sycophantic cowards who echoed him & supported & participated in his thievery .. #RIPMugabe

— Donald B Kipkorir (@DonaldBKipkorir) September 6, 2019
The only attributes that we should be seeing from the African people and the rest of the Zimbos is how Robert Mugabe ruined the country. We should not normalize what he did even in his death. That has been our greatest hypocrisy. Mugabe was greedy and selfish. #RIPMugabe

— Lord Abraham Mutai (@ItsMutai) September 6, 2019
After Somalia beat #Zimbabwe last night in a world cup qualifier match we're waking up to #RIPMugabe 😲

So when is Somalia Vs Uganda?😏 pic.twitter.com/jdR8jChKML

— ping pong official 🇰🇪 (@pauliddiali) September 6, 2019
Some will call him liberator. Some will call him oppressor. Both will probably be right… #RIPMugabe, may your victims and your followers find peace in your death

— Ryan Cummings (@Pol_Sec_Analyst) September 6, 2019
You see, Finally Robert Mugabe is DEAD. Even dictators Finally die. A lesson to Yoweri Museveni, Paul Biya, Ali Bongo of Gabon, Paul Kagame, Pierre Nkrunzizza and all AFRICAN strong men. Make amends. The sad part is they die living their countries desolate. #RIPMugabe

— Lord Abraham Mutai (@ItsMutai) September 6, 2019
Our hypocrisy as Africans is on a different level Robert Mugabe is dead, and all of a sudden he was a Goodman, same Nigga that ruled Zimbabwe for about 30yrs as a dictator which we all frown, and require military intervention to be removed.
But now "he was a hero" Ok#RIPMugabe

— KADUNA KING🇳🇬 (@TBoywonder) September 6, 2019