Controversial city lawyer, Miguna Miguna, has caused a heated online discussion after posting controversial names allegedly belonging to thieves and land grabbers in Kenya.
In his early Thursday morning tweet and Facebook post, Miguna, who was deported to Canada in March 2018 for taking part in unlawful swearing-in of Raila Odinga as the People's President, posted a total of 46 names of influential personalities whom he claimed had taken part in grabbing of Kenya's land.
 

After the controversial publication, Miguna urged his fellow 'patriots' to feel free and add some more names they felt were missing from his list.
"Patriots, feel free to add more names and/or publish your own lists. Let us expose all thieves, looters, land-grabbers, loggers, money launderers, ivory smugglers, human traffickers, drug dealers and cartels," he stated.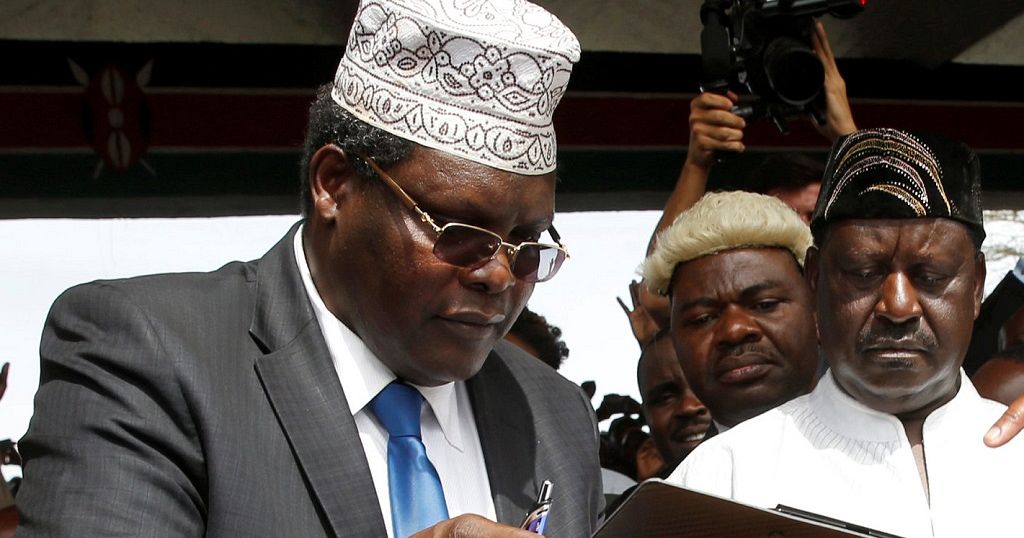 His list came just hours after he also took swipes at trade unionist Francis Atwoli. Miguna accused Atwoli of stealing from Kenyan workers to enrich himself and build empires.
"Francis Atwoli is a FRAUD, not a trade unionist. Instead of advocating for poorly paid and brutalized Kenyan workers, he pays his flower farm workers SLAVE WAGES, steals NSSF billions, flaunts his Shs. 100M cars, 2 billion dollar planes, helicopters and mansions," he claimed.
Any grade 7 trade unionist who becomes a billionaire without any genuine industry or business he has built from the ground up is a fraud and a plunderer. Francis Atwoli has used his KANU, Moi and Kenyatta connections to steal from Kenyan workers and should be jailed.

— Dr. Miguna Miguna (@MigunaMiguna) September 5, 2019
His controversial tweets, however, attracted a lot of reactions from the social media with a section of users commending the self-proclaimed general for exposing what they termed as 'cartels 'while others questioning the legality of his list.
Omogaka Oyo Mbuyoore noted, "You mentioned Atwoli the noisy before but is not on your list. Try and factualise your information Mr MigunaMiguna, another example Baba yao is billions thief in terms of money and land where is he?"
Dr. Miguna Miguna Omogaka Oyo Mbuyoore: "I gave you permission to add or develop your list. Atwoli falls below those super looters. My post on Atwoli was on the fact that he is a fraud and not a genuine labour leader. A looter, yes, but not at the league of those 46!"
Umesahau Charles nyachae

— Dj big Dun (@DjbigDun) September 5, 2019
Edu Mikwa stated, "You have just extended your days in exile. You and the author of "Walenisi" are the same…"
Calvince Okomo, "General, from where did you publish the list? I hope you are not asking us to do our list from here?"
Richard Ngetich noted, "The late Mbiyu Koinange, who owns thousands of acres in mau narok. The people who encroached the forest did so since the government failed to allocate land to them, instead the above mentioned individuals took the land enough to over one million people even now, let uhuru give out thousands of acres own by his family and this issue of mau evictions will be a thing of the past!"
Some individuals will furious with you for not adding someone to the list… Vitu kwa ground ni different kweli.

— THEE WISDOM SELLER ✪ (@ronniechirchir) September 5, 2019
Migus exposing them since the 17th Century. But it's safe to say that you will never ever be allowed in Kenya.

— Rollex Koyi (@RKtheRugged) September 5, 2019
Georgio Di Martino, "Musalia Mudavadi, Kalonzo Musyoka and Moses Wetangula are not in the list,I suppose they are clean…!?The Despots MUST fall…!?"
Tiberius Omwabo, "You mentioned Atwoli, Isaac Ruto, Nyachae before this post and now you have skipped then. What happened?? How can a Canadian keep on yapping about Kenyans btw. Leave us with our uzombies Miguna."
What about the people's conman and the molasses plant?? The Indian Ocean gas ship and many others?? The NYS yatta shamba etc?? The list is incomplete generali

— Dominic Njoroge (@DominicNjorog15) September 5, 2019
How did you know they are thieves…….ama wakorino hujuana na vilemba…….tupee proof

— it's Denīro (@DKajara) September 5, 2019