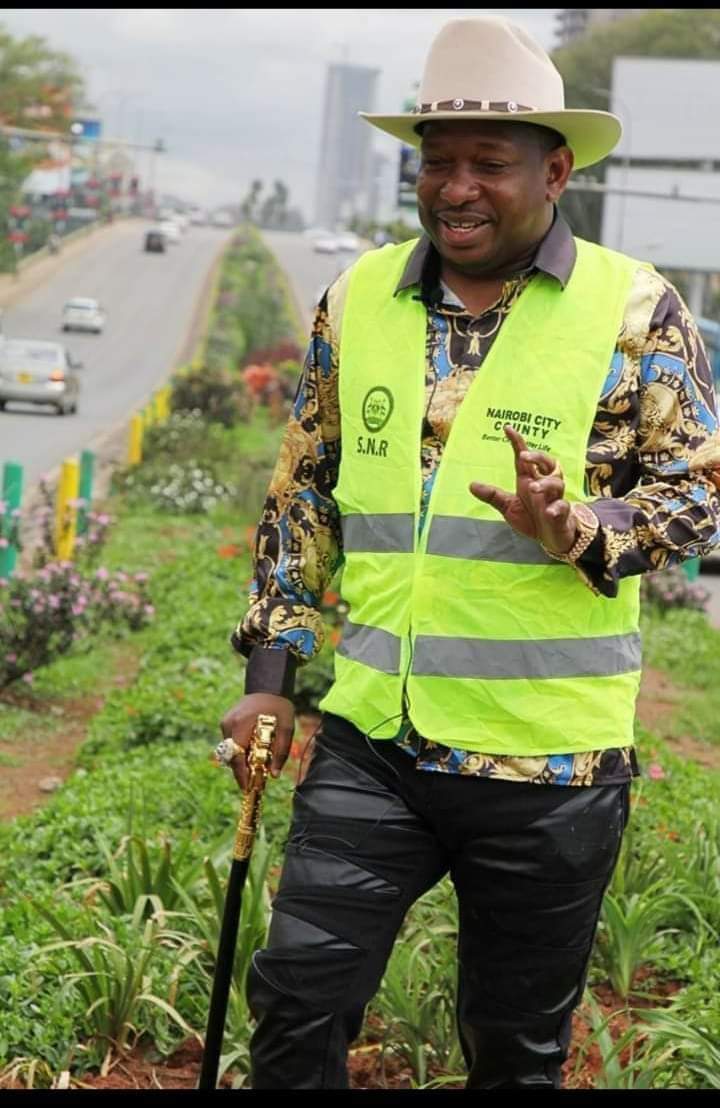 Nairobi Governor, Mike Sonko, has come out to clear the air on corruption allegations laid against him.
The accusations, which have so far gone viral on social media under the Twitter Hashtag #ArrestCorruptSonko, emerged on Wednesday after the governor appeared at the Ethics and Anti-Corruption Commission (EACC), for questioning over tenders awarded to private companies to collect garbage in the city.
In his defence, Sonko stated that he never penned his signature on the contracts adding that most of the works were done by his cabinet.
Sonko noted that some of the awards were being done behind his back and that he had blocked some of the payments.
"I learned of the select committee's concerns and blacklisted the companies. I also stopped any payments due to them as well. As a result of all these, I was forced to stop the Environment chief officer who is the accounting officer of the sector, together with the then Environment executive and the former County Secretary from working in my government," stated Sonko.
I'm not under investigation, I was summoned as the county boss to come and shed light ~ Gov. Sonko pic.twitter.com/PWyhMxdCGj

— Daily Nation (@dailynation) September 4, 2019
Sonko had, on Tuesday, spent over eight hours at the EACC offices recording a statement regarding questionable multimillion garbage collection and disposal tenders awarded to 13 firms by City Hall.
The anti-graft body is investigating claims of corruption in the award of tenders for the 2017-18 and 2018-19 financial years. The 2017-18 tender is said to be for Ksh357 million.
The allegations were already trending with some Twitter users calling for the governor's removal, while others rubbished the claims and offered their support for the vocal city boss.
Nairobi Governor-Mike Sonko and his cartel have created artificial water shortage in the city so that Nairobains can buy water from their water tankers. This is the price we are paying for electing a psychopath. #ArrestCorruptSonko

— KENNETH (@IkeOjuok) September 4, 2019
What githeri media won't show you is this Governor @MikeSonko is working.

This is not Nairobi hospital nor Aga khan hospital this is pumwani women maternity. pic.twitter.com/vLirPEFfh8

— Marvis Njoroge Jaber (@NjorogeMarvis) September 4, 2019
#ArrestCorruptSonko@MikeSonko. is working to fix Nairobi. Beautification is real the city is getting green and clean. pic.twitter.com/BN2v8lHDjw

— Sylvia Njoki 😻💦💦 (@sly_ntinyari) September 4, 2019
Claiming fighting cartels and he is the biggest cartel in Nairobi #ArrestCorruptSonko pic.twitter.com/0X7JLCFuxA

— LITA (@LitaKaranja) September 4, 2019
#ArrestCorruptSonko
HE Mike Mbuvi Sonko has nothing to hide,He is a humble Governor who has served his people well.The Cartels running helter skelter to EACC should give us a break and give HE Sonko time and space to deliver on His Promises to Nairobians. pic.twitter.com/BQXOzkVbSM

— Makori Orina🇰🇪 (@SirMakori_Orina) September 4, 2019
In two years Governor Sonko has little to show in terms of development with only three years remaining to the end of his term he will have to make drastic changes in his leadership style or else he will have proved critics right and voters wrong.#ArrestCorruptSonko

— Betty Kyalo (@bettykyalo13) September 4, 2019
#ArrestCorruptSonko the one reason ppl spend millions to become governor, is to make billions when governor! Any 2 year-old knows that! So please ,Sonko, wacha story ya "I used my own money to beautify Msa rd"… we aren't fools!

— benny odhiambo (@bennybushman) September 4, 2019
#ArrestCorruptSonko
Governor @MikeSonko has been running away from EACC because he can't explain the tenders mess in City hall. Millions of county funds have been siphoned through dubious tenders pic.twitter.com/5uxnVlvWgh

— Kenya (@KenyaFire) September 4, 2019
CARTLES are not giving GVN @MikeSonko
Time to breath now they have hired/paid a group of bloggers to trend👉 #ArrestCorruptSonko pic.twitter.com/b4WgIeMI9D

— Ken Rende 🇰🇪 (@ken_rende) September 4, 2019
Bloggers wa hii ujinga #ArrestCorruptSonko this is the information… You won't be idle again, H.E @MikeSonko have built international stadium at Dandora !!! Instead ya kuwaste your bundles enda ukuze talents !!! Kubafu !!! pic.twitter.com/K6Dx8sfXl0

— ifikie mzazi (@not_boarding) September 4, 2019
Cartels are so busy Sponsoring Githeri media/Cheap Bloggers telling us That Sonko is not working while nairobians are thanking sonko for the great job he has done So far! #ArrestCorruptSonko pic.twitter.com/pEZ3HNkzhJ

— Marvis Njoroge Jaber (@NjorogeMarvis) September 4, 2019
10:32 #ArrestCorruptSonko Nairobi County Governor Mike Sonko has allegedly given irregular garbage collection tenders worth over Ksh.160 million. Sonko rescue team is in the murk of these things pic.twitter.com/NrJ4Lp5mIQ via @KenyaFire

— ReportTaka (@report_taka) September 4, 2019