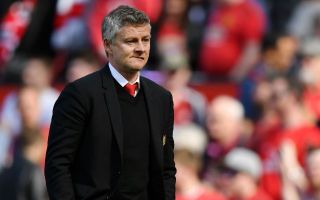 Manchester United fans have stood out to vindicate the manager, Ole Gunnar Solskjaer of the current woes facing the club. The Red Devils began this season's campaign on a high note with a 4-0 victory over Chelsea.
Solskjaer looked genius at that magnificent phenomenon. But drawing 1-1 to Wolverhampton Wanderers and later losing 2-1 to Crystal Palace at Old Trafford dragged him to the ground.
Apparently, United are back to where they were at in the last season where they concluded their last four matches without a win. They failed to lift any trophy and finished out of the top-four position.
The transfer summer was perhaps the best time they could use to correct the mess. Unfortunately, they signed only three players- Daniel James, Aaron Wan-Bissaka, and Harry Maguire. They missed it big time when they failed to replace the gaps that were left by Romelu Lukaku, Ander Herrera and Marouane Fellaini.
With last season's results repeating themselves, fans have laid the blame solely on the management. They believe the club is rotten from the head and nothing will change if the current board is still in place.
1. How important are the next two games for Solskjaer's future? #MUFC have Southampton away before the international break, and after, Leicester City at home.

2. Fellaini, Herrera and Lukaku haven't been replaced. Does it matter who the manager is if regime above him remains? pic.twitter.com/hVG3aSoJtX

— Tom McDermott (@MrTomMcDermott) August 27, 2019
Doesnt make any diff,the idiots that sulk cos we not won every game want him out regardless,papers will jump on it as #mufc stories equal revenue and wont make a blind bit of diff if Ed is still in charge of football matters

— Awesome MUFC (@CaptAwesome1924) August 27, 2019
Season is over the crystal Palace defeat was just the Begining

— Daniel (@_D_G_B__) August 27, 2019
It is a massive 2 games for Ollie but I don't think even Pep could make this club successful with its current owners. Constantly robbing Peter to pay Paul never works

— Jonathan (@Jonatha07530708) August 27, 2019
Doesn't matter who you put in charge. If nothing changes from above, the viscous cycle continues

— Oli Moon (@MoonPiig) August 27, 2019
Seems crazy we're now saying his jobs on the line, man is a legend and deserves much better than what Woodward is giving him

— Ole Gunnar Steveskjaer (@Mirrors90) August 27, 2019
We all knew they threw him under the bus. They being the stinking glazers. To not replace our plan b our main striker last season and our second best midfielder is self destructive. Ole has made mistakes here and there but we really need a miracle atm

— Thereddevilway (@thereddevilway) August 27, 2019
Point 2 is the issue, who is actually in charge of recruitment.

— ian lindley (@ibblyobbly) August 27, 2019
I think there are positive signs despite the last two games where we could also win if we score the pens and had better luck with officiating. Of course the team needs to evolve but it's kind of the beggining of the process. With quality signings the team could get way better

— Varga László (@vargalaci07) August 27, 2019
Exactly , doesn't matter who the manager is when we're running like that.

— Watsy🔴⚽⚫️ (@chrismufc99) August 27, 2019
Solskjær was appointed as caretaker manager on 19 December 2018, taking over from Jose Mourinho. He was then given the full-time job on 28 March 2019.