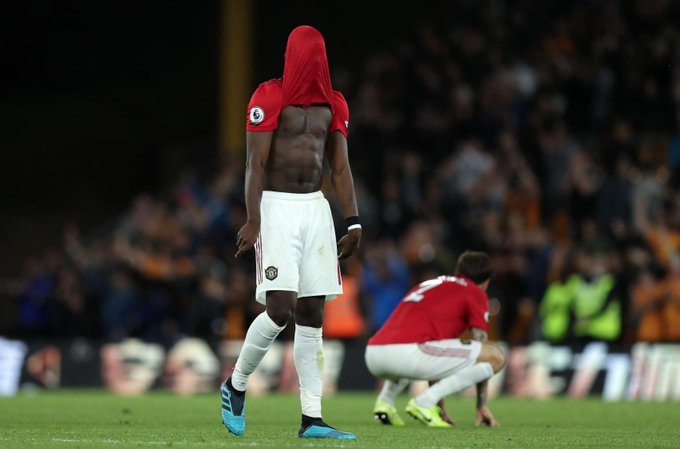 Manchester United fans have criticized their boss Solskjaer Ole Gunnar for protecting Paul Pogba after losing a penalty against Wolverhampton Wanderers on Monday.
United got a good chance to bag three points at Molineux Stadium to go top of the table but blew it out when Pogba's powerful spot-kick was saved by Wolves keeper Rui Patricio, who guessed the right way and kept the ball out of the net to preserve the 1-1 draw.
https://youtu.be/xEMy3oZNZ5Y
Marcus Rashford was the designated penalty shooter against Chelsea in their opener last week when he was fouled by center-back defender Kurt Zouma in the box. After a short consultation with the Video Assistant Referee, the center referee Taylor pointed to the spot and Rashford made no mistake.
And United fans fumed when they saw Pogba losing Monday's penalty against Wolves. However, Solskjaer downplayed it when he was asked why the Frenchman took the penalty over Rashford.
"Because the two of them are designated penalty shooters, and last week Marcus was confident enough to go up and today Paul was confident enough, and that is just a decision they've made out there same as they did last week. Last week it went well and today it didn't, so that's just football," said the Norwegian manager.
Paul Pogba taking the penalty over Marcus Rashford 🤔

Ole Gunnar Solskjaer explains…#MUFC #WOLMUN pic.twitter.com/VobFBzTdas

— Match of the Day (@BBCMOTD) August 19, 2019
But he received a backlash for his statement, with a section of fans describing him as a weak coach. Check out some of fans' reactions;
Shithouse answer, trying to please too many to keep his job, name a pen taker and get on with it.

— Jamie Funnell (@Jamie_funnell8) August 19, 2019
Weak manager.

— – (@FutbolLee) August 19, 2019
we are fucked

— OhDeckho (@declanmullins) August 19, 2019
— MustafaCohen (@MustafaCohenUK) August 19, 2019
One designated penalty taker per team. Not 2 ! Ridiculous and seems weak to me.

— Mark Johnson (@joshdanny12) August 19, 2019
Protect Paul pogba

— Tuananh (@Tuananh58544289) August 20, 2019
We are a finished club

— #Glazersout (@ph2ph2ph2) August 20, 2019
No control of the dressing room, can't be everyone's mate. Ferguson was right about Pogba years ago. The fact he has to do this shows Pogba's lack of respect to him the club and teammates

— Carl MARJORAM (@CARLMARJORAM) August 20, 2019
That's a sign of managerial indecisiveness. Designate one penalty taker and end that clownery.

— #MUFCholic (@Timo_Utd) August 19, 2019
That's poor by OgS to be fair. There should be just one & stop the comedy capers at every penalty

— Pat Cronin (@PatCronin_78) August 19, 2019
The Manager should make the decision for them . Pogba usual himself over team

— think again doc !!! (@thesilverlady18) August 19, 2019
weak as piss answer. set a taker and leave it at that

— Stevy23 (@StevyMagpie23) August 19, 2019
That is pathetic! One season at most. Weak coach, unsuccessful team.

— Mick Quirke (@QuirkeMick) August 19, 2019
Why keep defending this @paulpogba for goodness sakes, he can't hold the ball, he loses the ball a lot the same reason why a creative midfielder like Bruno Fernandes wasn't brought in, and why doesn't the manager just put his foot down to Rashford taking the pks, he's never misse

— Achara Chikairom .K. (@AcharaChikago) August 19, 2019
Well as a manager he should have the balls to pick a designated penalty taker and stick with him, to scared to over ride his own players

— SCFC❤ (@LT_1407) August 19, 2019
Weak management. He should make the decision prior to the game. Players then know whose job it is, simple really. Grow a pair and make a decision

— Andy Doulou ⭐️⭐️⭐️⭐️⭐️⭐️ (@AndyDoulou) August 19, 2019