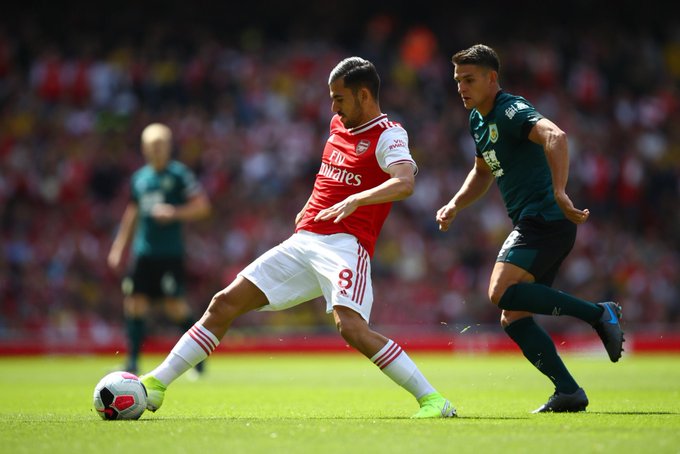 Arsenal made it two wins from their first two Premier League matches with a 2-1 victory over Burnley at the Emirates Stadium. Alexandre Lacazette put the Gunners ahead in the 13th Minuted from a Dani Ceballos Corner.
The visitors leveled matters two minutes from half time through Ashley Barnes to go into the break in his spirits. The Gunners were however back in front from through last season's Golden Boot winner Pierre Emerick Aubameyang.
Interestingly, new signing Dani Ceballos assisted both Arsenal goals and is only the third Arsenal player to do so after Ray Parlour and Henrik Mkhitaryan. The Spanish midfielder showed great control, passing and dribbling skills and was voted as the man Of the match.
The Arsenal fans on Twitter were absolutely loving his performance..
Dani Ceballos for Arsenal vs. Burnley:

• Most touches
• Most passes
• Most passes in the opp. half
• Most chances created
• Most recoveries
• Most fouls won
• Most assists
• Most duels
• =Most tackles
• =Most take-ons
• =Most shots

Involved in everything. pic.twitter.com/90NAHRAKF5

— Squawka Football (@Squawka) August 17, 2019
Imagine Zidane, Makelele and Cazorla as one player. Well that's Dani Ceballos

— Aubazettes (@Aubazettes) August 17, 2019
What a winning goal it was! And look at that passion from Dani Ceballos! 🙌🏼 https://t.co/7oeKChGLVg

— Salibae (@SaIibae) August 17, 2019
Ceballos v Burnley:
2 assists
4 key passes
97 touches
90% pass accuracy
4/4 dribble attempts
2 tackles won

— Arsenal Fever™ (@ArsenalFeverTM) August 17, 2019
Ends the game with two assists, I think we can all agree Ceballos was the MOTM today, what a fabulous performance from him!

Can't wait to see more of him this season… 👀 pic.twitter.com/kUFLapK7dK

— Evan Cooper (@Lacazest) August 17, 2019
Happy with the three points, not fluid at the best of times but it will come, Ceballos was superb, Pepe is going to cause so many problems this season, Auba lethal as always, I can enjoy my wknd now!

— MR DT © (@MrDtAFC) August 17, 2019
Standing ovation for Dani Ceballos and richly deserved at that. The best full debut at the Emirates in a very long time.

— James Benge (@jamesbenge) August 17, 2019
Ceballos definitely my MOTM. Insane talent. Its so hard to win the ball off him. Brilliant in tight spaces and when pressed. Creates a lot of openings for us. Gives our midfield that much needed composure. Going to be a key player for us this season.

— LTArsenal™ (@ltarsenal) August 17, 2019
Next up for the Gunners is a tricky away match against Jurgen Klopp's Champions League winners Liverpool at Anfield.