Popular Reggae DJ MOh was arrested over displaying firearm publicly. The internet blew after a photo of him went rounds showing a gun stuffed around his waist.
The public outrage attracted the attention of higher authorities, and he was arrested. The Director of Criminal Investigations took to social media and shared the news of the arrest of the embattled DJ stating that the authorities responded to public outcry.
Following Public outcry of a #DJ displaying a Firearm in public, DCI Detectives from #SCPU last night arrested Mr. Nicholas Mugo at Space Lounge Club. A Steyr Pistol & 174 rounds of Ammunitions confiscated." – @DCI_Kenya
The DCI Tweeted
Surprisingly, the same netizens who blew the whistle which led to his arrest are the same people who are ranting that he did not expose the gun intentionally.
Imran Ahmed Bonz He never did it intentionally Steve Mbogo at Dusit mike Sonko this is an international DJ we need to give him some credit coz he rises our Kenyan flag high
Akina A. Andibo Carrying a firearm means he intends to use it. Look at shootings in the USA. The availability of guns means shootings are a possibility.
Mutoka Michael Wenger Maybe he wanted to kill the show 🤸
Phillip Karobia Displaying a weapon is when you intentionally show it to somebody or people, the crime is why you displayed it, licensed or not, however carrying a concealed weapon that's not licensed is also a crime, so, if he has a license then he shouldn't have gotten arrested, ergo…
Ong'injo John Ogot 174 rounds of ammunition…sounds too much for the private gun holder.
Erick Kithuka This is the speed at which all government institutions should work
Wachira Wa Thuku If he is a licensed gun holder then there is no case here. Clearly, he did not display the firearm intentionally.
Peter Wanjau He never displayed it intentionally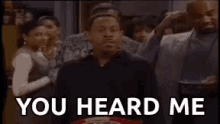 Muriithi Mwangi Don't be too bias, he didn't display it intentionally
Kenpaul Muhoro Seriously it was not an outcry, we were just surprised that he came to kill the show.