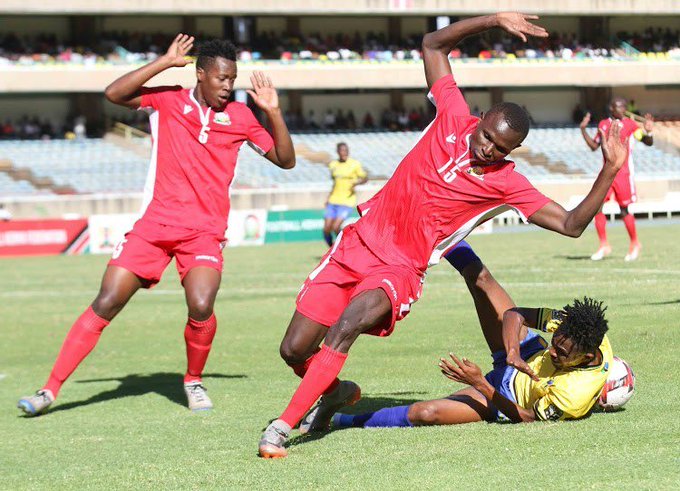 Kenyans have failed to agree on who is to blame for the current woes facing the national team especially after being bundled out of the CHAN 2020 Qualifiers.
Tanzania's Taifa Stars eliminated Harambee Stars from the qualifiers through penalty shoot-outs at the Moi International Stadium, a match played on Sunday 4 August.
After a barren draw in the regular minutes, the two had to be separated through spot-kicks and the visitors thrived in this area, hitting Kenya 4-1 with the guidance of veteran goalkeeper Juma Kaseja. The first leg encounter had ended 0-0 in Dar Es Salaam.
This came a few days after the Kenyan national team was bundled out of the 2019 African Cup of Nations in the group stages.
Perhaps what has angered Kenyans is the much hope they vested in the current coach Sebastian Migne, who was named on 3 May 2018, and Kenyans are not sure who they should hold responsible for the meagre performances.
A section of fans blames Migne for not understanding Kenyan football while others criticize players for being irresponsible during the matches.
Here are the opinions of a section of fans;
Titus Mulama Wachezaji wa taifa wanafaa kuwa viongozi kivyao.. Nakubaliana nawe.
Wale wanawachagua lazima waeze kuona hii ndani yako ili kikiwa kimwoto wanajua mnaweza fanya ABCD mambo ikawa sawa. Nakubali
Willy K Rotich Call a spade a spade… coach and the all the players who played yesterday are shit
Afande Cele Sami Ozil morali mafiii….ottomax is very right…we cant keep on pampering big boys who keep on disappointing us.
Franh AyiSi Miheso and Joash were outstanding despite Miheso being played out of his impactful position but the rest ata ball control ni shida mtu anapiga kifua ball inaruka huuuko!!but again it all narrows down to the coach and the technical bench they exhibited tactical mediocrity
Njoroge Waithaka I don't blame de coach…. I think de chairman doesn't give de fellow space to do his job…. So many K. Sharks player n yet it is a mid table club… Ya bro did so well
Calvinto Odhis Legend uko sawa kabisa and am behind you 100%
Edwin Njonjo Macharia Uko point buda pia wachezaji wanajiangusha hakuna kukufia team kama enzi zenyu.i support u on that na vile game za ligi watu hujituma!
Dani Musyoka Shida the same same bunch of shit players keeps on playing for our team while better players like kipkirui,musa masika,abdala,muchiri…..are left behind.
Ken Njeru: Migne has not fully understood the local squad. He understands the AFCON squad that played for AFCON and that which he has seen play in EPL. He should let Kimanzi, who understands local talent, take lead when it comes to local matches #DayBreak pic.twitter.com/0caL35yUDp

— Citizen TV Kenya (@citizentvkenya) August 5, 2019
James Opondo: It is time we got a coach who understands Kenyan football. Some of the questions we should ask ourselves is if we should fire Migne or hire a local coach? #DayBreak pic.twitter.com/b1tPFOC8Mf

— Citizen TV Kenya (@citizentvkenya) August 5, 2019
Migne is Mwendwa's stooge! Kenyan football problems starts with that soprano thing called mwendwa. Unless we get rid of huyo kimbelembele fb will not develop. Never

— @tintomit (@tintomit2) August 5, 2019
In the recent past I have losing faith in Sebastien Migne as Harambee Stars coach, he does not believe, as per his comments he thinks he is a messiah yet we are playing awful defensive football!

— Martin Wanduga Gachanja (@Wanduga_G) August 5, 2019
Migne and kimanzi are frauds. They should be sent home. If they can't sharpen local talent, what is their use in the national team?
Migne is a fraud, no tactics no strategy. He plays defensive then claims Kenya has no talent, what a useless coach!!!

— The Don (@TheDon61950753) August 5, 2019
Was talking to some guys and they asked to ask migne….why call muchiri, a super offensive player and not use him…then play Duke out of position, leave ineffective isuza on the pitch, onyango was invisible the whole time….substitute Sydney when he was the only goalhope https://t.co/JZSfa38Mdd

— Madgoatmedia_kenya (@MadgoatmediaK) August 5, 2019
Why don't you give a Kenyan to coach harambee Stars. Wazungu don't understand our local players they are guided by corrupt individual. Migne must go

— Weldon koech kolloo (@Weldon2koech) August 5, 2019
We don't have a problem with the coach, kenyan coaches were there previously and they failed terribly but I know for sure we will blame the coach but as a team what did they do, those penalties were not taken by migne , 100% players failed us..Kenyan team for Chan is a scam.

— @heavyduty (@heavydu91443892) August 5, 2019
I DISAGREE WHEN PEOPLE ARE SAYING THE PROBLEM IS MIGNE, WELL HE NEED TO IMPROVE ANYWAY BUT EVEN THOUGH WE HIRE PEP AND THE PLAYERS ARE ON EMPTY STOMACH IT WILL BE POINTLESS

— MBUGUZ WARINGA (Gatundu South) (@MbuguzRonaldo) August 5, 2019