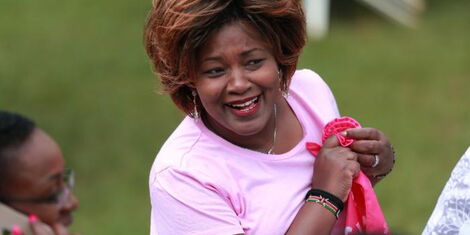 Public Service, Youth and Gender Affairs Chief Administrative Secretary (CAS) Rachel Shebesh sparked hilarious reactions on social media after she showered praise on the husband of the Late Bomet Governor Joyce Laboso and indirectly slammed her own spouse.
While tributing Late Laboso in Bomet, Shebesh said Dr Edwin Abonyo, Laboso's husband, was a gift to Laboso from heaven, whereas hers, "came to her while walking".
The former Nairobi Women Rep made the remarks to express her admiration for Abonyo's love toward the late governor.
"Edwin, you are a true reflection of love. Joyce told us that she is luckier than all of us combined. And, I agree. You are all those husbands who come from heaven. Ours came walking, whereas you came from heaven. She said it a thousand times. If you did not know that, know it today. All the conversations I had with Joyce were about your love," said Shebesh.
Edwin Abonyo you are a true reflection of love. You are one of those husbands who come straight from heaven, ours come walking – Rachel Shebesh praises Laboso's husband for being supportive to his late wife pic.twitter.com/tls0auGiMd

— Daily Nation (@dailynation) August 2, 2019
Her remarks, immediately, triggered excitement on Twitter, with a section of online users arguing that the former Nairobi Woman Rep was "trying too hard to impress".
Here are hilarious reactions from Kenyans;
Husband inheritor detected

— Fredrick Og (@OgFreddie) August 2, 2019
@Rachelshebesh Genuine, sincere and honest praise is as effective well driven nails….

— JohnBless (@JohnBless_) August 2, 2019
Just be frank, kuketiwa.

— franco mutavi (@franco_mutavi) August 2, 2019
@Rachelshebesh 👏👏👏👏 you have made my day with this hilarious speech 🤣🤣🤣🤣🤣🤣🤣 I tell you!

— TavetaFinest🇰🇪 (@Tumaini_Nduati) August 2, 2019
Sasa shebesh anataka kuchukua Abonyo mapema hii!!!?!

— Ekuru Logol (@EkuruLogol) August 2, 2019
Sasa shebesh anataka kuchukua Abonyo mapema hii!!!?!

— Ekuru Logol (@EkuruLogol) August 2, 2019
Uyu ameona future mapema

— North Rift Fitnest (@phil_kiprop) August 2, 2019