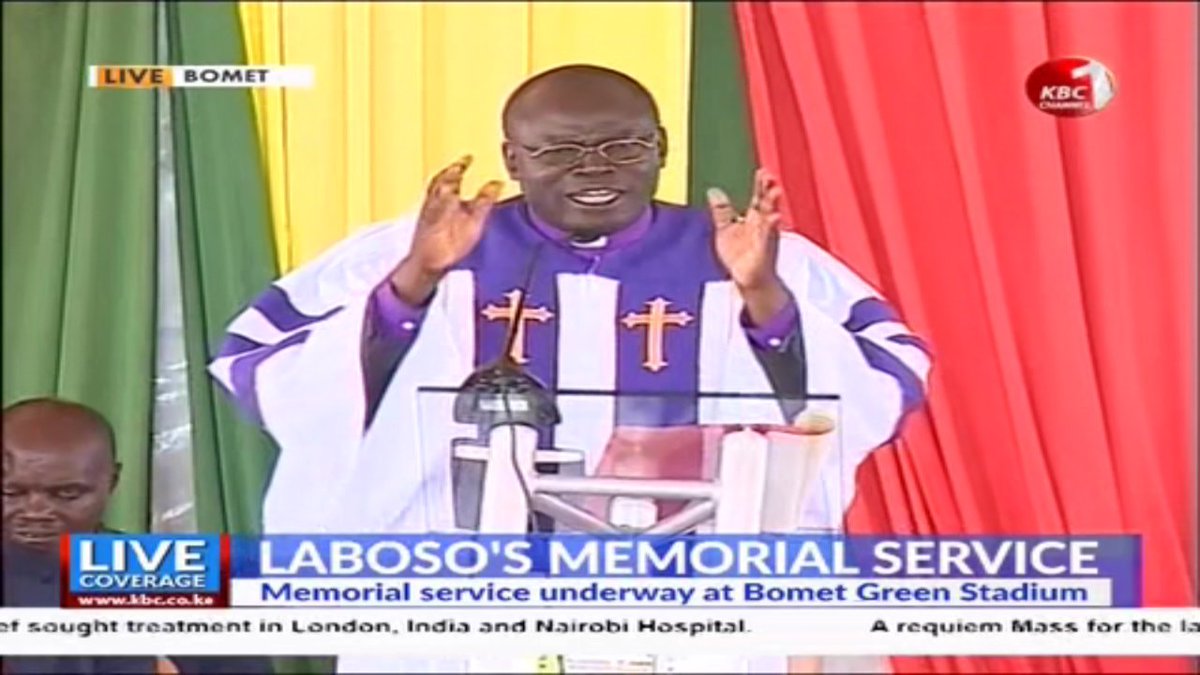 Anglican Church of Kenya Bishop Dr. Robert Langat has called on Kenyan leaders to come and work together as a sign of respect for the late Joyce Laboso.
While presiding over the memorial service for late Dr. Joyce Laboso's memorial service at Bomet Green stadium, Lang'at singled out Dr. William Ruto and the former Prime minister Raila Odinga urging them to set aside their political differences and come together for sake of unity in the country.
Lang'at who spoke before President Uhuru's arrival at the venue gave an example of Dr. Laboso who was born in Bomet but loved a man from outside his community, Mr. Abonyo from Kisumu county terming the move as a good example which all leaders should emulate to bring all Kenyans as one.
"On Saturday, we will be going to Kisumu county to bury our sister. I want to urge our leaders especially DP. William Ruto and his colleague Raila Odinga to set aside their differences and come together for the unity of this nation just like the late Laboso who comes from Rift Valley but was married to a man from Kisumu county" said Bishop Lang'at.
Bishop Dr Robert Langat presiding over the the late Dr. Joyce Laboso's memorial service in Bomet.#FarewellLaboso pic.twitter.com/xrfQOicCrg

— ktn (@KTNKenya) August 2, 2019
Lang'at urged the three leaders, Uhuru, Ruto and Raila to take Laboso's demise as a sign of national unity and unite Kenya genuinely for national prosperity.
President Kenyatta arrives in Bomet for Joyce Laboso's funeral service.#NTVToday pic.twitter.com/mevyhV4VZ0

— NTV Kenya (@ntvkenya) August 2, 2019
The Deputy President and Mr. Odinga fell out in 2010 and fought each other through 2011 and 2012 before he and Mr. Kenyatta handed Mr. Odinga defeat at the 2013 General Election.
Bryan Abonyo on how he moved back home (Kenya) only to come find out his mother (the late Joyce Laboso) was ailing pic.twitter.com/XREPHmEwKB

— Citizen TV Kenya (@citizentvkenya) August 2, 2019
The two renewed their political rivalries and hostilities during the 2017 General Election. Mr. Odinga lost the initial presidential poll and then unwisely sat out the court-ordered re-run.
Opposition Leader Raila Odinga arrives at the Bomet Green Stadium for Joyce Laboso's memorial service#FarewellLaboso pic.twitter.com/ZYkmKrBovO

— The Standard Digital (@StandardKenya) August 2, 2019
Mr. Odinga's famous handshake with President Kenyatta on March 9, 2018, however, escalated the hate between the two with Ruto seemingly being left out of the deal.
Enjoying presidential backing, Mr. Odinga declared war on Dr. Ruto which has seen some members of Ruto's Tanga-tanga team dealt with accordingly in the war against corruption.
I am sorry to the people of Bomet because I almost denied you a Governor. ~ Mr. Kirui (Cousin to the late Governor) #NTVToday pic.twitter.com/oNRvJuYLXR

— NTV Kenya (@ntvkenya) August 2, 2019