Just one day after Kiambu Deputy Governor James Nyoro temporarily took over the county's leadership from the embattled governor Ferdinand Waititu, mixed reactions continue to arise following the same.
While most of Kiambu residents congratulated their Deputy governor for taking charge, other Kenyans found the congratulatory messages as hypocritical while recalling 2013 general elections where the residents had failed to elect Nyoro as their governor despite presenting his candidature.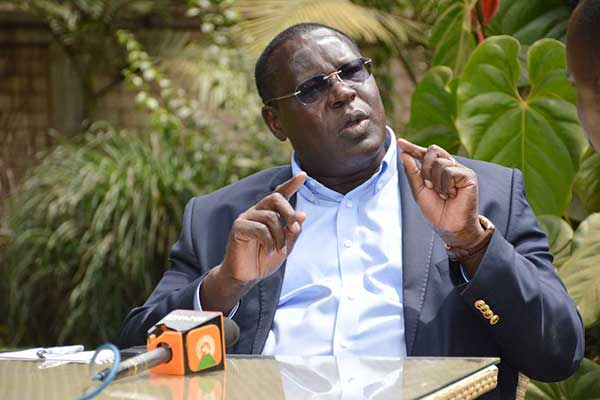 It was also evident that despite his tribulations, governor Waititu still had loyal followers who were rallying behind him terming his arrest as ill-informed and purely on political grounds.
On Tuesday during his first press conference at the county headquarters, Dr. Nyoro declared that he had taken over operations of the county saying his first priority would be to reduce the loss of revenue and hinted at changes to improve service delivery and stem wastage.
Nyoro said he was in the office legally as stipulated in the Constitution and that there was no power vacuum in Kiambu.
Here are some more reactions from Facebook:
Nashon Wesonga This is hilarious and you guys are reaping what you sow 🤪🤪🤪🤪
Rotz Kibet Say "I" not "we" . You could have requested Nyoro then to vie for the seat
Oscah Nakaya Maumbwa sana , infact they will still vote for him for the second term
Ochieng Okongo These guys are crazy….Waititu has not been impeached….he is still the governor of kiambu county…he should be impeached then the latter follows as they claim….Nyoro is the deputy Governor…. otherwise ..the menace of corruption must be thwarted by all means….Wanjiku anaumia..
I thought only their ladies do that(that community) kill the boss and take over, Kumbe mpaka wanaume

— Lambert (@lambertleopold) July 31, 2019
Oscar Oruta Listen to this fools. Yet you voted for him! Kila mtu apambane na Hali yake
Charles Kuria Stupid.its like bounding a matatus driven by a drunk driver just because the conductor is sober.
Meanwhile all is not lost for waititu pic.twitter.com/4dkqnFK8CL

— Logarithmic Differentior (@IanNjoroge254) July 30, 2019
Karmalo Kamal Aii aje sasa,ati mlikua mnachagua nyoro lakini waititu ndio governor hahahaha
Willy Wanambisi Mko na umama sana ,you vote for someone coz of his deputy???even high school election can't be like that
A court can not make nyoro the governor. This is gross violation of the constitution.

— Justice 4 Africa (@justice_4Africa) July 30, 2019
Why is it that he NEVER won the race to become the governor? …this attitude is not good at all…