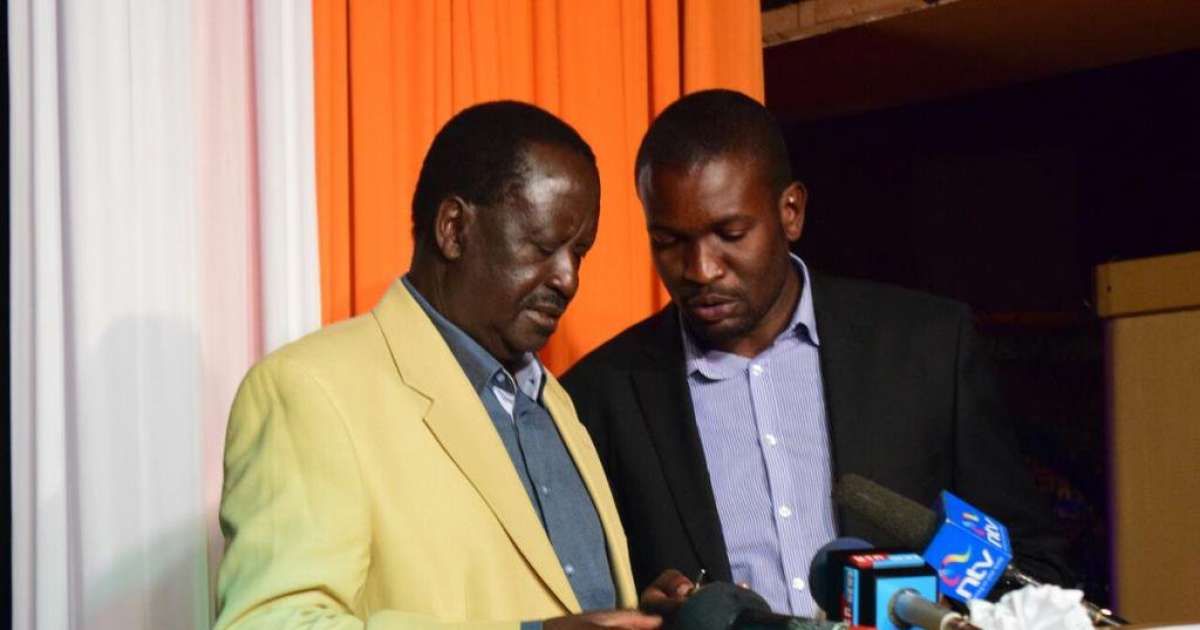 What is the worst thing in a relationship than being used and dumped? It is painful. That is the prophecy that has been made on Raila Odinga, Sifuna relationship,the victim being Sifuna, 'ooh boy child!'
Raila will use you the same way he has used Luhyas and dump you.

— Felix Ikala (@FelixIkala2) July 31, 2019
This heartbreaking message has been delivered to The ODM Secretary-General following his consistent attacks on Ekuro Aukot's Punguza Mzigo initiative. Sifuna has accused Daily Nation of endorsing and imposing the Punguza Mzigo Bill to Kenyans.
It is clear @NationMediaGrp @dailynation has taken a position to support Aukots bill. How else do you explain a headline story on the bill that neither mentions nor discusses its content and merits/demerits thereof? Constitutional amendment is not a pageant/popularity contest! pic.twitter.com/i83OryL86I

— Edwin Sifuna (@edwinsifuna) July 31, 2019
According to Sifuna, the newspaper is brainwashing citizens instead of upholding journalistic standards by publishing the truth.
The @NationMediaGrp knows the only way Aukots bill passes is if the public remains ignorant on its contents. You have a responsibility as a major newspaper to provide information that helps the public make informed decisions @dailynation. Serialize the bill. Stop the sideshows

— Edwin Sifuna (@edwinsifuna) July 31, 2019
He went ahead to laugh at Daily Nation's desperation to survive by grabbing the attention of Kenyans.
This attempt to reduce the debate on constitutional amendment to "attention grabbing politics of survival" by @dailynation is laughable. As @TheODMparty we know our competition. It's not third way. No matter how hard you try to fatten a lizard it will never become a crocodile.

— Edwin Sifuna (@edwinsifuna) July 31, 2019
But Kenyans have reminded Sifuna of his earlier promise to resign if Aukot garnered one million votes. The former Nairobi Senatorial aspirant was left with egg all over his face after it came to pass.
Remember this??? The lizard is getting stronger pic.twitter.com/BUyxhFBCJ2

— Dennoh©® (@KCheriuyot) July 31, 2019
You might think you have wisdom but you're still low

— Japheth (@japheth_bor) July 31, 2019
Kenyans have vowed to shame Edwin Sifuna by endorsing the Punguza Mzigo initiative, imagine that on top of being used and dumped?
Proud,why didn't you get a million plus signatures?punguza mzigo is far better than your dreams

— Dollar Dollar (@NelsonKipkori15) July 31, 2019
The shame oozing out of your sentiments….you're very right indeed only and only if talking out of ignorance and like your buddies trying to maintain status quo and praying Kenyans remain deaf and dumb to this noble initiative…. Wakenya amkeni🗣️🗣️🗣️🗣️

— Joseph Goro (@JosephGoro2) July 31, 2019
@edwinsifuna the fact that you are responding shows you've been rattled. And rattled you should. Your party remains one of the most useless in promoting progressive reforms. You remain addicted to Odingaism.

— Jasper Lubeto (@JasperLubeto) July 31, 2019
Sifuna never under estimate the power of the people, despots like you will fall, remember Kenyans rejected you in 2017 as a senator you sidebared to ODM office due to sympathy of your fail, Thirdwaykenya has the support of common mwananchi.

— Hon Felex Okituk (@Fellyoung1) July 31, 2019