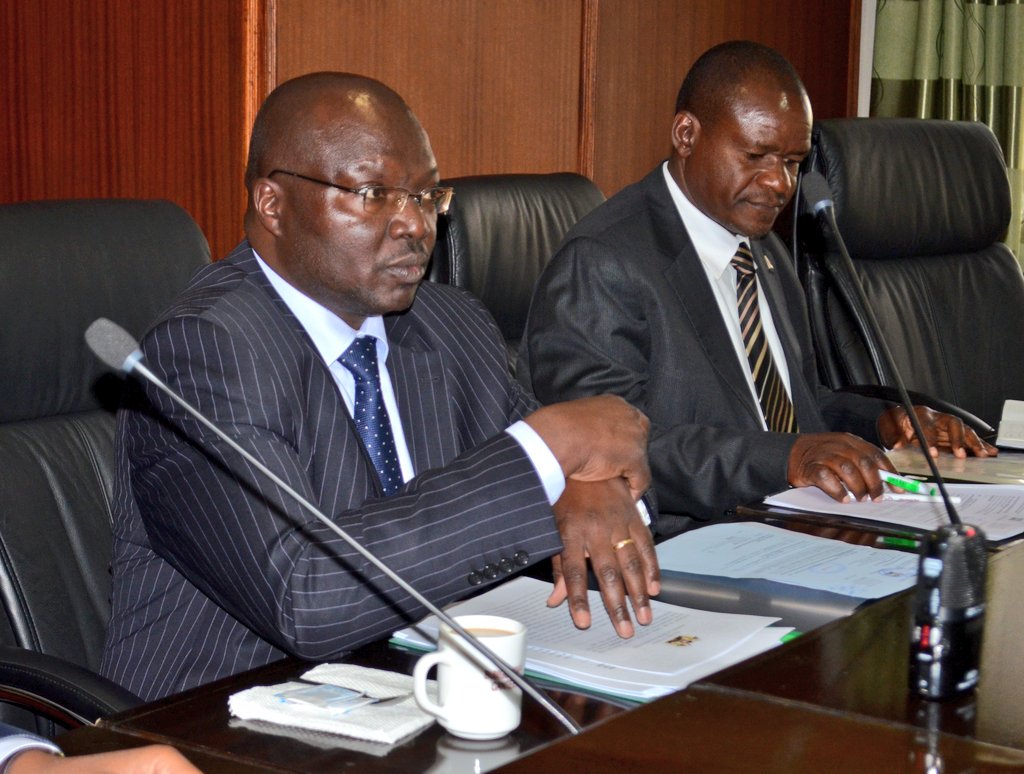 Kenyans are up in arms against Water and Sanitation Cabinet Secretary Simon Kiprono Chelugui.
CS Simon Chelugui has found himself in trouble after revealing that the multi-billion-shilling Itare dam is almost hitting a dead end.
Chelugui should be fired! This is current tune in the social media streets with many calling for President Uhuru to send him packing just as he did to CS Henry Rotich and PS Kamau Thugge.
Chelugui should be fired

— Patriotic KE↪ (@nwm21857450) July 25, 2019
Huyu pia kamata

— Duke_shatter®🇰🇪🇰🇪🇰🇪 (@Duke82_shatter) July 25, 2019
CS Chelugui appearing before the National Assembly Environment committee Thursday, said that the country risks losing Sh11 billion if the contract awarded to Italian firm CMC di Ravenna is cancelled.
But people are asking why didn't he raise the alarm early?
Why didn't you warn before?wacha ipotee

— Moses Githuga (@MGithuga) July 25, 2019
But even more worse, CS Chelugui is being castigated for entering into a contract with the controversial Italian firm which at the center of Arrow and Kimwarer dam scandal.
Wait! What? There are other contracts with CMC di Ravenna? Wow! Do people think this company poses a national security threat to Kenya.

— Yussuf (@yussufHAdan) July 25, 2019
So we continue to give CMC Ravenna Cash knowing very well they won't complete the Dam.
Whoever made this deal should be put in jail and the keys thrown

— MosesG (@NaksLfcRed) July 25, 2019
The Sh35.69 billion contract was awarded to CMC di Ravenna in 2018 to construct the dam in Nakuru. The project, which was expected to take four years, was meant to supply water in Kericho, Bomet and Nakuru counties upon completion.
However, with less than 20 per cent done, the contractor has filed for bankruptcy proceedings in Italy.
The fact that the firm is on verge of being declared bankrupt has inflicted more pain to Kenyans. People are demanding their money back because enough is enough,'Punda Amechoka.'
Already bankrupt

— Bill ó Naire Sam (@SamuelWangatia) July 25, 2019
Let the characters who facilitated the payments and allegedly got kickbacks return the money.

— kevkoth (@kevkoth) July 25, 2019
Ona sasa, ona mwingine…..there is a breach of tge terms of contract already…..surely after 4 years? Secondly, the company applied for administration implying lack of capability to deliver…..this country cries every day!!

— Tim Gitonga (@Tim_Gitonga) July 25, 2019
Waziri should first tell country whether he has even seen the the designs(detailed,artistic,bq etc). Secondly when will the case (ever) be concluded. It could take years and then tales of a dam that never was.

— DavyKN. (@IDayvie) July 25, 2019