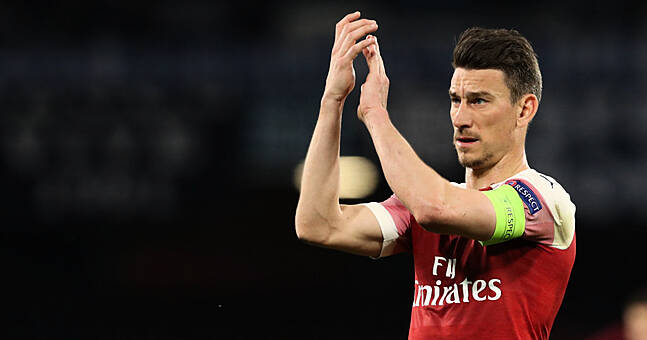 Arsenal Captain Laurent Koscielny has refused to travel with Unai Emery's team for the clubs Pre-season tour in the United States. The French defender is said to be angling on a move away from the club with Ligue 1 side Bordeaux reportedly interested in his services.
Arsenal has already released a statement on the issue and promised to take disciplinary action on the player. This could see Koscielny stripped of his captaincy. Below we look at the favorite candidates to replace him as club captain for next season.
Granit Xhaka
The Swiss midfielder has already won the Arsenal armband before especially last season when Laurent Koscielny was out injured or rested. He has been at Arsenal for 3 years and is the clubs most senior midfielder following the departure of Arron Ramsey to Juventus.
Xhaka has shown great leadership qualities at Arsenal and interestingly he was the Captain for former club Borussia Monchengladbach at only the age of 22 years.
Rob Holding
The young English defender showed great improvement last season but suffered a season-ending injury in December last year. An excellent footballer and leader, Holding has been at Arsenal for 3 years now.
Age should not be a factor especially when you consider that this is the same club that gave a 22-year-old Cesc Fabregas the captaincy in 2008.
Hector Bellerin
The Spanish right-back is not only a very good footballer but also a natural leader. He is a vocal lad who speaks about issues that are not only relevant in football but in society as a whole.
The captain needs to be a sure starter and Hector is the starting right back whenever fit. He loves the club and shows his passion on the pitch especially in the big games as shown in last season's North London Derby where he was a huge part of a heated players exchange early on in the match.
That is the sort of stuff that fans want to see from their leader.
Who do you think should be the Arsenal captain for next season? Share your thoughts in the comments section below..