Relationship experts advice that when people break up, they should take some time before moving on into another relationship. The time is supposed to allow an individual to heal and do a self-search before identifying the next suitable partner.
However, for Kenyan comedian Eric Omondi, things are different. Barely 11 weeks after breaking up with his Italian fiance Chantal Grazioli, Eric has announced that he is looking for a wife.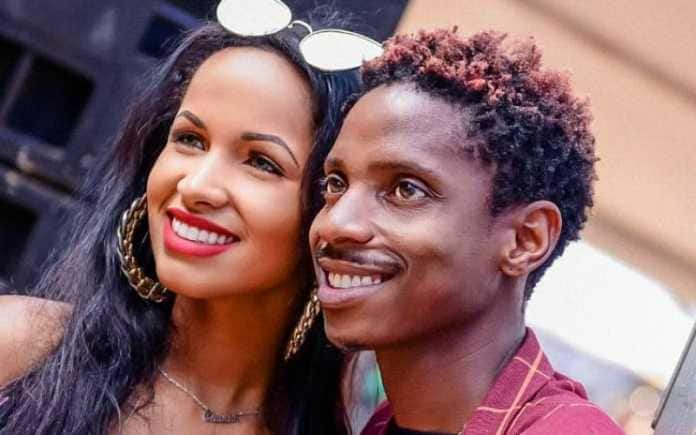 Speaking in Tanzania on Sunday night at Milimani City Conference Hall during Tanasha's birthday, Eric made it clear that he was in Tanzania for two missions. Mission number 1- representing Tanasha's Kenyan family and mission 2, looking for a wife.
Acting as assisting MC in the grand party, this is what Eric Omondi said:  Video time frame- from 2:33:34 onwards
In another post, Eric Omondi envied Tanasha Donna and Diamond Platinumz who are expecting a baby boy. He now wants fans to help him source a suitable partner between Irene Uwoya- ex-wife to Tanzania's bongo star dogo Janja and Sanchi-the curvaceous Tanzanian woman giving Kenya's vera Sidika competition.
It's a baby Boy💪😊🔥🙏🏽
TANZANIA 1 KENYA NIL😂😂😂😂😂😂😂🤣🤣🤣🤣🤣🤣🤣😂😂😂 Na Mimi naye sitoki Tanzania hadi nifunge boli huku Tanzania 😠😠😠😠 Tafadhali wakenya🇰🇪🇰🇪 Naomba mnichagulie mmoja Kati ya @ireneuwoyaa8 na @sanchiworld We have to reply😠 Ama niwai wote wawili ndio ikue Kenya 2 Tanzanian1😂😂😂😂😂😂😂😂😂😂🤣🤣🤣🤣🤣🤣🤣🤣🇰🇪🇰🇪🇰🇪🇰🇪🇹🇿🇹🇿🇹🇿
LINK ON BIO
On another post, Eric stated that Diamond Platinumz promised to help him get a wife.
However, Tanzanian women are against Eric getting a wife from their country. Others claim that we gave them shapeless Tanasha and so he should take a shapeless one too.
Chukua ambaye hana shepu coz nyie mmetupa mwenye yuko flat @ericomondi
We don't like Kenyan men hamko romantic mko serious sana hamlegei wooooi
usituletee makombo sisi chukua Paula kajala🔥🔥
Hao uliwamention wote hata ukojoe VIP watakunywea p3😅
Tutakupa Amber rutty na mahali utalipa ukipenda😢😢 ila sio lazima😂😂😂
Chukua ofisholin ambae hana matako uzae mtt kana kwamba amekandamizwa ubaon 😃😃