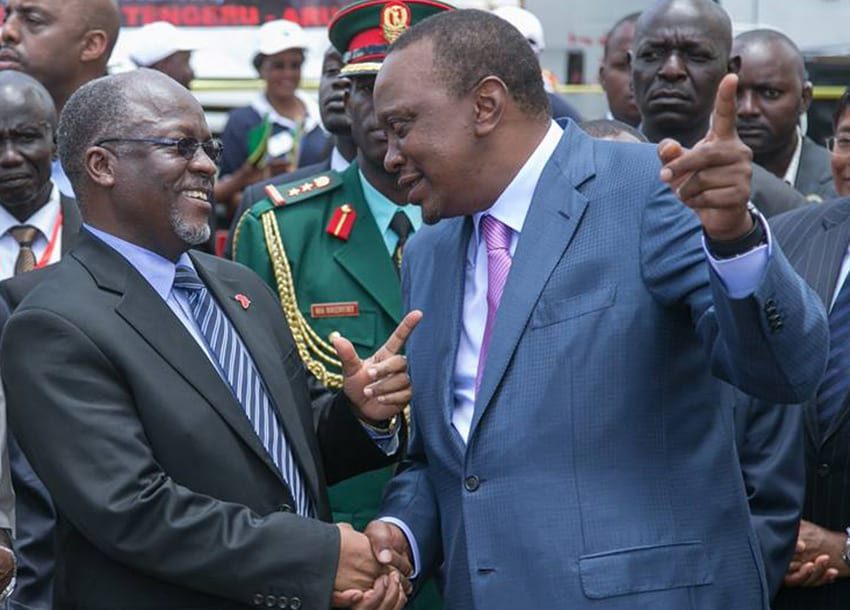 "It is written in the Bible that you can choose a friend but you cannot choose your neighbour." These are exact words used by President Uhuru Kenyatta while in his visit in Tanzania that have won the heart of President Pombe Magufuli.
The President urged Kenyans and Tanzanians not to be distracted by silly pronouncements made by some politicians that were intended to create divisions among people in the two countries.
He was speaking in reference to last week's xenophobic attacks made by a Kenyan lawmaker, Charles Njagua Kanyi, against foreigners, including Tanzanians, operating businesses in the Kenya.
"We should not allow politicians to harm our friendliness and neighbourliness. Kenyans and Tanzanians should be free to interact by visiting each other. They are free to interact in business and even in marriage," he said to a deafening applause.
"How can a politician say a Tanzanian is not allowed to do business in Kenya," he said. "Likewise you cannot stop a Kenyan wishing to cross over to Tanzania."
Magufuli thanked the Kenyan government for measures it took after the Kenyan politician had made xenophobic utterances against Tanzanians last week.
He said the EAC should not entertain cheap politics engineered by a few politicians for their personal gains.
Magufuli said Tanzania and Kenya have been good neighbors and friends since before the two countries gained independence in the early 1960s.
"Tanzania and Kenya speak one language (Swahili). We share Lake Victoria and we cooperate at international level through the EAC," he said.