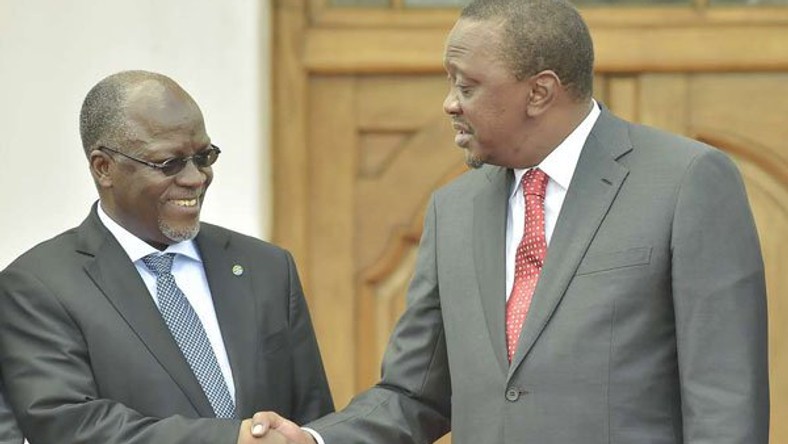 Starehe MP Charles Kanyi famous Jaguar who has since been released on a cash bail of Ksh. 500,000, has been left alone to unhook himself from the hands of law on charges of incitement to violence against foreign traders.
On Wednesday reports had it that President Uhuru Kenyatta has written a special letter to the President of Tanzania, John Magufuli to explain how his government was aggravated by the statements made by Jaguar.
Jaguar's reckless talk about people from Tanzania, Uganda, and China, accusing them of dominating Nairobi markets seemed to spark a diplomatic tiff between Kenya and Tanzania.
The text message which was presented by Kenya's Ambassador to Tanzania, Dany Kazungu and received by the Prime Minister of Tanzania, Kassim Majaliwa on behalf of President Magufuli, expressed Uhuru's anger and apology to Tanzania.
According to Tanzania's local paper, Uhuru wrote, "The relationship between Kenya and Tanzania is very close because there are some tribes that are found in these two countries so the partnership in various issues including business and social cannot be trapped."
He added that Tanzanians and Kenyans have always been free to live and work in the East African countries and where problems or disunity are in place.
" The Tanzanians are pleased with the various measures taken by the Kenyan government against the parliamentary that expresses these statements were not the Kenyan Government's position or its citizens but it was the individual's position. "
Rais Kenyatta amkana Jaguar, amwandikia barua Magufuli https://t.co/2EEdgYLpw5 pic.twitter.com/NmBdWX9YiY

— Mwananchi Newspapers (@MwananchiNews) July 2, 2019
Jaguar led Kamukunji residents together with other leaders in demonstrating against the foreigners..
"If there are competitions from the Chinese nationals, then there will be no business for you people. Recently we witnessed Matiang'i claiming he had only deported only six Chinese nationals yet we have hundreds in here. We are giving the government 24-hour ultimatum to deport them failure to which I will lead the locals in storming their shops and ejecting them" threatened Jaguar.
The hearing of his case is set for September 4, 2019.