Safaricom CEO Bob Collymore has gone down in history as the first and among the few country's CEOs who had the courage to nationally declare their wealth.
The firm's statement released in March 2018, showed that the Mobile service provider Safaricom paid its Chief Executive Officer Sh196.47 million in the year to March in 2018.
This would translate to Sh16 million a month or more than half a million a day. His pay in 2018  was after was a 16 percent increase from the Sh168.45 million the firm paid Bob Collymore in the year to March last year.
The pay included his annual basic salary of Sh 94.32 million, a bonus of Sh32.42 million, non-cash benefits worth Sh35.64 million and a stake in the company worth Sh34 million, which was offered through an Employee Performance Share Award Plan (EPSAP).
In his individual assets declaration 2015, Collymore revealed that he earned USD89000 (approximately Sh9.1 Million) per month and had accumulated property and shares worth over Sh277 Million.
The Safaricom boss, who has been in employment for over 35 years, has a residential house in London valued at Sh54 Million and owns Safaricom shares amounting to Sh18 Million among other assets.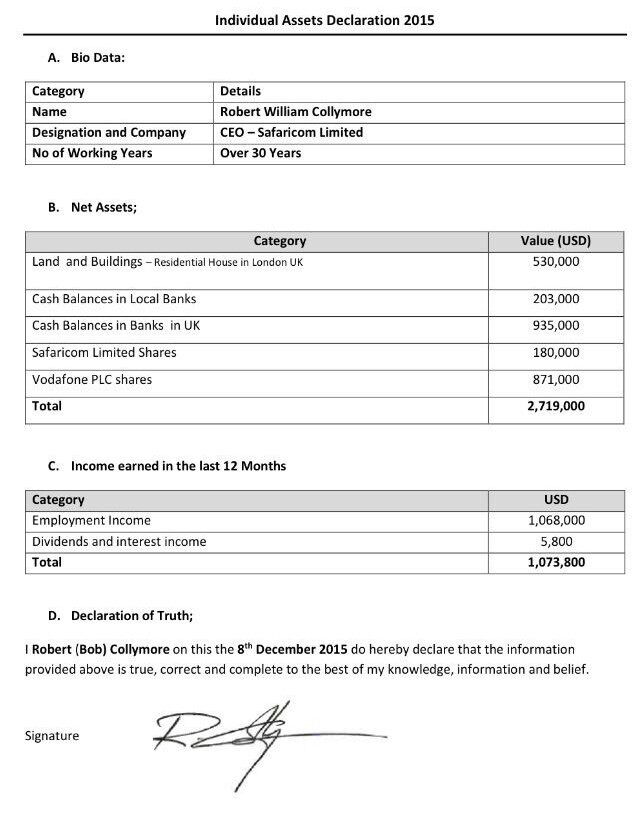 Collymore's career took off when he joined UK's Cellnet in 1993, just as the corporate world was starting to venture into mobile telephony.
"I was walking down a path no one else had walked and I thought, 'this is good because the rules aren't written and I'm just going to make the rules up as I go'," he said in a previous interview.
He was appointed the Chief Executive Officer of Safaricom in 2010, taking over from Michael Joseph who had served as CEO for 10 years.
Collymore was chief officer for corporate affairs at Johannesburg-based Vodacom Group Ltd before his appointment to Safaricom.
Bob Collymore has died aged 61 years leaving behind four children and a wife.