Nyandarua governor Francis Kimemia receiving the award
Nyandarua county has been named the best performing county in the recent World Bank assessment.
The best performing county award was given to Nyandarua Governor Francis Kimemia during the launch of World Bank's Kenya Devolution Support Program (KDSP) at Laico Regency Hotel, Nairobi.
"This is proof that Nyandarua can lead. Some people belittled us thinking we shall forever be confined at the bottom. But now Nyandarua is shining, there is God," said Kimemia.
Nyandarua received Sh254 million from the World Bank for ranking the best. The funds are part of Sh4 billion being disbursed to 22 counties that are beneficiaries of KDSP program.
"This trophy is not just a glass. It is worth Sh254 million, it is our victory, the people of Nyandarua," added Kimemia.
Governor Kimemia said the victory was as a result of good leadership, prudent management of finances as well as the professional and disciplined workforce.
"I am still working with the chief officers who served the former regime. The officers who were in office when Nyandarua used to be ranked 47 out of 47 counties. All of us are pulling in the same direction. That shows you government workers are not bad. All you need is to provide leadership, it does not matter who employed them," he said.
Kimemia at a past function
Last year, Nyandarua was ranked second in the KDSP ranking and received Sh283 million in grants for development.
This year despite topping the list, the amount declined with Sh29 million. This, Kimemia said, is because of the improvement of the programme from 13 counties last year to 22 counties this year, among other World Bank considerations.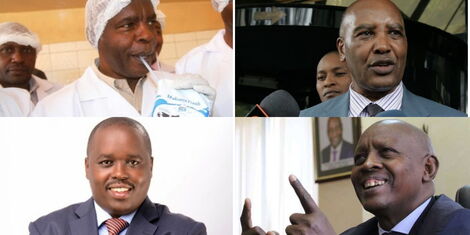 Some of last year's top governors
Makueni county received the largest share of Sh296.6 million, Kiambu (Sh289.5 million), Kakamega (Sh262.5 million) and Mombasa (Sh259million).
Kajiado is placed bottom in the list with Sh66million.
While presenting the cheque to the governor, Devolution Cabinet Secretary Eugene Wamalwa congratulated the county for prudent utilisation of devolved funds.
"This is a role model that other counties should emulate. We want zero corruption in devolved funds so that residents can get value for their money" he said.