Nilijua tu venye Safaricom walianza kuita watu oyaa, kulikua na kashida huko. What else explains the crisis that the company is facing at the moment?
On Friday, sharp Kenyans almost brought down the giant telco after word spread on social media that there was a technical hitch on their 'Platinum Data Plan.' This hitch enabled customers to get data bundles worth ksh 10k without paying for it. Some subscribers got up to 40gb data plus 1500 minutes of talk time with unlimited sms in the early morning 'theft'
Subscribers dialed *544# and selected option 6 which allowed them to pay for the data plan using Bonga points. If reports on social media are anything to go by, then the company made huge loses as Kenyans celebrated the bundle heist for the better part of Friday morning.
Safaricom,,if we come together,,great things happen🤣🤣🤣🤣🤣🤣🤣if you know you know!!!!!!!!!!! Thank you prophet Awuor for the morning blessings #FridayMotivation #safaricom

— Tamurai Creations (@tamurai_inc) June 28, 2019
But not everyone got to enjoy this free data as the company noticed this error and disabled the Platinum option. Safaricom also went on a crisis management mode and was able to reverse most of the erroneous transactions that had been made.
But it seems the company had suffered substantial damage, and Safaricom being Safaricom was not gonna accept the loses it had made just like that.
So on Saturday morning, the firm decided to threaten their that they risked having their lines deleted from the network if they didn't top up with Ksh 5 or more.
" Dear customer, your line is about to get deleted from the network. DON'T let this happen. Simply top up your line with Ksh 5 or more to activate it." reads a message that Safaricom sent to its subscribers.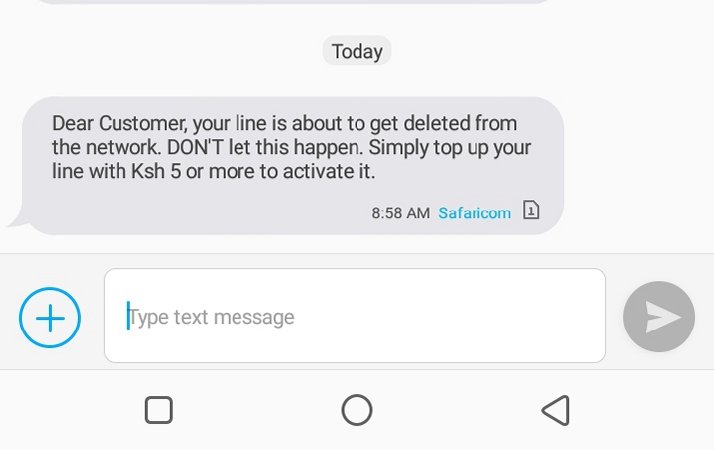 The problem with Safaricom is that it was sending the message to random users, some of whom didn't benefit from Friday's heist. This has not gone down well with the customers.
Safaricom is holding their Stockholm suffering clients hostage by demanding 5 bob but they will never learn
'Your line is about to be deleted top up with Ksh. 5 to activate it
KSh 5 * 50M = Kshs 250M
They recover their money after#safaricombundlesheist#SafaricomMarathon

— MuthuiMkenya 🇰🇪 (@MuthuiMkenya) June 29, 2019
Someone even suggested that the error that caused the bundles heist could have been made intentionally so that the firm could make profits by deducting money from all their subscribers.
They will deduct ksh 5 from even those who didnt subscribe to yesterday bundles…

I said it was a scheme to make profit such mistakes can't just happen!
Wanatuibia bado but untill telkom and airtel up their game

LOCAL MAN NOT PLEASED. https://t.co/KU1lMSiSqv

— 🇰🇪realRuto The Kortome. (@realRuto) June 29, 2019
Angry subscribers threatened to switch to other networks if these threats from Safaricom continued. Yaani, hawa hawaezi acha tupue hata siku moja?
So @SafaricomPLC @Safaricom_Care is holding me hostage and at a ransom by coercing me to top up Ksh 5 lest they delete my line from the network? Please go ahead, will be such a relief

— Sylvester M (@pukkasly) June 29, 2019
The noise was so much on social media to the point Safaricom had to sent an apology to its customers, saying the message had been sent erroneously and should be ignored.

I still insist that Safaricom should stop using that word Oyaa!! Bure hizi errors zitaendelea tu