Twenty South African teenagers have successfully assembled and built their own four-seater Sling 4 plane that they intend to fly from Cape Town to Cairo. The team comprises of teens from various backgrounds
With the support of U-Dream Global, an NGO, the teenagers built different parts of the plane including the fuselage and the horizontal and vertical stabilizers.
Just a few days ago, they were able to get the aircraft into the air and made their first trip to the southern coastal town of Luderitz, Namibia, 1128km away.
The plane has a six-and-a-half hour flying range and other stops on the way to Egypt will be in Zimbabwe, Malawi, Tanzania, Kenya, Ethiopia and Eritrea. The overall target of flying it to Cairo, Egypt will be done over a period of six weeks.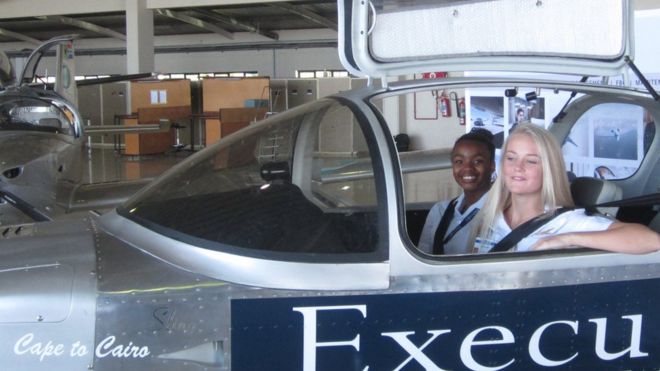 They are meant to take a different route flying back that includes stops in Uganda, Rwanda, Zambia and Botswana.
A support Sling 4 plane flown by professional pilots will accompany the teen flyers, who said they planned to do motivational talks for other teenagers along the way.
"The purpose of the initiative is to show Africa that anything is possible if you set your mind to it," said 17-year-old pilot Megan Werner.
The bold move has elicited different reactions from netizens all over the world. Check some of them out below:
These kids are doing the most 👏👏 as for me i dont even remember what I did with my teenage years 😥 years wasted

— YouTube_ KeMpho M🇿🇦 (@MphoJMasilela) June 29, 2019
Its just funny that this did not trend, instead re shebile bo black coffee bo Khanyi Mbau. See your lives pic.twitter.com/ew7PZbQPNs

— Mr Carter D Trump (@Donald_RMK) June 29, 2019
Talent is universally spread. Sadly opportunity is not.

— Tom D. Harry (@TomHarry1878) June 29, 2019
The youth are the future indeed. We owe it to them to support as much as we can..🙂

— Power 2 People (@IAmOtisJC) June 29, 2019
We have engineers sitting in high school😀

— Balerion (@Balerion15) June 29, 2019
Assembly is a highly technical job, which requires one to visual things. Just to put in into perspective it is said that it is nearly impossible to reassemble the rockets that took man to the moon even with modern machines. So these teenagers did wonders to assemble a plan 🙌🙌

— Black is Beautiful 🖤 (@Dongathegreat) June 29, 2019
Shine black child shine 👊🏾

— Nomtha Vellem (@NomthaVellem) June 29, 2019
Dr Hendrik Clarke said, " whoever built the first plane, ain't never seen one before ". We can definitely "build spaceship"!

— #SiyayibangaLeiKonomi (@BlackPioneerr) June 29, 2019
So glad to see so many young girls participating in this kinds of project, we are well on our way of changing gender stereotypes✊🏾✊🏾✊🏾

— Black is Beautiful 🖤 (@Dongathegreat) June 29, 2019
A dream without a plan amounts to nothing. These young visionaries are testament that dreaming and working your dream is a recipe for success! Dream big work hard win big.✊🏾✊🏾✊🏾

— Matsidikanye Moswane (@matsi_moswane) June 29, 2019