For all the relationships that the Tanzanian Bongo star, a father and a businessman Diamond Plantinumz has been, He fathered a child within the first few weeks of a relationship.However, for Wema Sepetu, who was his first fiancee, things were different because she had reproductive problems that saw her miscarry.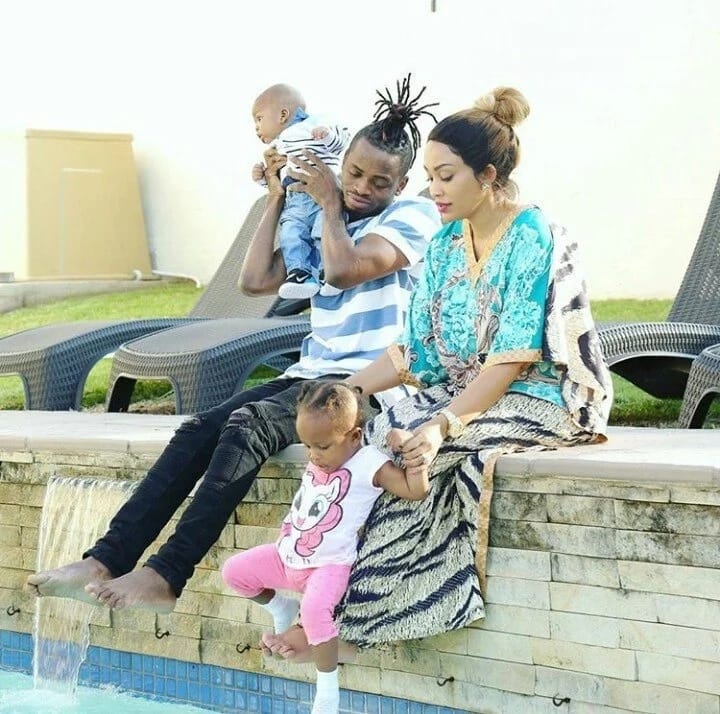 She then Came to Zari whom he impregnated within a few days of their relationship something which led Diamond to carry out a DNA test on Princess Tiffah to ascertain she was her blood. Diamond could not believe he was capable of that. Lol!
Later He moved to Hamisa Mobetto and within no time, Diamond had planted his seeds as usual and they germinated making him a father to a son. He also tried to deny the pregnancy but it was too late for him because there was sufficient proof that he was seeing Hamisa Mobetto.
With such a history, people are doubting that Diamond will end up marrying Tanasha Donna- The Ketan radio personality and a musician who got pregnant for Diamond within a few days of knowing each other.
Tanzanian Activist Mange Kimambi took to social media and trolled Diamond Platinumz for using women while trying to market his music in various countries.
When Diamond was marketing his music in Uganda, he used Zari, In Tanzania, he used many women including actress Wema Sepetu and video vixen Hamisa Mobetto. Now that he is marketing his music in Kenya, he is using Tanasha Donna with Fake marriage promise.
Mange took to social media and shared a long post trolling Tanasha for being so desperate to a point of carrying Diamond's child. she continued to say that Diamond is just waiting for Tanasha to give birth so that he can move to Nigeria and get another lady there as he promotes his music.
Yani huyu binti kweli kambebea Dai mimba jamani? Wakenya mtaambia nini watu???Hapo Diamond anamsubiria azae mtoto atoke arobaini afanye sherehe alafu ndrukiiiiiiiiiiiii maana akimuacha sasa hivi na mimba ataonekana heartless.
.
.
Atakaekuja kuolewa na Diamond ataolewa bila mimba wala dalili za mimba. Hawa ma-desperate wakujibebesha mimba kwa mtu waliomjua siku 2 hawaolewi ng'oo.
.
.
Dai mwenyewe hapo anapiga hesabu akitoka Kenya akachukue demu Nigeria akuze mziki wake 🤣😂.
Mange wrote;
According to her Diamond will never marry Tanasha Donna.
Here is Mange's Post
However, Tanasha Donna says that No bad energy can distract her from loving Diamond. Taking to social media, Tanasha shared a picture of her and Diamond and captioned;
Thank you God for your blessing ❤ No bad energy can take away this feeling of happiness and peace in my heart. 🙏❤👣🙊💆‍♀️ Fit: @prettylittlething
She wrote;
Other fans warned her of celebrating because Diamond is a hypocrite;
strong_gal_forever
Yani wewe mkifika 2021 kwenye mahusiano yenu nahama tz naenda kuishi kwa trump 😀
Usiongee Sana mama, ila nilitamani upate ndoa Kwanza ndio uongee hayo ila Muombe mungu iwe hivyo hivyo ungejifunza kwa wenzako ila ndio hivyo mapenzi upofu. Kila La kheri
Hii relatiinship yenu Mungu hatambui mnanyanduana na hamjaoana