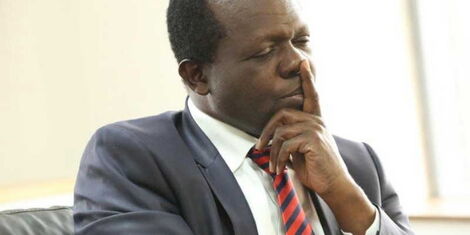 Jubilee Secretary General Raphael Tuju is under fire from MPs allied to Deputy President William Ruto following leaked audio where he is heard castigating the Ruto.
Tuju is being targeted as a scapegoat over claims that he is tearing Jubilee apart by undermining the DP.
In the leaked viral audio allegedly between Jubilee Secretary-General and  George Nyanja for Senator of Kiambu County, Ruto has been castigated for his quest of funding churches.
Nyancha who is more vocal in the leaked tape, claims that Ruto pretends to be holy yet he orchestrated the burning Kiambaa Church in the 200/2008 Post Election Violence which saw people burned alive while seeking refugee.
Raphael Tuju: If you are sincere that you really Love God,enda jenga ile kwanza
George Nyancha: ile kwanza umjenge ile nyumba yake ulichomea watu wake wakililia uko na wakafa uko.
Kimilili MP Didmus Barasa has now demanded that Tuju should divert to the Orange Democratic Party(ODM) claiming that Tuju is a mole sent to destroy the Jubilee party.
Barasa claims that divisive politics are only practiced ODM and not in Jubilee.
Raphael Tuju asked to resign over phone recording where he is heard plotting to divide communities living in Eldoret. pic.twitter.com/URO7lGCBAJ

— Brian Khaniri (@BKhaniri) June 22, 2019
On the other hand, Kikuyu MP Kimani Ichungwa went on to castigate Tuju claiming that he should stop disowning the leaked audio since he has been on the agenda of disuniting Jubilee.
Speaking in an event, Ichungw'a said, "Don't tell us that the recording was a forgery. If there is anything that is a forgery is you!"
Kikuyu MP Kimani Ichungwa to @JubileePartyK SG Raphael Tuju: 'Don't tell us that the recording was a forgery. If there is anything that is a forgery is you!' pic.twitter.com/8BtXmWO8bp

— K24 TV (@K24Tv) June 22, 2019
Ichungwa and Barasa are not the only politicians allied to Ruto who has castigated Tuju. Inua Mama, a section of woman politicians allied to Ruto has as well called for the resignation of Tuju.
Speaking at the Kitale ASK Showground, Nakuru SenatorSusan Kihika, was leading the charge against Tuju, with Jubilee MP Alice Wahome (Kandara) and Laikipia Woman Representative Catherine Waruguru backing her up.
The lawmakers blamed Tuju for the continued wrangles within the party, saying he should leave.
"Tuju is responsible for the confusions in the party. He is out to finish Jubilee Party and we are not going to allow it," Kihika fiercely threatened.
Kihika claims that sacrificing Tuju will be the only way to salvage the party from spliting as she blamed Tuju for working with external forces to ignite a fire within the party.