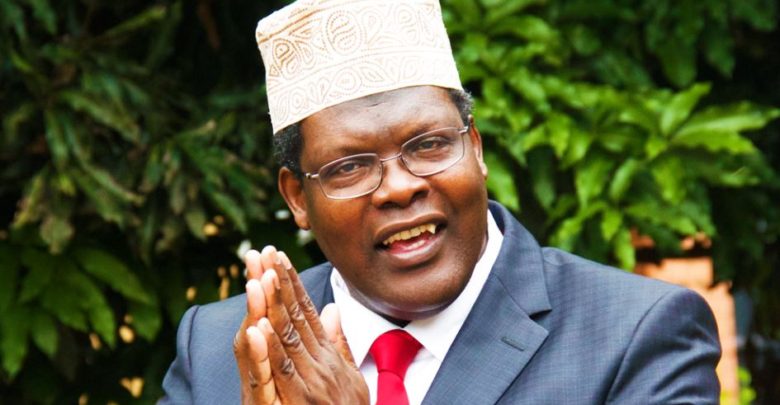 Sometimes you would wonder how the tweet streets would be without our very own 'Mr. Wise Man' Miguna Miguna. NRM self-made general Miguna has left a dirty egg on the face of Kirinyaga Governor Anne Waiguru. All these because she waits to go down the aisle a few days to come.
You see love recognizes no barriers. It jumps hurdles, leaps fences, penetrates walls to arrive at its destination full of hope. Why are Kenyans so bitter about her bold move? Is it wrong to find happiness in this bitter world?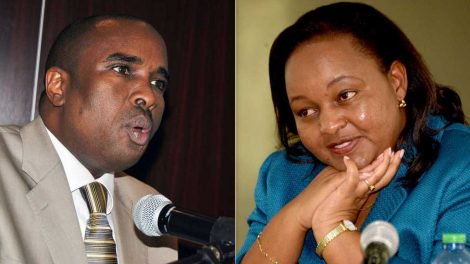 Miguna Miguna, who is based in Canada made the tweet after it had become clear that Waiguru was set to marry her fiancée lawyer Waiganjo Kamotho.
In his tweet, Miguna said that the two deserved to conduct their wedding in prison rather than in the public arena.
Congratulations to @AnneWaiguru for announcing your traditional wedding on July 13, 2019. However, with powers vested on me by Kenyan revolutionaries, I hereby ORDER the change of venue from Kiamugumo Pri. School, Kirinyaga, to KAMITI MAXIMUM jail, Nairobi. #WaiguruWeddingBells

— Dr. Miguna Miguna (@MigunaMiguna) June 20, 2019

Below were a few reactions;
I was wondering how come Miguna would be so nice to one Anne until my eyes came in conduct with the word "KAMITI"

— kaloki mwalimu (@mwalimulocks) June 20, 2019
I agree with you on the proposed venue Sir.😁😁😁😁😁

— shamarito Senior (@shamarito858) June 20, 2019

Some netizens were kind enough to send in their congratulatory messages;
Congratulations to @AnneWaiguru for announcing your traditional wedding on July 13, 2019. God's timing is the best time yeah. #Congratulations #WaiguruWeddingBells pic.twitter.com/tfsnsKDytQ

— Hon. Enoch Cheruiyot. (@enochcheruiyot1) June 20, 2019
Here are a few things we would look forward to during Waiguru's traditional wedding. Many people don't know what Ngurario also known as gutinia kiande is so below is a breakdown.
Ngurario is the final part of the Kikuyu wedding to formalize the marriage under the Gikuyu rites. After Ngurario the woman is completely part of the family and can never be divorced or marry another man. The marriage was so final that even if the woman got a child from another man the groom had to take care and take it as his own.
Initially, it was done before the girl went to the man's home but these days it is sometimes done after. It served as the wedding and there is no need for a church or civil wedding after that. On the other hand even if one has done a church wedding the couple is not considered properly if it is not done.
#WaiguruWeddingBells Even if the ritual is different according to traditions all around the world, at the core, weddings are a time to celebrate love and this is the only thing that should matter not how glamorous the wedding is, but the beauty that it represents pic.twitter.com/JCiDOQSsmP

— THOMAS (@MiregwaThomas) June 20, 2019

The ceremony begins with the slaughtering of a goat by the bridegroom and his people at the brides home. The knife used is given by the bride's mother and she has to be given a present in order to release it.
Once the goat is slaughtered in the Kikuyu way, the meat is roasted. There are three parts of the goat which are involved in the ceremony/ igongona (compulsory and original)
1. A goat's right "arm" (guoko); this is where the kiande is got from.
2 Ribs (inkengeto/ ihaha) most people know them as baru
3. Entrails (gitungo kia mara kinyitaine na wei );
Other (five) pieces given by the groom
1. Ruhonge
2. Liver (ini)
3. Ears (two ears)
4. Kidney (higo)
5. Ngerima
Even when Kenyans continue trolling the Governor for her move, it's important to note that the two have had a close friendship of about 10 years, you all cannot honestly start hating on that.
I am reading so much hate and vitriol in here. All the best Kamotho Waiganjo and her Excellence the Governor of Kirinyaga.Enjoy your Neptune. #WaiguruWeddingBells

— Robert Nyandiko Mose (@MoseRobert) June 20, 2019