In January 2019, Hamisa found herself in a love triangle after a lady by the name Tahiya busted her in a hotel room having a good time with a man.
According to Tahiya, the man was her husband, and she said that she had seen Hamissa with her man for some time and when she asked Hamisa, she denied the claims. However, Tahiya managed to catch them red-handed in a hotel room in Zanzibar.
When the rumours began spreading, Hamisa was invited for an interview at Cloud FM where he was supposed to handle the claims.
Talking to Clouds FM Hamisa claimed that the man lied to her that he was not dating but he had a baby mama whom they had split but they were co-parenting. Here is what Hamisa said.
when I met him, he did not tell me he was dating, he only said that he had a woman he had a child with but they separated and they only raise their child together.
On Tahiya busting them in a hotel, this is what Hamissa said;
I travelled to Zanzibar and the guy insisted on coming with me. We flew there, booked a hotel and spend time there.  We took pictures and shared them on social media because I knew he was the one. At night a lady called me telling me that I was dating her man. This was Tahiya, she even shared pictures of her with the guy. She later came to the hotel and caused chaos and I had to involve the management to keep her out.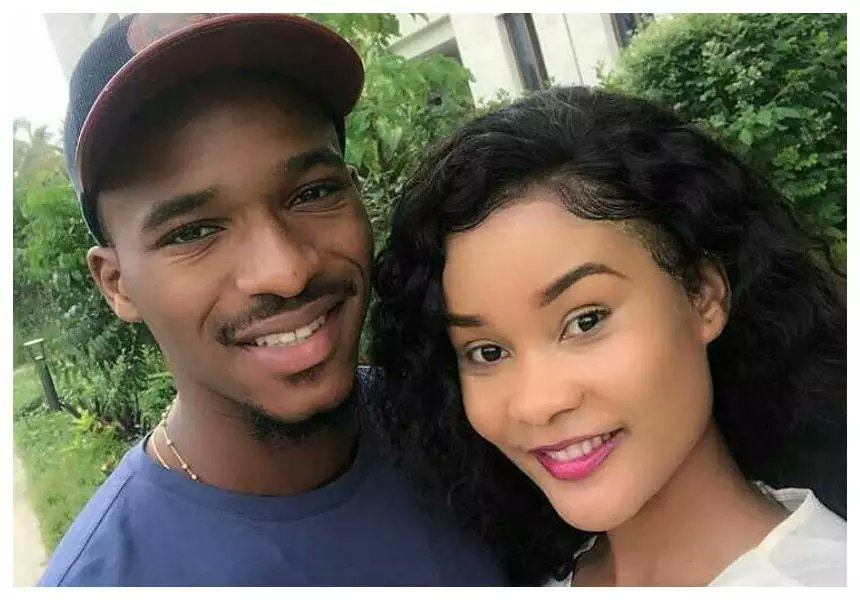 On June 12th Hamisa was interviewed by Wasafi FM on the same issue and she gave a piece of total conflicting information about the controversy something that made her fans call her a liar.
First, Hamisa claimed that the guy had never told her about any woman, she goes ahead to say that she had never spoken to the Tahiya before the encounter. Hamisa said the drama started on her way to breakfast, yet on the other interview, she said that the dama started with Tahiya calling her at night.
Here is the interview
When people saw this interview they ganged against her calling her a liar. Take a look
Reactions 
Huyu demu muongoooooooo… Htriii faya eti huwezi kugombania mwanaume.. 😀😀😀😀😀😀we hamisa ww Mungu anakuzoom ujue 😂😂😂😂😂😂😂😂😂😂😂😂🤣🤣
Hamjui simon msuva 😆😆😆🙌🏿🙌🏿🙌🏿🙌🏿😁dah!!
Muongo sana hamisa ndo mana mimi simupendagi
Mm nampendaga Hamisa Ila hapo kaongopa😅😅😅😅😅-anadanganya sana
Hamisa wewe una machavu mabaya
Mhumm hamisa sio kweli tu pe ukweli
Ubongo wako wa kutunga uongo unachelewa sana kutunga acha umala we dada
We umezoea kudandia mausiano ya watu wenzake wanateseka yeye anakula hata nao acha ushenzi
One fan who has been following on Hamisa's interviews narrated how Hamisa has been inconsistent in her responses thus calling her a terrible liar.
Tatizo la hamisa si mkweli ukiwa star unatakiwa kuwa mkweli sio muongomuongo unakiri kila kitu kama ulikuwa mwizi unasema ndio nilikuwa naiba sasa hivi siibi tena jifunzeni kwa nandy mbona alifunguka vizuri sana kuhusu ruge?uwe nakumbukumbu ulihojiwa na deogratius kitama kuhusu mahusiano ukasema sasa hivi nina mtu nampenda ni handsome na anaupendo kenya kwenye lile kongamano lako baada ya kukosana na nasibu ulihojiwa ukasema nasibu hajielewi blablaa nyingi sasa kimenuka kwa alex unajifanya huwezi kugombania mwanaumme nani hakujui unapenda kuliza wanawake wenzako ndio udhaifu mkubwa ulionao kiri tu nilikuwa hivi lakini sasa hivi siko hivi tena tutakuelewa ndio utakubalika zaidi lakini uongouongo hautakusadia sana ningekuwa wewe leo interview ingekiki kweli ningewaomba msamaha wanawake wote ninliowatenda kama zari,yule dada aliyezaa na alex mwenye mimba sasa kujifanya mwema wakati kuna watu wanamafundo rohoni sio sawa cheki comments utanielewa hukuwa unamwita wema dada kumbe unagongwa na nasibu?nyoosha maelezo usipindishe unakutana na mwanaume siku moja unamkubali kweli? Huyo unayesema ni rafiki yake bella mkongo ndio danga lako usikatae bella anakukuwadia hata marekani alikuwa sponsor wa ile vidio na dubai juzi mlikuwa nae bisha?ni mkongomani bela anahela gani ya kukodi yale magar?ukiona wema kapita mahali na wewe unakwenda sisi tunapenda tu umekuwa unajitambua unafight sana na maisha mshukuru nasibu kukusimanga mchawi umezinduka unachapa kazi hongera kwa hilo ukweli utakuweka huru zaidi
Katika wadada wa bongo wenye wakifanyiwa enterviw niwaongo hamisa no 1😂😂😂
Others Trolled her for lying that she can never fight for a man yet she fought for Diamond when he moved on with Zari.
Uwez kugombania mwanaume? Mbna Diamond ulimwendea kwa mganga au iyo inakaaje sio kugombania?

Yan kadada kaongo aka loooh ujawaha gombea mwanaume wewe mfyuuuuuu 😏

Pugi muongo jaman 😂😂😂😂😂😂😂😂halafu kwanini ulimroga mondi kisa akuoe halafu. unadanganya watu hugombanii mwanaume daah wee kiboko huna hata haya kazi muchukua mabwana wa wenzio 🤣🤣🤣🤣
Others called her hit and run
we malaya wa kuharibu mapenzi ya watu

Ww ni mwanamke ni mama, na sio mscha wa miaka 18 ,19 ,20 mpaka 25 unapo amuamua kuwa kwenye mahusiano ni lazima uwe mwangalifu in maana ww ni ku hit and run. Ndio tabia yako Hamisa inabidi ukuwe sasa jamani
Here is the Tahiya whose husband was allegedly snatched by Hamisa