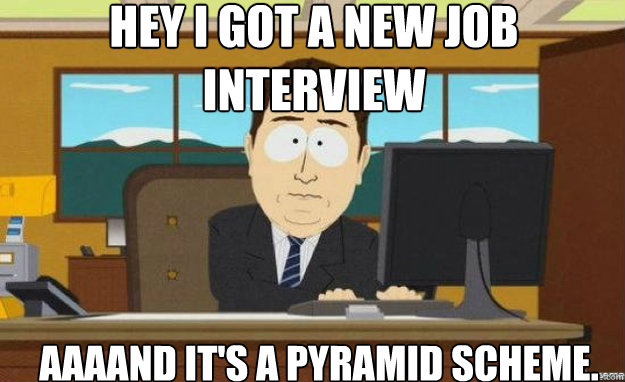 Everyone admires good life characterized by good health and wealth. we all want to drive the best cars, live in the best hoods, have executive houses and travel to high-end destinations.
With such heavy expectations, the means to get there is always not a smooth journey. opportunities to land us up there are rare.
Now, there are people who use these expectations as an opportunity to exploit other people. If you ever 'tarmacked' for some time looking for a job, after college or university you must have met them or heard about them. These are the Network Marketing/ Pyramid schemes guys. You know them.
Many times we don't talk about them because they have hurt so many people to an extent that mention of their name in the midst of job seekers would make everyone frown.
A local radio presenter  Mike Wachira-Drivetime presenter @HBR 103.5 FM, who is also a human rights lawyer dropped a joke of all time describing how Network Marketers would try to convince desperate people to join their networks. His post left Netizens in stitches.
Take a look at the hilarious post and the caption
This post has evoked weird and funny reactions from Netizens. you won't believe how much Kenyans hate Pyramid schemes.
Maina selling Properties… 😆😆😆
Watching this I only see one person! A man named Githingithia who advertises all pieces of land and Pettans Driving school on Inooro TV😂
😅 them motherfuckers that work for these schemes go hard as fuck by the way… if only they could put all that energy into things that actually work. They could take home employee of the year every other year….
hilaryme45
Io sauti ni yake kweli
Private jets loooooool!!!
🤣🤣🤣🤣🤣 Network marketing 🤦‍♂️🤦‍♂️🤦‍♂️🤦‍♂️
tekila_jeff
😂😂😂😂😂 Accurate😂😂👊🏾