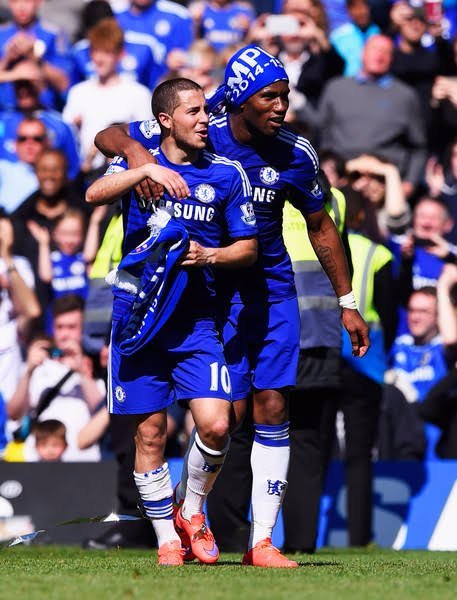 Chelsea fans engaged in an interesting debate on social media on which player should be regarded as the greatest Chelsea player of the Premier League era. In the debate, fans trolled the results which came out without Didier Drogba's name.
First, do you know the origin of the Premier League era?
The Premier League era was introduced on 20th February 1992. Before it was called the English Football League (EFL).
The English Football League (EFL) was a league competition featuring professional football clubs from England and Wales. Founded in 1888 as the Football League, the league is the oldest such competition in world football.
It was the top-level football league in England from its foundation until 1992, when the top 22 clubs split away to form the Premier League.
Forty-nine clubs have competed since the inception of the Premier League in 1992. Six of them have won the title since then: Manchester United (13), Chelsea (5), Manchester City (4), Arsenal (3), Blackburn Rovers (1), and Leicester City (1).
In a bid to evaluate Chelsea's performance since the Premier League inception, a simple poll was conducted on Thursday to single out which player can be regarded as Chelsea's greatest player of all time.
The result indicated that many voted for Frank Lampard as Chelsea's greatest player of the Premier League followed by Eden Hazard.
However, at the release of the results, Chelsea fans stormed Twitter to reject the result and claimed that the voting was biased while some claimed that only white Europeans were posted.
To these fans, they believe that the Ivorian Didier Drogba cannot be written off and stated that even statistics shows that Drogba did a lot to Chelsea more than any other player.
Let's look at stats : Drogba made 254 appearances for Chelsea and scored 104 goals with 54 assists. That is nearly a goal every 2 matches. Lampard made 609 appearances scored 177 goals with 102 assists. That is one goal every 5 matches. How is he greater than Drogba pic.twitter.com/Egq9hrwtgf

— Jese Itotiano (@ItotianoJese) June 6, 2019
Drogba didn't have a great first season. But then he won over the fans and bounced back in style. I feel like this is Morata's level and I don't understand why he has to talk bad about us. Even at Atletico he hasn't set the world on fire.

— Siva (@siva_lamps) June 7, 2019
And just like that Didier Drogba is disrespected and excluded!!!

Surely this is a poll for family members at a picnic and NOT associated with a "credible" news/sports agency like @SkySportsNews…..Surely!!!

— robertmarawa (@robertmarawa) June 7, 2019
For Me Drogba Is Chelsea LEGEND💙❤ @didierdrogba pic.twitter.com/JYdttx9YBH

— ChiadiNelson (@ChiadiNelson) June 6, 2019
Chelsea all time top 3 best players:

Frank Lampard
John Terry
Didier Drogba

Don't wanna hear anything else!!!

— Ali 🇬🇭 (@TheBeardedRauI) June 6, 2019
#somebodytellskysportsnews
Didier drogba is a legend not only in England,France or ivory coast but in Africa he's the king!
Put some #respect when you mention his name sucker! pic.twitter.com/iFhsI9neuz

— ping pong official 🇰🇪 (@pauliddiali) June 6, 2019
Didier Drogba moved to Chelsea in June 2004 for a club record £24 million fee, making him the most expensive Ivorian player in history. In his debut season, he helped the club win their first league title in 50 years, and a year later he won another Premier League title.
His displays saw him named in the FIFA World XI for 2007. In March 2012, he became the first African player to score 100 Premier League goals. Just two months later, he scored in Chelsea's 2012 FA Cup Final win over Liverpool to become the first (and as of 2017, the only) player to score in four separate FA Cup finals.
He also played in the 2012 UEFA Champions League Final, in which he scored an 88th-minute equaliser and the winning penalty in the deciding shoot-out against Bayern Munich.
After spending 6 months with Shanghai Shenhua in China, and one and a half seasons with Turkish club Galatasaray where he scored the winning goal in the final of the 2013 Turkish Super Cup, Drogba returned to Chelsea in July 2014.
With a career record of scoring 10 goals in 10 finals winning 10 trophies at club level, Drogba has been referred to as the "ultimate big game player."
Do you also believe that Frank Lampard was a better player than Drogba?